About Prism Glasses
The refractive index of the same medium is different for different colors of light. Different colors of light travel at different speeds in the same medium. Because the same medium has a different refractive index for various monochromatic light, and the deflection angle of each monochromatic light is different when passing through a prism. Therefore, white light through a prism will separate the monochromatic light, known as dispersion. What is the prism effect of glasses? As long as there is a deviation between the visual channel of the eye and the optical center of the lens, it can produce a prism effect. Therefore, the severity of the prism effect can be used to measure whether the glasses with the correct prescription are processed correctly and reshaped correctly.
Keyhole glasses are different from saddle glasses.
Glasses without nasal pads are common, usually with plastic eyewear frames and metal frames. Plastic frames without nose pads usually have a saddle-shaped nose area, therefore this type of bridge is called a saddle bridge. The keyhole is designed to touch the two points of the bridge of the nose, eliminating pressure from the top of the nose. This style is a bold fashion statement for both men and women. The design has short pads on either side of the nose, which is thought to be the most comfortable area.
Overnight Glasses
Overnight Glasses is created by experienced members of the optical industry. You'll get high-priced lenses, coatings, and prescription glasses approved by the FOOD and Drug Administration (FDA) and the American National Standards Institute (ANSI).
Production, inspection, and customer support are all done by certified opticians in the US with 100% accuracy. Freeform Progressives Lenses designed by Seiko, Transitions Lenses, Trivex Trilogy, Nu Polar Polarized films, even the most basic prescriptions for monopod lenses, are manufactured, assembled, and double-checked in the United States by their certified personnel. The inventory includes prescription glasses and prescription sunglasses from well-known brands such as Ray-Ban, Oakley, Dior, Versace, Salvatore Ferragamo, Dolce and Gabbana (D&G), Prada, Tom-Ford,Burberry Eyewear, and Ermenegildo Zegna are both priced at less than half what other retailers offer.
How to choose blue light blocking glasses?
Nowadays, electronic products such as mobile phones and computers have become indispensable tools in our lives. While these high-tech products bring us convenience and fun, they also bring symptoms such as eye fatigue and myopia. Subsequently, blue light blocking glasses have also received everyone's attention. Anti-blue glasses are only suitable for people who use electronic products for a long time, not for people who are visually fatigued. Exposure to such unnaturally strong blue light for a long time every day, especially for teenagers and children, needs to pay more attention to the prevention of blue light. So, how to choose suitable blue light blocking glasses for kids?
Anti-blue light is necessary, but not all blue light can be filtered out, because blue light will interfere with the body's melatonin secretion after being over-filtered, thereby affecting sleep. Therefore, when choosing blue light blocking glasses, you should choose appropriately according to your own eyes.
For how to choose anti-blue glasses, consumers can distinguish from the color of the lenses. Generally speaking, a lens with a yellow color will have the effect of blocking blue light. But too dark lenses will affect the contrast sensitivity. Therefore, it is recommended that consumers choose moderately. In addition, consumers should also pay attention to whether the glasses products (lenses, frames) have conformity marks, etc. It is best to choose professional and well-known glasses shops to match glasses.
Where to Buy Non-Prescription Glasses?
From the above information, you can know that glasses without prescription are good for your eyes. So, you may ask where to buy non-prescription glasses. In general, you can buy non-prescription glasses from a local optical store or online. And here, we want to recommend the Koalaeye glasses.
Koalaeye Optical is an online optical store that provides all kinds of glasses and sunglasses like blue light blocking glasses, non-prescription reading glasses, and so on. So, from here, you can get satisfied non-prescription glasses. Besides, Koalaeye provides a free shipping service and you can get the package without going out.
Types of Varifocal Lenses
Elite varifocal lens: it has the widest field of vision at all focal points and is tailor-made to your exact vision and customized to fit within your frames. With the least distortion around the edges, they are very easy to adapt to and will give you the clearest level of vision available.
Occupational varifocal lenses: the last varifocal lens we want to mention is the occupational varifocal lenses. They are specific to different lifestyles, hobbies or occupation vision needs. If you frequently perform tasks at a particular distance for a long period of time, then you have a broader, more comfortable zone of vision.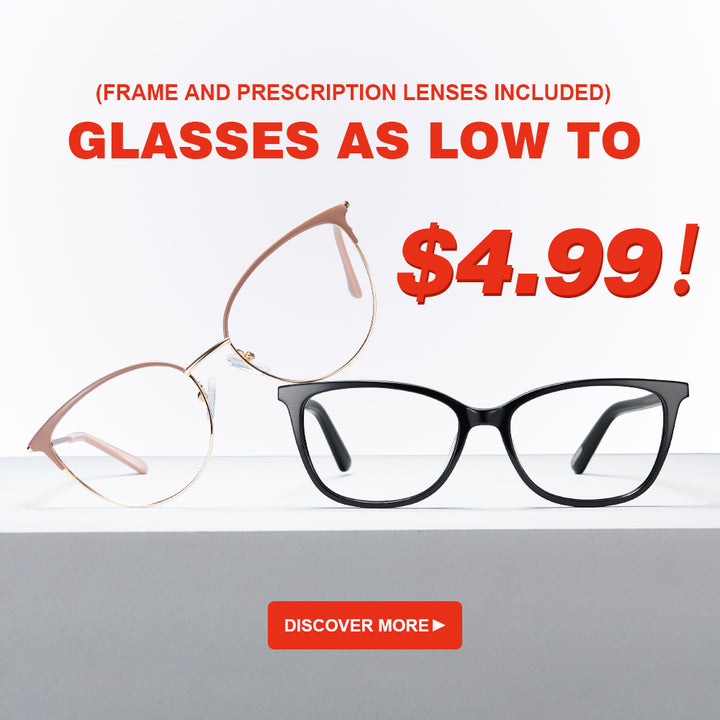 What Is Progressive Lens?
Progressive lenses, also called multifocal lenses, have three prescriptions in one pair of glasses. So, it allows you to see near, middle distance, and far objects without changing your glasses. The progressive lenses are designed for people who are over 40 years old who are both nearsighted and farsighted. The progressive lenses come with the following features:
There is no distinct line between all visions(near, intermediate, and far).
Most popular lens for anyone with presbyopia who wears
Expanded intermediate zone for better computer vision.
From the above information, you may have known the differences between bifocal lenses and progressive lenses. As for progressive vs bifocal lenses, which one is better? It is difficult to judge because each of them has unique features. So, if you do not know choose which, you can listen to the eye doctor.