What Are Glasses Without Prescription?
Nowadays, some people wear glasses not only just for correcting their vision, but also for fashion. However, for those people who do not have any eye conditions such as nearsightedness, farsightedness or astigmatism, they can wear glasses without prescription.
Glasses without prescription, also called non-prescription glasses or clear lens glasses, work as a fashion statement to add style to your wardrobe. They also may serve a purpose if they have blue light blocking lenses.
Throughout the years, many people choose to wear glasses without prescription to improve their look. This trendy accessory is a reality available in a range of designs, colors and materials that can add just the right touch to your outfit.
It is important to note non-prescription glasses have zero corrective power whatsoever, while non-prescription reading glasses offer some level of magnification, enlarging what you see up-close.
1970 Oversized Square Eyeglasses
Now a lot of designers are giving us cool square lenses because they want to bring back the fashion of the 1970s and 1980s. Each one is timeless and must be tried.
What Should You Do If Your Glasses Are Broken?
Professional eyewear repair shops have professional repair tools. It's relatively easy to fix the bent frame by yourself. Still, there are reasons to get a professional to fix them. Your local eyewear repair shop can quickly reshape metal and plastic frames and make sure they fit. Many professional optical shops will make small adjustments free of charge. The frame is completely broken and requires special tools and skills to fix. Frames are too fragile to repair at home, and trying to do so could cause even more damage to your frames. The lenses are damaged and you may need to replace them. Make sure your prescriptions are up to date. If your prescription is not up to date, you need to schedule an eye exam before changing your lenses.
How long do plastic frames last?
Plastic frames are made of non-biodegradable materials and are possible to last forever. If the frame is made of acetate, the layers of acetate fibers make the frame vary in degrees of transparency and pattern. The plastic frame manufacturing process makes the plastic frame more brittle than the acetate frame. In this sense, the acetate frame has a longer service life. Then the plastic, which is made of SAP, will never break down. Depending on the circumstances, it could take years. If the lenses are polycarbonate, the material takes hundreds of years to break down naturally. If TR-90 is normally stored, not exposed to the sun, and put in the box with cloth wrapped, and then you can keep 3 years, there is no effect.
What Are Trifocal Glasses?
Trifocal glasses and no-line progressive lenses are multi-focal glasses, meaning that their lenses offer multiple correction fields. Whether you have been wearing multi-focal glasses for a while, or you have just begun to look at options for correcting vision after 40 years old, you may have heard the terms trifocal or progressive glasses.
Trifocal glasses have three different corrective lenses within one lens to offer you intermediate, distance, and near correction. Trifocal lenses look and perform similar to bifocal lenses, with an added viewing zone to help correct vision in the intermediate field, and two visible lines where the viewing zones change.
Anti Fog Safety Glasses - Safety Goggles Over Glasses
Anti-fogging safety glasses reduce deformation, effectively prevent fogging, and avoid fogging which affects vision in use. The angle of the goggles can be adjusted in accordance with the different foreheads (30 degrees). They can use a variety of large-size myopia goggles, safety glasses. It can effectively protect eyes from saliva, sand, metal fragments, and so on.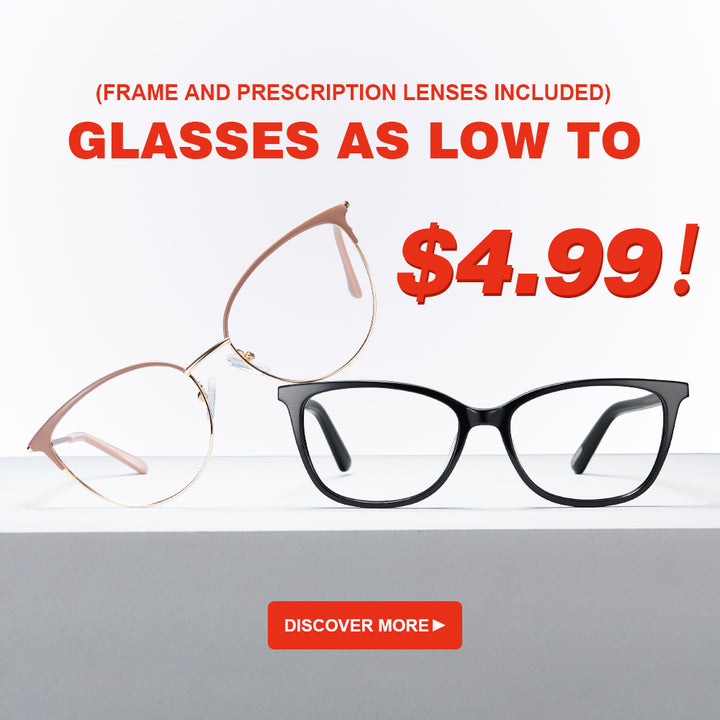 How much are rimless glasses?
Generally, the price of rimless glasses should be determined according to your choice of frame and lenses. Some of the rimless glasses are very expensive. Most of these rimless glasses are reserved for business people. Generally speaking, if it is for business people, the price will be more expensive. But if you just want to match some of the common glasses, rimless glasses' price usually will not be too expensive, about 15 dollars to 30 dollars. But business people's special glasses frame will be about 150 dollars to 350 dollars.