Drivers can wear night-vision goggles
Night-vision goggles can prevent headlights from blinding, add color saturation, and make the field of vision clearer. The normal night vision glasses are golden yellow in color and have a metal coating on the surface. This is the use of diamond high perspective reflection film technology, in the lens to add color and film layer, in order to maximize the brightness of the object being seen. It is to compensate for the light for driving, which makes light pass through your eye. It can increase the three-dimensional sense of objects, making the line of sight more clear, to avoid confusion caused by blinding headlights.
Are progressive lenses good for driving?
Progressive lenses can help you see close, far, and anywhere in between. That means progressive lenses are good for driving. So you don't have to change your glasses on the way. With progressive lenses, you can easily see all distances. Standard lenses are more affordable than premium lenses, but premium lenses offer a wider field of view and are ideal for drivers.
Business style glasses
The style of business frames is mostly pure titanium series, simple and generous, with strong texture, flexible, highlighting the wisdom and calm of business elites, while the high standard of comfortable feature has always been the pursuit of this type. . Business style frame has a calm atmosphere and suit collocation complement each other, improve the overall temperament. In the negotiation and cooperation, they can leave a good impression. With A strong sense of the quality of the business, for work or leisure, they make you become the focus.
Palo Alto
They are not heavy. The glasses are not heavy at all and robust and are well-suitable. The prescription is perfect. These rimless metal glasses have a bronze finish and a perfectly rounded lens. The slender metal arms finish, and the turtle arm tips and spring hinges, make the glasses simple but stylish.
1.67 vs 1.74 High Index Lenses: What Are Their Differences?
In this section, we will show you the differences between 1.67 high index lenses and 1.74 high indexes.
74 high index lenses are thinner and lighter than 1.67 high index lenses.
74 high index lenses are expensive than the 1.67 high index lenses.
Both 1.67 and 1.74 high index lenses can reduce the eye distortion caused by strong prescriptions, 1.74 high index lenses perform better than the 1.67 high index lenses.
As for the color of lens, both come in clear, gray-tinted and brown-tinted, but only 1.67 high index lenses come in Transition brown or gray.
74 high index lenses are better for those looking for the thinnest lens possible. So, patients with extremely strong prescriptions chooses this.
67 high index lenses are better for those looking to save money or those who do not have extremely high prescriptions. They are also the only choice if you are looking to get Transitions.
From the above information, you can find the main differences between these two lenses are price, thickness, weight, color options and general appearance. Most people who choose 1.67 high index lenses generally either do not have an extremely high prescription or are shopping on a budget. 1.74 high index lenses, on the other hand, are the thinnest and lightest plastic lenses currently in existence.
Who should wear low bridge glasses?
According to the website of the American Optical Association, low-bridge glasses are for people with a low bridge of the nose (when your nose is at or below the pupil level), a wide face, or high cheekbones. This pair of glasses fit anyone with a low nose. If you have a tall bridge, it's great to have a bridge near the eyebrow line. If you have a low bridge of the nose, a more curved brow or a lower bridge of the nose frame is a better choice. Because the dimensions of the bridge are measured from the inside of the frame, a thick-sided frame with the same bridge dimensions and a very thin frame will not fit. It may actually be too small. Because it allows for extra edges.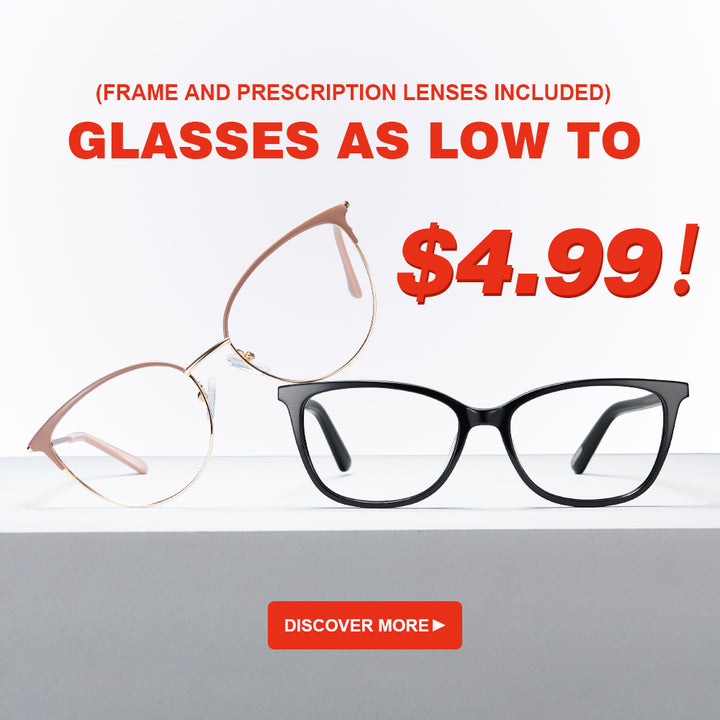 How to choose the right glasses for myopia?
Nowadays, people are nearsighted, and they usually think of going with a pair of glasses. However, only from the media, we continue to see that there are substandard myopia glasses and frames in the report, so how should we choose when we buy glasses? How can I match a pair of suitable and high-quality glasses? Different glasses shops vary greatly from optics technology to the quality of lens frames, so different shops have different prices. Faced with a variety of glasses, how should we choose? Generally, we can look at these four standards. First, take a look at whether the eyewear company has obtained a production license for eyewear products. Second, see if the optometry equipment and testing instruments of the glasses companies have qualified marks. Third, see if the optometry and production staff are certified to work. Forth, look at whether the glasses have a conformity mark (certificate). The four certificates of eyewear companies are the prerequisite to ensure the quality of glasses.