Are progressive lenses good for driving?
Progressive lenses can help you see close, far, and anywhere in between. That means progressive lenses are good for driving. So you don't have to change your glasses on the way. With progressive lenses, you can easily see all distances. Standard lenses are more affordable than premium lenses, but premium lenses offer a wider field of view and are ideal for drivers.
Understand the impact of frame selection on the lens
Frame size is an important consideration when using progressive lenses because some progressive lenses work better in frames of different sizes. Since progressive lenses allow you to see at all distances, it's important that the whole range of vision fits within the frame. Therefore, very short lenses and larger lenses are not suitable for progressive lenses.
Where to buy clear eyeglasses?
When shopping for new clear eyeglasses, you can easily feel overwhelmed by the endless racks of styles and brands. The way to access value is to buy from a store that offers great advice, where you'll be told whether more expensive frames warrant their higher prices or that you'd do just as well with a lesser-known brand. Koalaeye Optical offers "Wear in Comfort, Look in style" eyeglasses and sunglasses. If you buy glasses online from us, you will get a huge variety of frame styles and colors. And the prices are highly affordable so they won't burn a hole in your pocket.
Why are titanium glasses so expensive?
Light Weight. The term 'pure titanium' means a titanium metal material with a purity of more than 99%. A mineral containing titanium was found in 1791, but pure titanium was not produced until 19. Pure titanium glasses are lighter than titanium alloy glasses. For frames of the same design or appearance, titanium frames weigh only half as much as other ordinary metal frames, reducing the load on the bridge of the nose.
How to choose a spectacle frame
First of all, we must clarify what are the specific materials of the spectacle frames on the market. At present, the more commonly used glasses frame materials are sheet material, aluminum-magnesium alloy, natural wood, and bamboo materials. Of course, there are other materials such as titanium, TR90, and ULTEM.
Secondly, we have to make it clear that the texture brought by each different material is different, and each has its own advantages. For example, plastic glasses frames are made of sheet materials, which are characterized by easy processing and relatively lightweight. They are generally not easy to deform at room temperature. And the spectacle frame made of metal material is relatively strong, light, and beautiful. Therefore, to learn the advantages and disadvantages of each type of spectacle frame, we can meet our different needs according to each different material.
INMIX Driving Glasses
Inmix has tried many functional innovations, like an ultralight frame that weighs only seven grams and can float on water, a blue lens that blocks radiation from computer and mobile phone screens, and an allergy nose pad. Inmix Glass is an attempt to distance itself from its competitors with a strong visual style. The performance of Inmix glasses is beyond its young brand positioning. The brand competitiveness of the old brand is not lost at all. Opening the affordable era of glasses, it truly realizes the ecological chain from factory to consumer, and gives consumers the most cost-effective high-quality glasses. Parity and quality make the sales volume double every year, and the sales volume in 2015 is more than the sum of the previous years.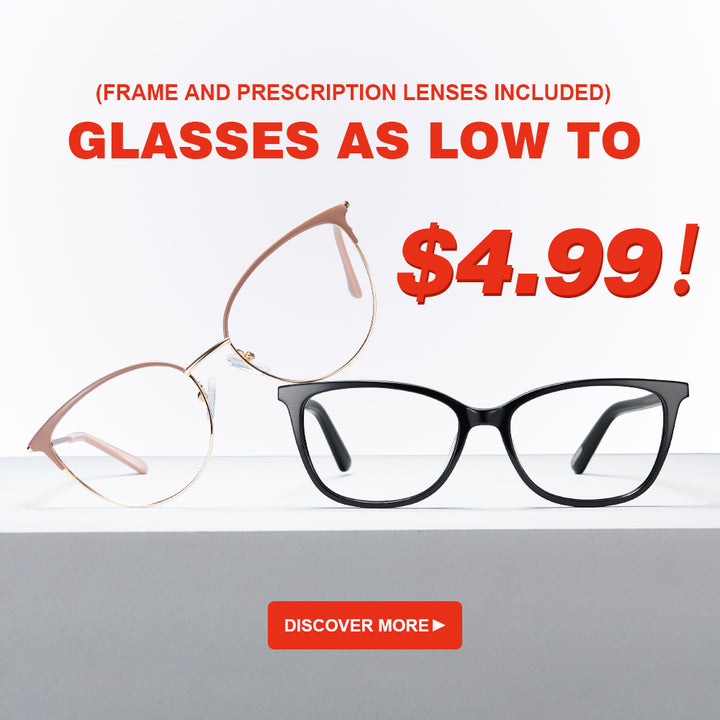 Do Colorblind Glasses Work?
To understand colorblind glasses well, you need to know how color blindness happens first. The human eye contains three photopigments that are sensitive to color. These photopigments are located inside receptors in the retina called cones, which can tell your eyes how much blue, red or green is in an object. Then they give your brain information about what color objects are.
If there is not enough photopigment in your eyes, you maybe can't see that color. Most cases of poor color vision involve red-green color deficiency. That is to say, you have the difficulty in recognizing the red and green colors.
So, how do colorblind glasses work? Colorblind glasses like Enchroma were originally manufactured as sunglasses with lens coated in a special material that exaggerated the wavelengths of light. So, it has the effect of making colors look saturated and rich.
Though colorblind glasses do not cure color blindness or produce 100% normal color vision, they allow colorblind people to perceive colors they have never seen before and experience closer-to-normal color vision while wearing special glasses for color blindness.