GlassesShop
It provides men's glasses with good quality and low price. The existing frames have plastic materials to metal. They provide you with a variety of men's glasses like rectangular glasses and round glasses. The glasses have a classic rectangular shape and design. Made of not heavy and durable high-quality materials, they can adapt to a variety of style preferences. A rectangular shape adds clarity, while sharp lines may complement the soft facial features.
What is blue light?
To prevent blue light, we must first understand what blue light is. The visible light with a wavelength range of 400-500 nanometers is called blue light. The light sources used in daily LED lighting and display products, including mobile phones, flat panels, and TVs, are mostly LED light sources excited by blue light. However, not all blue light is harmful to the human body. The human eye has an extremely low tolerance to blue light radiation in the 400-440 nanometer range. When the light intensity enters this threshold, photochemical damage is likely to occur. However, blue light radiation in the range of 459-490 nanometers is essential for regulating the human body's circadian rhythm and can affect the secretion of human melatonin, which in turn has an impact on the body's biological clock, alertness, and mood.
Scientifically effective anti-blue light lenses must not only block harmful blue light but also cannot filter beneficial blue light. Most of the ineffective anti-blue light products on the market currently have two types of problems. One is that there is almost no protective effect on the blue light in the vulnerable zone of the human eye. The other is excessive protection, shielding the blue light spectrum in the beneficial band so that the blue light that is beneficial for physiological adjustment cannot enter the human eye. At the same time, the color of the lens is yellow, which is prone to color shift, aggravating visual fatigue, and even inducing the risk of myopia.
How do you know Ray Ban's frames are real?
Ray-ban Spectacle Case
The true Ray-ban spectacle case has good workmanship and thick leather. The case is covered with flannel. There are MADE IN ROMANIA words in the case. The leather of the imitation is rough and has two layers, one of which is pure hard plastic.
Ray-ban glasses lens cloth
The authentic Ray-ban glasses lens cloth is silver-gray, with the Ray-ban logo, and the lens cloth is shorter than the regular glasses cloth. The imitation is different in color, lacks hierarchy.
Ray-ban glasses ear rests
The authentic Ray-ban eyeglass glasses ear rests are made of metal, comfortably wrapped, and removable. The copies are not filled, and some cannot be taken off at will.
Ray-ban Glasses manual
There is not much difference in the instructions. The red part of the original is lighter than the imitation.
How Long Does It Take to Get Used to New Glasses?
Most people are excited when they get a new pair of glasses for the first time. But sometimes there is an adjustment period before your vision is fully comfortable. So, how long does it take to get used to new glasses?
In most cases, it takes only a few days to adjust to a new pair of glasses. When you are adjusting to your new glasses, you might experience some symptoms such as mild dizziness, blurry vision, or eye strain. This would be a normal situation. These symptoms are common with new glasses and typically last only a few days.
Even though the new glasses come with the same prescription, different frames or lenses can alter your vision until you get used to the new frame style, frame material or lens type.
Besides, other factors will affect the adjustment time, such as the complexity of your prescription, the type of lens, and so on.
How long does it take to adjust to new glasses? It usually takes a few days. However, if you experience eye strain, distorted vision, and especially headaches for a few weeks, you had better contact the eye doctor or the optician. They will check your eyeglass and the prescription.
Application of titanium alloy
Titanium alloy is mainly used in aircraft engine compressor parts, followed by rocket, missile, and high-speed aircraft structural parts.By the mid-1960s, titanium and its alloys were already in common industrial use, making electrodes for industrial electrolysis, condensers for power stations, heaters for petroleum refining and seawater desalination, and pollution control devices.Titanium and its alloys have become a kind of corrosion-resistant structural material.In addition, it is used to produce hydrogen storage materials and shape memory alloys.
Foster Grant
Foster Grant's Modera series wouldn't be complete without our Larsa reading glasses. A creamy caramel rectangular frame wrapped in delicate animal motifs in gold and brown looks chic. The spring-hinged temple is comfortable and suitable for all-day wear. Each comes with a protective case that you can use on your travels.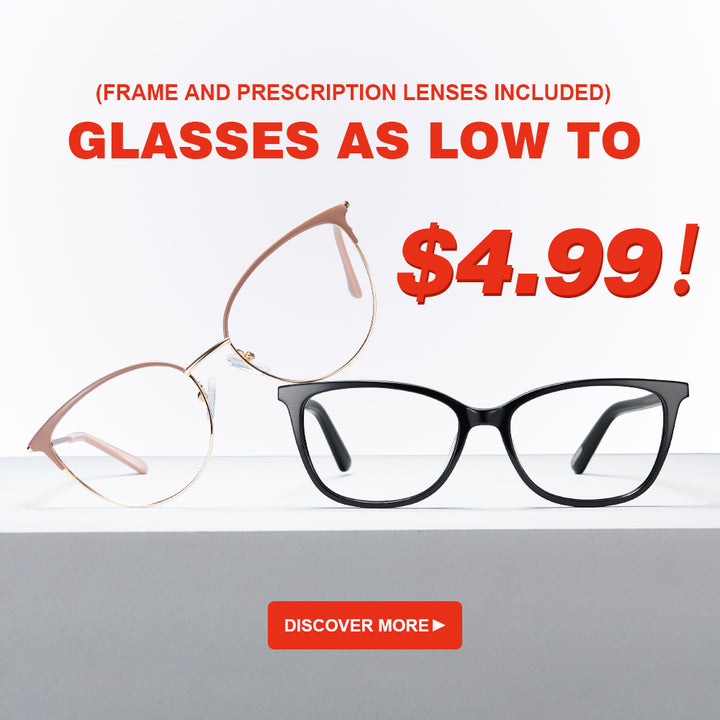 Should face shape be considered when wearing rimless glasses?
In our life, we will see a lot of people who wear rimless glasses. Compared with full-frame glasses, there is no restriction on face shape and it suits most face shapes. Whether you have a square face, a long face, or a round face, wearing rimless glasses is trendy and beautiful, very popular among contemporary young businessmen and women. Rimless glasses are very easy to wear. No matter what shape your face is, it will feel stylish and beautiful. Rimless glasses are very simple on collocation dresses. And rimless glasses suit most face shapes, so they are suitable for many people.