In the previous article, we discussed "Best Men's Sunglasses Under $100". In this article, let's talk about "Can I add prescription lens to my sunglasses?"
Nowadays, glasses are no longer only used to correct eyesight. Many people regard glasses as a fashion tendency of daily life accessories to qualify their face and show an attitude of avant-garde life. Then, can I add prescription lens to my sunglasses?
Can I add prescription lens to my sunglasses?
However, it is not recommended to choose a sunglasses frame for prescription lenses.It is troublesome for people who are short-sighted to wear fashionable sunglasses. The frames of sunglasses are relatively large. The design does not consider some practical parameters of glasses but only is based on fashionable and beautiful ideas. For example, the width and length of the frame of the spectacle frame, the width of the bridge of the nose, and the curvature of the entire frame, etc., are all parameters that must be considered for the optical frame. For myopia glasses, it is also necessary to select frames based on the prescription for optometry, the actual myopia degree, and other factors.
Several reasons why you can't choose sunglasses as your frame.
1. If you have high myopia, you can't choose a frameless, big frame (similar to the frame of sunglasses). Due to the high degree of myopia, the lenses are too thick (myopia lenses are thin in the middle and thick at the edges). The larger the frame, the thicker the edges will be. They are inaesthetic, and they are too heavy to wear for a long time. Also, they will compress the bridge of the nose so that it is very uncomfortable.(https://www.koalaeye.com/collections/polarized-sunglasses)
2. The large frame of the sunglasses will shift the optical center of the lens, which will cause a large deviation from the data of interpupillary distance and near-eye distance, resulting in unclear vision and dizziness.
3. The overall frame of sunglasses also has a too large base curve, which changes the actual luminosity of the lens, easily causing fatigue and a higher degree of myopia. Especially for myopic patients with small interpupillary distances, they can't choose sunglasses frames as optical frames, as that will cause more harm than good.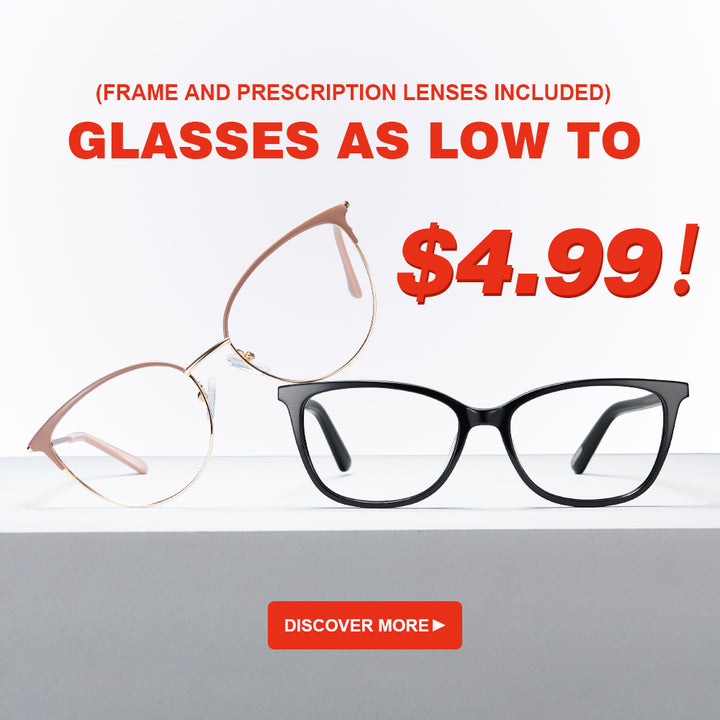 Only prescription lenses without power can be added for sunglasses.
Generally speaking, sunglasses can also be equipped with glasses, provided that they are flat, without the influence of the power and the optical center of the lens, so that they can be customized. If you want to correct your vision, you should consider the diopter, astigmatism axis, interpupillary distance, frame style, and other factors. Moreover, you can choose beautiful and fashionable frames that match the face shape.
You can choose prescription lenses with colors.
This kind of colored myopia glasses can protect against radiation and ultraviolet rays. However, ophthalmologists remind that colored glasses for myopia are different from sunglasses because many myopia patients need to wear them for a long time. If only beauty is considered, the scientific nature of myopia glasses is ignored, which will cause more damage to the eyes. Therefore, in order to protect the eyes, it is best to prepare two pairs of myopia glasses, ordinary myopia glasses, and color myopia glasses only used when going out.
Any product must be based on applicability. Consumers cannot blindly compare prices. You should not only focus on aesthetics but also eye protection is the primary core issue. When choosing sunglasses, you can consult an eye hospital in advance. In this way, there will be no waste of money.
Thank you for your time in reading our passage "Can I add prescription lens to my sunglasses?". For more information about sunglasses and eyeglasses, please continue to follow koalaeye.com. Also, it is welcome to share and forward to Facebook and Twitter.