The lenses of prescription glasses
Common materials for lenses include glass, resin, and PC. The glass is fragile and heavy, and few people wear it anymore. PC film is tough and not fragile, but it is not resistant to high temperature and the surface is easily scratched. The most common type of lens on the market today is the resin lens, which is light in weight, hard to break, and reasonable in price. At present, it is generally recommended that you choose resin sheets, and it is recommended that people with ultra-high myopia choose glass sheets.
Generally, lenses can be divided into spherical and aspherical surfaces according to different curvature designs. When choosing, refer to the degree of the eye. For people with lower degrees, There are fewer differences between the two shapes. For people with moderate to high myopia, aspherical lenses will have better imaging effects and clearer vision.
When choosing a lens, a parameter that is often mentioned is the refractive index. Common refractive indexes are 1.56, 1.60, 1.67, and 1.74. With the same degree, the higher the refractive index, the thinner the lens.
Glasses in a Day
With decades of experience in the optical business, it allows the fastest prescription eyewear service. Male and female frames are mostly imported from Germany, Italy, and France. All orders are shipped the same day they are received, including Saturday, ensuring your new glasses arrive quickly. The team assembles, packs, and ships your glasses at our Massachusetts facility on the same day you order them.
Eyemart Express
Eyemart Express is founded in 1990. The focus is to get you the right glasses at the right price. Eyemart Express is the only retailer with a lens lab in every store that can produce 90% of its glasses on the same day. There are more than 2,000 frames to choose from, including designer brands and safety glasses. At their online store, you can buy prescription glasses anywhere and have them delivered to your door. You can choose the best glasses at the right price and enjoy same-day service.
Different Type of Lenses: How to Choose
High-index lenses: These lenses are thinner and lighter than CR-39 plastic lenses because they have a higher index of refraction and may also have a lower specific gravity.
Trivex lenses: Trivex lenses are made from a newer plastic that's similar to polycarbonate lenses. They are lightweight thin, and impact-resistant.
Aspheric lenses: Aspheric lenses have various degrees of curvature, which means they can be thinner and flatter so you can use a much larger portion of the surface.
Are progressive lenses good for driving?
Progressive lenses can help you see close, far, and anywhere in between. That means progressive lenses are good for driving. So you don't have to change your glasses on the way. With progressive lenses, you can easily see all distances. Standard lenses are more affordable than premium lenses, but premium lenses offer a wider field of view and are ideal for drivers.
How to Test Computer Glasses (Clear Glasses)
First, we will show you how to test computer glasses with clear glasses.
1. Ask for Blue Light Glasses Brand Spectrum Report
To find out whether your blue light glasses are the best computer glasses, you should contact the company you bought them from and ask for a spectrum report. It will show you how much blue light your computer glasses can block.
After sending the spectrum report to you, you should make sure that your computer glasses are able to filter at least 30% blue light, otherwise, they are unsafe.
2. Use the Lens Reflection Test
As for how to test computer glasses, you can use the lens reflection test. You can see what color the light is that reflecting off the lenses.
If it reflects the blue light, they are filtering some blue light. If the reflection is violent or purple, the computer glasses may be not effective.
This is a good way for you to perform a blue light test at home.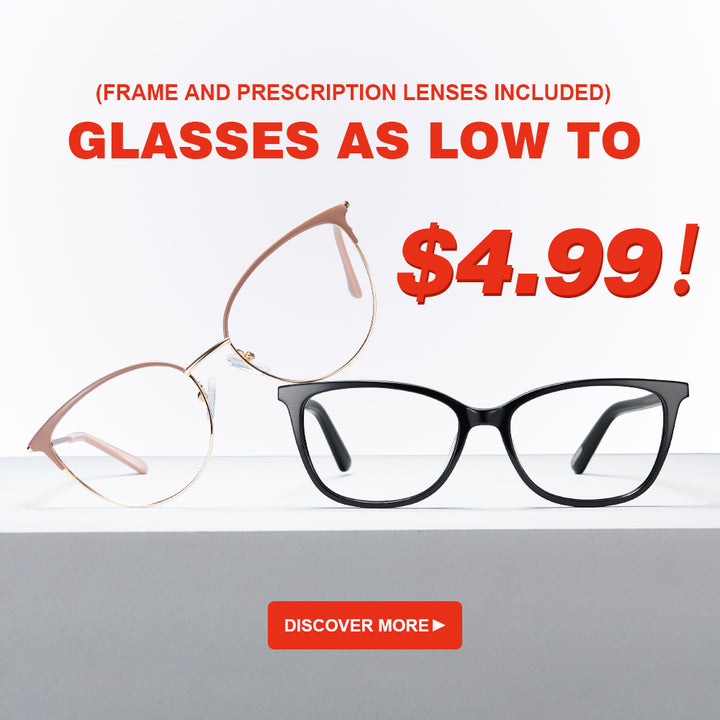 The Cons of Rimless Glasses
As there is no frame around your glasses lenses, the rimless glasses may be more likely to break. If you are not very careful with your glasses, you may have to replace them on a constant basis.
Rimless glasses are higher than other framed glasses because of the details that go into this style. In fact, the rimless style needs more work and time. So, making this kind of style is more time-consuming. So, rimless glasses are expensive than framed glasses.
From the above information, if you like rimless glasses, you can try them. Thus, you can buy them from Koalaeye Optical, which is an online store and provides all kinds of glasses, sunglasses, and frames. So, try Koalaeye glasses and the glasses will be mailed for you with your great convenience.