What Are Non-Prescription Glasses?
Nowadays, many people wear glasses for a variety of reasons and not just for vision problems. In fact, many people wear non-prescription glasses as a fashion statement. This trendy accessory can make you more fashionable.
What are non-prescription glasses? It is important to note that the non-prescription glasses have no corrective power, while non-prescription reading glasses offer some level of magnification, enlarging what you see up-close.
If you don't have a vision problem, wearing Plano glasses shouldn't be a problem since they will neither damage your eyes nor cause structural issues. Some non-prescription specs, such as the type that blocks damaging blue light, can actually be beneficial to your eye health.
What Are the Benefits of Non-Prescription Glasses?
In this part, we will show you the benefits of non-prescription glasses and show you what you need to know before buying the non-prescription glasses.
Protection: the non-prescription glasses would provide protection for your eyes from dust, direct sunlight, and computer radiation. In addition, these glasses would have to be enhanced with special coatings.
Fashion: Wearing non-prescription glasses enables you to look more fashionable. The best part is that you can select a pair of non-prescription glasses that have the features you prefer. Besides, many frames are made from high-quality materials that make them durable. They are comfortable and lightweight, which everyone can appreciate. Non-prescription glasses are also available in a variety of sizes, shapes, colors and styles so there will always be something that matches your needs and even your personality.
The lenses of prescription glasses
Common materials for lenses include glass, resin, and PC. The glass is fragile and heavy, and few people wear it anymore. PC film is tough and not fragile, but it is not resistant to high temperature and the surface is easily scratched. The most common type of lens on the market today is the resin lens, which is light in weight, hard to break, and reasonable in price. At present, it is generally recommended that you choose resin sheets, and it is recommended that people with ultra-high myopia choose glass sheets.
Generally, lenses can be divided into spherical and aspherical surfaces according to different curvature designs. When choosing, refer to the degree of the eye. For people with lower degrees, There are fewer differences between the two shapes. For people with moderate to high myopia, aspherical lenses will have better imaging effects and clearer vision.
When choosing a lens, a parameter that is often mentioned is the refractive index. Common refractive indexes are 1.56, 1.60, 1.67, and 1.74. With the same degree, the higher the refractive index, the thinner the lens.
Where can use the glasses emoji?
Glasses emojis are commonly used in glasses-related social media posts and are used to refer to things that have a point of view or demand only a little direction (for example, a museum exhibit, a movie, or a beautiful viewing platform). Although glasses have become a hot fashion accessory in recent decades, they still mean bookish or clever to a certain extent.
Types of Progressive Lenses
At the same time, there are different types of progressive lenses and they are standard PALs, short corridor PALs, computer PALs, and Reading PALs.
Standard PALs must fit your vision needs. They can be added to frames of your choice, but you need to ensure that the frames are the right width and height proportions to grant enough space for the gradient changes in the lens.
Short corridor PALs are made to fit into smaller frames so as to suit a wider range of eyewear styles.
Computer PALs are designed for computer users and other occupations that require strong intermediate and distance vision.
Reading PALs are designed for those who enjoy reading and they can opt for a pair of lenses with a larger close vision zone.
Armada Optical Services
Armada Optical Services is a full-service laboratory dedicated to providing one of the best safe prescription eyewear programs for your organization. They now have different kinds of safety frames, including plastic, stainless steel, frameless, and titanium. Armada provides all the safety lenses available on the market today, including special lenses for welding, furnaces, etc. The company has certified polycarbonate and Trivex (Trilogy) lenses to meet the new ANSI Z87.1-2003 standard. They provide a variety of high impact lenses. Armada is the laboratory for safety, quality, price, selection, service, and knowledge.
TERAISE Polarized Clip-on Sunglasses Over Prescription Glasses
The use of a yellow night vision clip helps reduce the glare of other vehicles' lights effect, and a nearsighted night vision clip can improve the safety factor of night driving. You can wear myopic prescription night vision glasses for a small amount of money, saving at least $350 / euro. It only weighs 4 grams. With a strongly polarized lens, the glare can be weakened, simple, and beautiful. On cloudy, rainy, or foggy nights, it's safer to wear a night vision clip. They have 18 months of quality assurance and comprehensive customer service.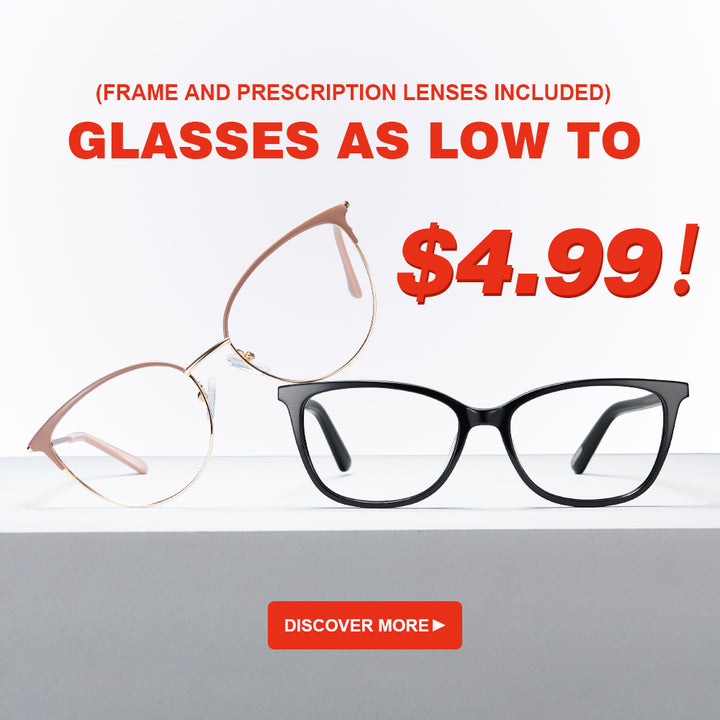 Jones New York J516
Glasses combine function and fashion. They are perfect for modern professionals, and the full-rim glasses are made of strong and not heavy acetate. The keyhole bridge gives off a preppy feel, proper for people with wider noses. Spring hinges maintain their original balance and adjustment to make your glasses more durable and comfortable, and bimetal rivets at the edges and increase the appearance. They are modern, mature college-style glasses.