What are browline frames?
The name browline comes from the design of the frame. The upper part of the frame is thicker than the lower part so that the wearer's natural eyebrow line can be noticed. The top is usually made of acetate or plastic, and the bottom of the lens is wrapped with a thinner wireframe. Later, the browline frames have also been modified to meet the needs of more customers. Some browline frames use nylon wire instead of metal wire in the lower part, while the browline frames with metal wire are more durable and stable. If people with high myopia want to have a pair of half-rim glasses, browline frames are a good choice.
Need to re-adapt to new glasses
When the glasses were damaged, the glasses were not replaced in time. As a result, the nearsighted person wears old glasses and continues to look at things. The old glasses have 'remodeled' the eyes in the long-term process, and the eyes have adapted to the old glasses. Therefore, even if the power of the new glasses is the same as that of the old glasses, the new lenses will feel brighter. In this case, eyes produce uncomfortable symptoms. It is recommended to use the new glasses early the next morning. After a night's rest, the eyes will be easier to adapt to the new glasses. After a few days of continuous wearing, the dizziness symptoms will disappear.
How to Choose Glasses for Big Heads?
In this section, we will show you how to choose an eyeglasses frame for large heads. If you do not know how to choose, keep on your reading to find some solutions.
Rectangular frames: Rectangular frames add angle and can slim down the appearance of a larger head. So, if you have a big head, try the rectangular frames glasses.
Oversized frames: if you have a big head, the oversized frames would be a good choice. Oversized glasses will balance out your larger features.
Wayfarer frames: whether your style is retro or geek chic, you will find a perfect fit in trapezoidal wayfarer. The thick angular frames offset rounder cheeks and draw attention down from the forehead. So, if you have a large head, try this style.
When choosing glasses for large heads, you should also find the right shape and color for your signature look and style. While there are a lot of glasses styles for big heads, you should consider glasses with long enough temple length, the length between the hinge of your frames and where they bend around the ear. This measurement is critical for overall comfort, especially on your temples and near your ears.
So, from the above information, you have learned how to choose glasses for big heads.
Blue light blocking glasses to protect eye health
The protective effect of blue light blocking lenses requires professional equipment, such as spectrometers, to detect the transmittance in the blue wavelength band, and consumers cannot detect them on their own. For anti-blue glasses, if you consider buying, it is recommended that consumers choose to buy from a professional optical shop.
In the digital society, people are increasingly inseparable from electronic screens. In order to protect eye health, many people fall into the misunderstanding that anti-blue glasses must be worn for a long time. In this regard, wearing anti-blue glasses also needs to vary from person to person and from time to time. If you watch the screen for a short period of time every day, and there are intervals, pay attention to rest, you do not need to wear anti-blue glasses. For people who frequently and continuously perform high-intensity visual tasks, it is recommended to wear anti-blue light glasses due to the possible medium and long-term cumulative effect of blue light.
Consumers must distinguish the specific situation when buying blue light blocking glasses, and then choose the best blue light blocking glasses that suit them. The right choice of fashionable and suitable anti-blue glasses can give your eyes full relaxation and comprehensive protection!
Tips to Get Used to Varifocal Glasses
To get used to varifocal glasses, there are some tips for you.
First, look directly at an object by moving your head, instead of your eyes.
Second, do not use your old glasses after getting a new one. It is important to stick to your new varifocals to give your eyes enough time to get used to them.
So, if you want to a pair of varifocal glasses, Koalaeye glasses are recommended. They are stylish and come at a cheap price. Koalaeye Optical is an online glasses store and the glasses can be mailed for you free with your great convenience. So, if you need a pair of varifocal glasses, try Koalaeye glasses.
The function of eyeglasses cloth
Under a powerful microscope, the fibers of the cloth are more closely arranged than those of ordinary cloth, and the material itself is softer than ordinary cloth. That's because eyeglasses under the eye are almost always coated, with each standard lens having seven layers of different functions on the front and back surfaces, to extend lens life. It can thoroughly remove the stubborn stains left on the lens to make the picture clear. It can clean all kinds of glass, resin, and other materials of glasses, glass mirrors, and other mirror surfaces, remove stains, and grease absorption.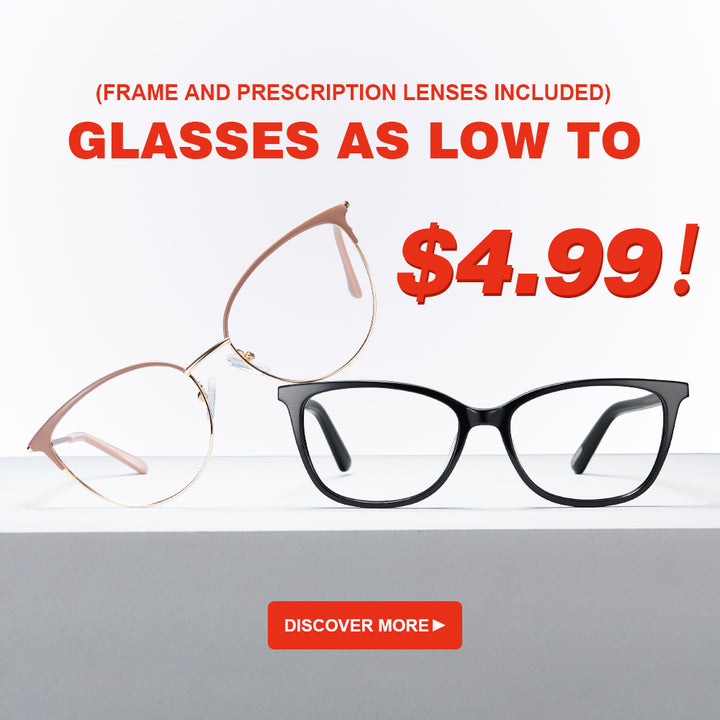 Do blue light glasses actually block blue light?
Anti-blue light glasses are still popular on the market. This kind of glasses is said to be 'anti-radiation and anti-blue light', but this kind of hot-selling anti-blue glasses has many problems. At present, such anti-blue glasses mainly block or absorb blue light through special materials, but there are two misunderstandings in its blue light protection. One is that the protection is not preventable, and the other is that the color cast caused by the wrong protection makes visual fatigue aggravated. Studies have shown that our eyes are the most intolerant of blue light in the 400nm to 440nm band. Therefore, current manufacturers mainly block blue light in this band when producing anti-blue glasses. But the electronic products that we often come into contact with nowadays produce blue light between 450 nanometers and 490 nanometers, and anti-blue glasses have almost no protection in this wavelength. Generally speaking, the blocking rate of anti-blue glasses is 20% to 30%, but now the blocking rate of anti-blue glasses on the market basically reaches 80% to 90%. This high blocking rate can also easily cause a color shift. , It is easier to make the eyes tired.