There are many types of clear frames.
Sometimes I especially envy those European and American star artists who have no secular style of dressing and collocation. A lot of times it feels like it was made for them rather than bought. Just like these clear or wire-framed glasses, no matter how they are used together, they will reveal an appropriate, stylish, confidence, and highly individualistic look. The reason is the charm that comes from inner confidence. If you want to ask what the most fashionable frame glasses look like, clear frame and gold-rimmed glasses must be selected.
There are oval, round, square, flying transparent frames, and so on many kinds.
When choosing clear frames, be careful to choose the one that suits your face shape. Oval and round clear frame suit heart-shaped face, square face, and long face. A square face with a round transparent frame will look soft.
Glasses are no longer ordinary daily necessities. A pair of glasses not only can assist eyesight, but also enhance or even change your temperament. In addition to the material, color, and shape, when choosing glasses, the most important thing is to match your face. Some frames are really good-looking, but they will be scary if they don't match the shape of your face. Today we will talk about how to choose glasses according to your face shape.
Put into the lens box when not in use.
When taking off glasses, many people will easily hang them on the head, collar, or casual display, so that glasses often suffer a variety of damage. To do this, fold the glasses and place them face up in the case. Do not place your glasses in direct sunlight or in high temperatures, as heat can easily peel off the film on the lens. For example, in summer, the glasses are exposed to direct sunlight in the car for a long time, which is easy to cause lens stripping.
How much do plano lenses cost?
If at big shop downtown, the price of the lens will exceed a hundred, but if you walk the campus store, will be a lot cheaper. Generally is 30-40 at least(not the poor quality, but the price is reasonable for students).UV protection, anti-fatigue, prevention of radiation, computer and television are the basic functions. In the campus store, it is several hundred or so, which can be matched with relatively good quality. Generally, the price of radiation-resistant resin lenses and frames is about 150. If you want to choose a better one, The price can be very high.
Choose clear glasses with the right materials for kids.
A critical point for children to choose frames is to think about the weight, to avoid wearing for a long time, or they will be uncomfortable, unstable, easy to slip. It is recommended to choose an ultra-light plate or TR90 lens frame, which has good chemical properties, good thermal stability, with no deformation, good recovery, and no side effects, lightweight, and convenient material.
Who need progressive lenses?
There is no limit to the degree of progressive multifocal lenses. Whether it is nearsightedness, presbyopia or moderate astigmatism, it can be worn, but not everyone can wear it. There are two types of progressive multifocal lenses on the market, one is hard and the other is soft. The main difference between the two designs is the length of the progressive channel. The rigidly designed progressive film has a short progressive path and relatively less peripheral aberrations. In order to ensure vision at various distances, fewer vertical dimensions are required. For example, a teenage progressive film belongs to this design, but because of its short gradual path, the gradation process is too short. Fast. Compared with the elderly, this design is more difficult to adapt; the soft design of the progressive film has a relatively long gradation channel and relatively large peripheral aberrations, but due to its long gradation channel, the gradation process is relatively smooth, which makes it easy to wear glasses It is suitable for people with poor adaptability.
If you are a person who is able and willing to accept new things, understand and adapt to the temporary discomfort caused by progressive addition lenses, we suggest that he can wear a pair, if he has severe hypertension, dizziness and other symptoms, or People who have misunderstandings about progressive lenses and are unwilling to adapt should not try them. Because you first wear progressive multifocal glasses, you may experience: slight dizziness, shaking when walking, and being careful when moving up the stairs.
The perception of space has changed, the perception of the distance of the object, and the perception of depth have changed. New wearers should not drive immediately and do strenuous exercise. When you look close, you need to turn your eyes down, and your eyes are mildly uncomfortable. Seeing an object through the blurred vision area around the lens makes the object blurred. Therefore, when new wearers look at things, turn their heads more, turn their eyes less, try to use the far-use zone, the near-use zone, and the middle-distance zone to see objects.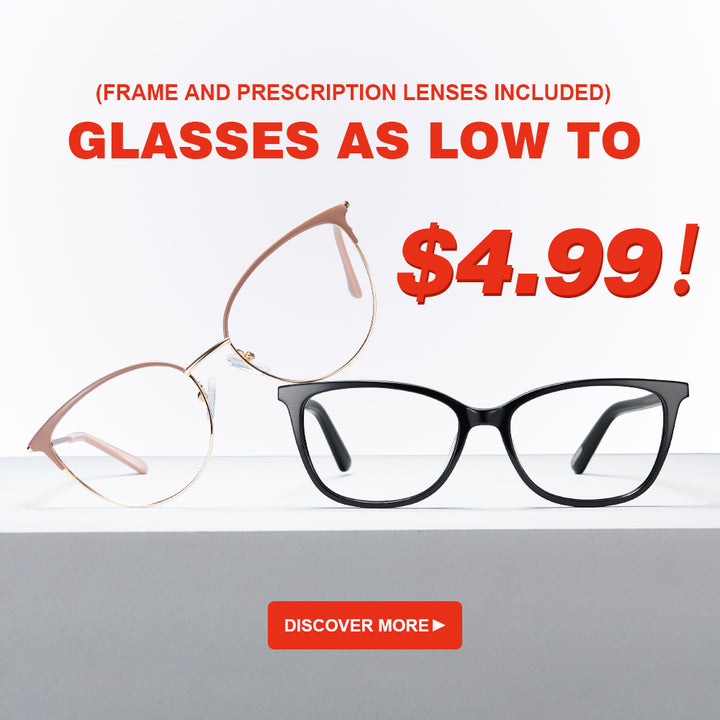 Why are blue light glasses yellow?
The material of the lens makes it turn yellow. If it's just blue and the lens is yellow, that's the material itself. Blue light glasses can weaken blue light entering human eyes. Blue light is mainly produced by mobile phones and computers in life. The blue light on the electronic screen is unchanged, so a film can only be designed on the lens to absorb blue light. This can effectively reduce blue light. The complementary color of blue light is yellow, so the yellowing of the anti-blue lens is normal. The material of an anti-blue light lens can effectively shield the blue light. If the blue light is removed from the white light we usually see, it will show yellow, which is a normal phenomenon.