How to Choose Glasses for Big Heads?
In this section, we will show you how to choose an eyeglasses frame for large heads. If you do not know how to choose, keep on your reading to find some solutions.
Rectangular frames: Rectangular frames add angle and can slim down the appearance of a larger head. So, if you have a big head, try the rectangular frames glasses.
Oversized frames: if you have a big head, the oversized frames would be a good choice. Oversized glasses will balance out your larger features.
Wayfarer frames: whether your style is retro or geek chic, you will find a perfect fit in trapezoidal wayfarer. The thick angular frames offset rounder cheeks and draw attention down from the forehead. So, if you have a large head, try this style.
When choosing glasses for large heads, you should also find the right shape and color for your signature look and style. While there are a lot of glasses styles for big heads, you should consider glasses with long enough temple length, the length between the hinge of your frames and where they bend around the ear. This measurement is critical for overall comfort, especially on your temples and near your ears.
So, from the above information, you have learned how to choose glasses for big heads.
Optometry glasses are not professional
Some people will not only experience dizziness when they change their glasses but also have headaches, nausea, vomiting, inattention, neurasthenia, and other symptoms from time to time. And some people even deepen myopia. This is most likely due to unqualified glasses and inaccurate optometry. In short, this eye discomfort is caused by the inconsistency between the power of the glasses and the actual condition of the eyes. Optometry before filling a prescription is a very important step. In addition to checking myopia and astigmatism, it is also necessary to check for eye disease, binocular vision balance, monocular ability, primary vision discrimination, interpupillary distance, etc. In this way, suitable glasses can be fitted according to the overall situation of the person's eyes. The spectacles must also match the parameters of vertex, interpupillary distance, cylindrical lens axis position, etc. Otherwise, it will directly affect the effect of correcting vision, cause the user's visual fatigue, and increase the emphasis on power loss.
What to consider when buying eyeglasses?
The size of the frame should match the pupil distance so that the edge thickness of the lens is thinner and more comfortable to wear. The size should be proportional to the size of the face. The upper edge should not be higher than the eyebrow and the eyebrow should not be visible in the lenses. The shape of the frame should match the shape of the face and skin tone to meet aesthetic requirements. The rectangular face should choose a circular arc or arc transition frame. An inverted triangle face shape should choose one with a lower wide edge.
How much should a pair of prescription glasses cost?
Speaking of glasses, everyone's first feeling may be that it is not cheap to have a pair of prescription glasses. Just such a small pair of glasses, ranging from a few hundred dollars to a few thousand dollars. Why is the difference so big? So some people go online to buy glasses for dozens of dollars as if they look the same. But is it actually the same? There are a lot of differences between the glasses for dozens of dollars and for thousands of dollars, apart from the price. Also, you should be responsible for your own eyes.
Better glasses brands will adopt better designs to ensure beautiful appearance and structural safety, and have stricter quality standards. At first, these glasses are not cheap because the cost has increased a lot. In addition to the brand, different materials, process requirements, and mass production scale will also affect the cost and thus the final selling price. As for the question of what price glasses to choose, my suggestion is to choose the high-priced one within your budget. So, to choose a suitable pair of glasses, what aspects need to be considered?
Where to Buy Unbreakable Eyeglasses Frames?
From the above part, you have learned some unbreakable eyeglasses frames. So, do you know where to buy unbreakable eyeglasses frames? To buy them, Koalaeye Optical is strongly recommended. It is an online optical store, providing all kinds of eyeglasses, sunglasses and frames. So, from here, you can get the most durable eyeglasses frames.
Besides, these eyeglasses frames are stylish and come at a cheap price. If you buy them, the eyeglasses will be mailed to you with your great convenience. So, if you need unbreakable eyeglasses frames, try Koalaeye Optical.
What Are Trivex Lenses?
What is Trivex? Trivex lenses were first produced in 2001. Trivex lenses come with several features such as light, impact-resistance, and high-performance strength. Recently, the use of Trivex as ophthalmic lens material has grown in popularity. Lenses made from Trivex material fulfill the same safety standards as those made from polycarbonate.
In addition, because of Trivex's manufacturing process, plastic lenses sporting Trivex material do not distort vision as much. Trivex lenses offer 100 percent protection from UAV and UAB rays, sharper central vision, and sharper peripheral vision. Trivex was developed for military applications, so it is good for outdoor use. Other benefits include resistance to chemicals and better light refraction.
So, in the following section, we will show you the advantages and disadvantages of the Trivex lenses.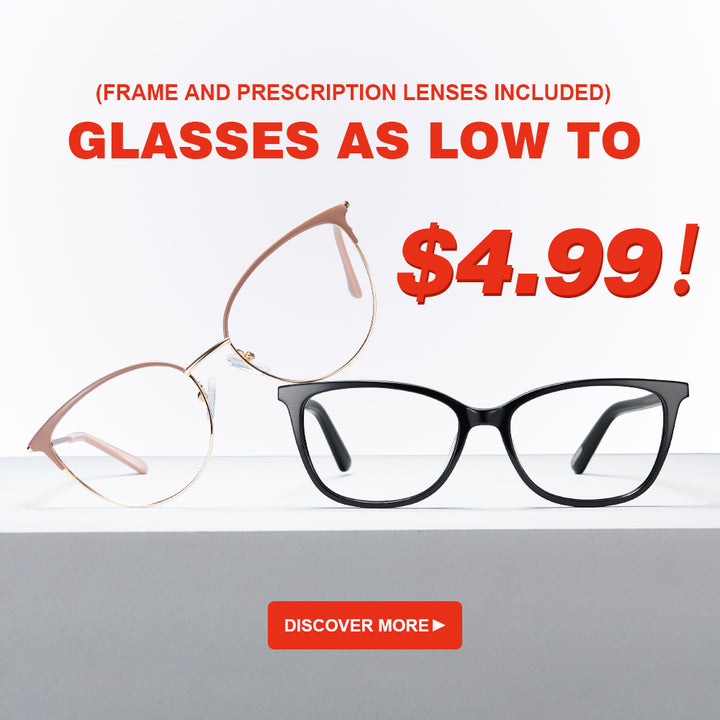 The Benefits of Anti-Reflective Coating
After knowing some basic information about anti-reflective coating, you need to know the benefits of anti-reflective glasses.
Anti-reflective glasses enable more light to pass through your lenses to optimize visual acuity with fewer distractions and the lenses look nearly invisible, which enhances your appearance by drawing more attention to your eyes and helping you make better eye contact with others.
In addition, the anti-reflective coating is especially beneficial when used on high-index lenses, which reflect more light than regular lenses. That is to say, the higher the index of refraction of the lens material, the more light that will be reflected from the surface of the lenses.
What's more, the modern anti-reflective coatings can reduce the reflection of light from eyeglasses, allowing 99.5% of available light to pass through the lenses and enter the eye for good vision.
Because the anti-reflective coating can eliminate the reflections, it can also make your eyeglass lenses look nearly invisible so that people can see your eyes and facial expressions more clearly. Hence, anti-reflective glasses are more attractive and you can look your best in all lighting conditions.
Anti-reflective glasses have sharper vision with less glare when driving at night and greater comfort during prolonged computer use. So, you can find that anti-reflective glasses come with many benefits.