Recommended Glasses for Heart Shaped Face
Wayfarers frames: to balance out a wider forehead is by finding frames that have wide, prominent endpoints that extend out past your temples. This can draw the gaze up and away from your cheekbones, making your eyes the focal point. So, the wayfarers frames are recommended.
Cat-eye frames: if you do not know how to choose the best glasses for heart shaped faces, you can try the cat-eye frames glasses. They can be quite versatile and help contour your face, either balancing or highlighting prominent features.
Aviator frames: the last glasses for heart shaped face we want to recommend is the aviator glasses. They can work to draw the eye downwards and flatten the bottom part of your face. The aviator frame glasses can also add a balanced look and soften prominent angular features.
How to buy contact lenses online?
Choose the right contact lens for your situation. Base arc and degree need to be added in the hospital or optician shop to determine. Try not to buy according to the framed degree. Some businesses claim to have the lenses having South Korea's silicone hydrogel, with annual throwing. They are not to be believed, because the material characteristics of the silicon hydrogel are not capable of making long-time discarded type lenses. There are a lot of things to pay attention to in order to properly wear contact lenses. For example, a medical optometry sheet is the premise of attention. Each pair of contact lenses is marked on the package of the basic arc, diameter, water content, diopter, and other parameters. Only according to the optometry sheet, you can choose the correct basic arc, diameter, and diopter. At the same time, there is a certain distance between the glasses and the cornea.
The material of the nose pads
There are many differences between silica gel and PVC materials. For example, silicone can pass ROHS certification and is environmentally friendly. Silica gel is soft and feels good, while PVC products are rough. Silica gel products are soft, while PVC products are hard. Silica gel products are more flexible, but PVC has no toughness. Silica gel products are usually made to be more transparent. Glass frames made of plate material and TR-90 material, are relatively not heavy and non-allergic. Typically, the TR90 frame is cast to form a nose pad attached to the glasses ring. As the plate frame is cut out from compressed materials, the plate frame with a nose pad is usually injected into the nose pad after the frame is made.
Should face shape be considered when wearing rimless glasses?
In our life, we will see a lot of people who wear rimless glasses. Compared with full-frame glasses, there is no restriction on face shape and it suits most face shapes. Whether you have a square face, a long face, or a round face, wearing rimless glasses is trendy and beautiful, very popular among contemporary young businessmen and women. Rimless glasses are very easy to wear. No matter what shape your face is, it will feel stylish and beautiful. Rimless glasses are very simple on collocation dresses. And rimless glasses suit most face shapes, so they are suitable for many people.
How Long Does It Take to Get Used to New Glasses?
Most people are excited when they get a new pair of glasses for the first time. But sometimes there is an adjustment period before your vision is fully comfortable. So, how long does it take to get used to new glasses?
In most cases, it takes only a few days to adjust to a new pair of glasses. When you are adjusting to your new glasses, you might experience some symptoms such as mild dizziness, blurry vision, or eye strain. This would be a normal situation. These symptoms are common with new glasses and typically last only a few days.
Even though the new glasses come with the same prescription, different frames or lenses can alter your vision until you get used to the new frame style, frame material or lens type.
Besides, other factors will affect the adjustment time, such as the complexity of your prescription, the type of lens, and so on.
How long does it take to adjust to new glasses? It usually takes a few days. However, if you experience eye strain, distorted vision, and especially headaches for a few weeks, you had better contact the eye doctor or the optician. They will check your eyeglass and the prescription.
Men's clear glasses are a fashion item.
A clear glasses frame is not only for a schoolgirl. Clear and transparent design more feel cool and refreshing in scorching summer. At the same time, it will not cover the facial features too much, making the face more delicate and clean. Small pure and fresh picture frames tie in some of the clothes of literature and art naturally. Therefore, the scope of use of clear glasses is very limited, only suitable for fashionable men.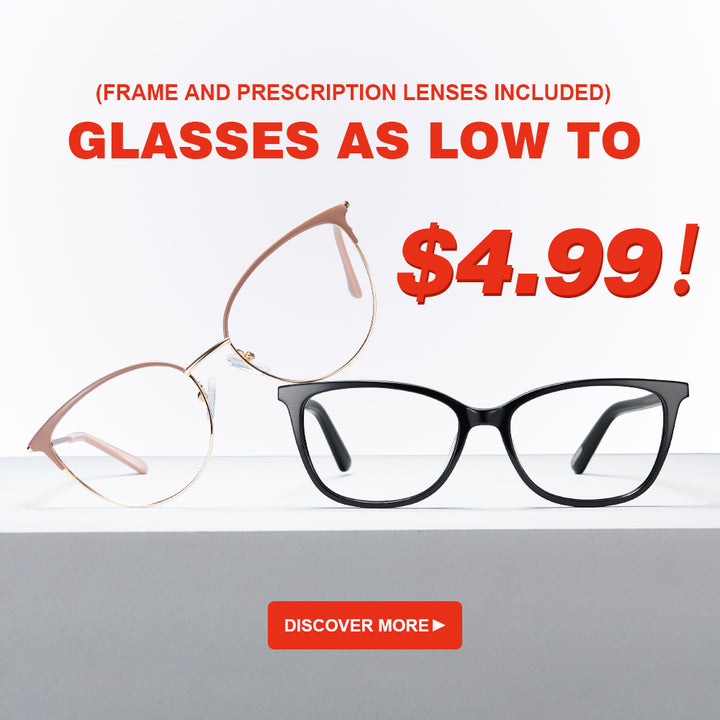 TERAISE Polarized Clip-on Sunglasses Over Prescription Glasses
The use of a yellow night vision clip helps reduce the glare of other vehicles' lights effect, and a nearsighted night vision clip can improve the safety factor of night driving. You can wear myopic prescription night vision glasses for a small amount of money, saving at least $350 / euro. It only weighs 4 grams. With a strongly polarized lens, the glare can be weakened, simple, and beautiful. On cloudy, rainy, or foggy nights, it's safer to wear a night vision clip. They have 18 months of quality assurance and comprehensive customer service.