Do You Need Long Distance Glasses?
If you are struggling to see things at a distance, you may need a pair of glasses for distance to correct your vision. The symptoms of myopia might include sitting closer to the TV, headaches or eye strain, or rubbing your eyes more than usual. And you can click here to know more symptoms.
If you are over 40 and currently wear glasses for distance vision, you might need to update your lenses at some point to cater for presbyopia, which is an age-related condition whereby your close-up vision can begin to deteriorate.
So, the glasses for distance would be very important for those people who have nearsightedness. If the eye doctor advised you to wear glasses for myopia, you need single vision lenses. This means the lens has one dioptric power throughout, optimized for distance in this case. If you have developed presbyopia, you may need to wear a pair of varifocal glasses to correct your vision.
The refractive index of the lens is related to the thickness of the lens.
The main factors that determine if a pair of finished glasses are beautiful, portable, and comfortable depending on the thickness and thinness of the processed lenses. Depending on the material, the index of refraction is different. If you just look at the refractive index, the higher the refractive index at the same degree, the thinner the lens will be. The thinner the lens will be, and the more beautiful the lens will be. However, the higher the refractive index, it is not the better. You can choose the refractive index lens suitable for yourself. But the refractive index is not the only factor that determines lens thickness. Think about the distance between your eyes and the size of the frames you choose, which can affect the thickness of the lenses you match. The larger the pupil distance, the smaller the frame, and the thinner the lens.
Advantages of acetate glasses frames
Acetate frames are Lightweight and comfortable. As one of the daily necessities, the lightweight acetate frame will not bring a heavy burden to the bridge of the nose. Even if you need to wear glasses all day, you will not feel too much discomfort.
Acetate frames are durable. This is the key factor that makes acetate frames stand out from traditional plastics or other materials. Acetate frames are made by cutting, molding, and polishing multiple pieces of material, which makes them as strong as metal and ideal for eyeglass frames.
Acetate frames can complete various designs. Acetate makes the design easier to maintain. Acetate fiberboard can be designed with colorful patterns, different layers, and many colors. Embedded design can maintain design features more effectively without spraying or painting.
Although acetate frames are more expensive than ordinary plastic frames, it is more cost-effective to choose a more durable acetate frame because glasses are our daily necessities for a long time. Moreover, acetate is comfortable, light, and stylish. Therefore, next time you decide to buy a new spectacle frame, you can try a spectacle frame made of acetate.
How Do Bifocal Glasses Work?
After learning some basic information about bifocal lenses, you should know how the bifocal glasses work.
With a pair of bifocal glasses, it would be convenient since they combine all your vision needs into a pair of glasses and you do not need to switch two pairs of glasses frequently. Bifocal glasses are usually designed to for those people who are over the age of 40-45 that need additional help with their near vision due to the effects of presbyopia where the crystalline lens inside the eye naturally begins to lose its ability to focus on near objects.
If you work in the office, you may need a pair of bifocal glasses. The top distance vision in the top of the lens can be used for meetings or presentations and the near vision in the bottom of the lens can be used to look at the computer screen or at documents.
When to Wear Blue Light Glasses?
If your eyes are experiencing signs of exhaustion after prolonged use of digital screens, you may benefit from blue light blocking glasses. So, please pay attention to what your body is trying to tell you, and there are some warning signs to look out for that tell you if you are in need of blue light glasses.
If you are suffering from one of the following symptoms, you had better wear a pair of blue light blocking glasses, such as headaches, eye strains, trouble sleeping, dry eyes and blurred vision. You can also check whether the symptoms are decreased after wearing the blue light glasses.
About Costco
Costco is a members-only warehouse club dedicated to providing its members with brand-name goods at the best prices. Costco has hundreds of stores around the world, providing a wide selection of merchandise. And the convenient specialty departments and exclusive member services, all are designed to make your shopping experience enjoyable.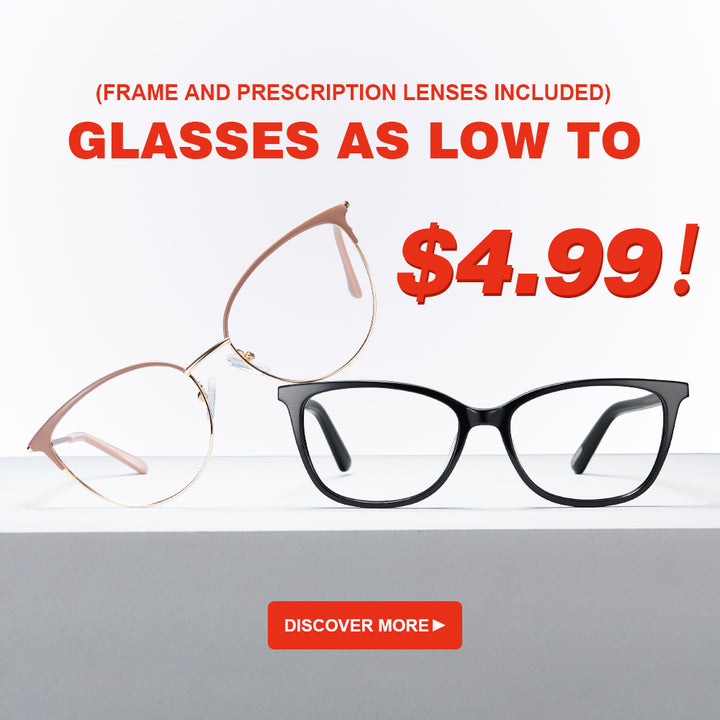 About celluloid glasses
In 1929, the first large-scale production of sunglasses made of celluloid was made by SamFoster, an American who ran a women's accessories company facing bankruptcy and made it convenient to use the injection molding technology used to make hairbrushes. Sunglasses made of celluloid were sold on the beach of Grand West, New Jersey, and became very popular. Indeed, celluloid glasses were once popular because of their high-cost performance, but celluloid gradually faded out of people's eyes due to its poor chemical stability, flammability, and other shortcomings, with the emergence of new materials for glasses.