Glasses with metal frames.
This is a very popular style of glasses. The feature of the glasses is that they look classic and retro, but when worn with modern clothes, they will make people feel bright.
The first feeling given by metal frames is retro, indeed, no matter what kind of metal frame is worn, there is always a kind of old retro flavor. But metal frames aren't just retro for anymore. Now, the metal glasses frame is synonymous with the avant-garde.
ROGERS
Wearing glasses equipped with Rogers progressive multi-focus reading glasses can not only avoid the trouble of frequent picking and wearing but become the mainstream of the international reading glasses market with elegant and decent youth. ROGERS' progressive multi-focus glasses have become the bright pearl in the eyes of politicians and business tycoons in developed countries, and thus gradually become popular and popular among the general public. ROGERS's progressive multi-focus reading glasses have won the favor of the reading glasses market and the industry with their excellent cost performance and have become the preferred lens for processing multi-functional reading glasses and progressive multi-focus reading glasses in the industry.
What Should Be Considered When Buying Blue Light Glasses?
Be wary of "eye protection" claims. Some businesses advocate their anti-blue light products how miraculous.
Do not try the lens from the unknown lens manufacturer or lens factory. A professional lens factory needs more than ten years or even decades of accumulation, so do not be blinded by dazzling pictures and brand image.
What Are Colorblind Glasses?
Colorblind means that you can't see the depth or richness of certain color shades. Colorblind glasses are eyeglasses with specially tinted lenses that help a colorblind person to see colors more accurately. Colorblind glasses do not cure color blindness or produce 100% normal color vision. But they enhance and partially correct certain color vision deficiencies of colorblind individuals.
Color blindness is common among people, especially in men. Blindness is an inherited condition, but can also be acquired. It can also occur if the eyes are damaged due to injury or from another disease that affects vision.
Colorblind glasses claim to assist with detecting differences between colors. They also claim to add additional vibrancy to the colors that people with color blindness may not fully experience.
Proper massage
Proper massage can not only relieve the fatigue of the skin that supports glasses but relax the eyes. Take time each day to gently massage the marked area of the nose pad for ten minutes. Try not to wear glasses all the time. You can switch between contact lenses and glasses. In this way, over time, the nasal plate marks will gradually disappear. Hot towels can be used to warm the skin, which is helpful to blood circulation to the skin and slowly eliminate indentation.
Blue light in electronic products
In addition to the blue light that exists in natural light, LED energy-saving lamps, fluorescent lamps, computer monitors, mobile phones, and other digital products will emit blue light because of the use of light-emitting diode LED technology. Some people think that blue light hurts the eyes because blue light is not absorbed by the cornea and lens like ultraviolet light. The blue light can pass through the refractive medium of the eye to reach the retina, and then be absorbed by the pigment epithelium of the retina, which will cause aging and functional degradation of the retina over time.
The eyes also have many protection mechanisms, such as squinting, pupil contraction, lutein contained in the macula of the retina, and the retina's own antioxidant repair mechanism, which protect our eyes from blue light damage. And after scientific testing, it is found that the blue light emitted by electronic products is only several hundredths of the intensity of blue light in natural light. This means that as long as the electronic products are not used continuously every day (for example, more than 8-10 hours a day), the blue light will not cause obvious damage to the eyes.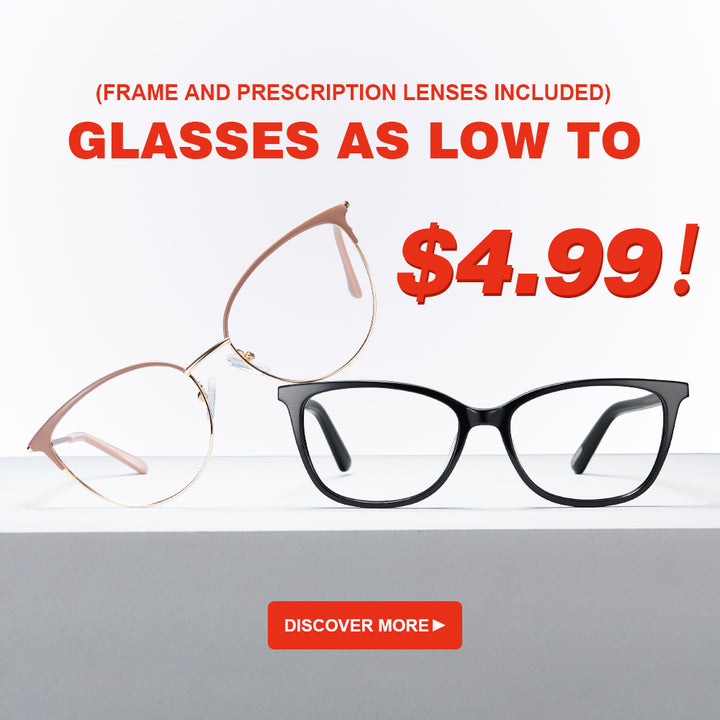 What To Do with Old Glasses?
What to do with old glasses? Where can I donate old glasses? You may have the same troubles. So, in this section, we will show you what you should do with your old glasses.
You can choose to donate your old glasses. Around the world, about 13 million children can't finish their education for the sole reason that they can't see well enough to learn. In addition, there are some goodwill organizations that will take your used reading glasses as long as they are in decent shape. So, what to do with old glasses, donate them. Where can I donate old glasses? You can search the old glasses donation organizations online.
If you have a pair of old glasses, you can also choose to sell them online to save some money. You can sell them on some platforms such as eBay or Preloved.