How to wear clear frames with style?
A square face is all about softening the lines of the face, so it works well with round frames. The person with a long face should choose a bit bigger frame. It can make the proportion of the face-up and down more harmonious. The oval face is the standard face shape, and any frame is suitable. People with round faces are similar to those with square faces. If you have a round face, you can choose a square frame instead of a round frame, which will only make your face look rounder. The most important feature of a diamond face is high cheekbones, so choose a thick frame to visually weaken the cheekbones. For the triangular face, people can choose the frame of a half-frame design. Since the upper part of the face will be smaller in this shape, a half-frame design is necessary to balance the proportions.
The glasses are too loose or too tight at the temple.
If your glasses are too tight on your temples, you will feel uncomfortable. On the other hand, if your frames are too loose, it can make you look not energetic. Either way, you can adjust the frames at home to make them more comfortable. If the arm squeezers your temples. If the frames are metal, hold your lenses in place with your less-used hand. Use your dominant hand to gently press outwards on the corner of the frame, between the hinge of the frame and the lens. Repeat this step on the other side of your body to make your temples looser. If the frame is too loose from the temple. Again, for metal frames only, use the same method as you used to relax the frames, but apply slightly inward pressure on the corner between the hinge and the lens. Repeat on the other side, tightening the fit around the temple. Adjusting the temples of rimless, half-rimless, or plastic frames can break them. You are advised to take these frames to the optical shop for adjustment.
What Are Colorblind Glasses?
Colorblind means that you can't see the depth or richness of certain color shades. Colorblind glasses are eyeglasses with specially tinted lenses that help a colorblind person to see colors more accurately. Colorblind glasses do not cure color blindness or produce 100% normal color vision. But they enhance and partially correct certain color vision deficiencies of colorblind individuals.
Color blindness is common among people, especially in men. Blindness is an inherited condition, but can also be acquired. It can also occur if the eyes are damaged due to injury or from another disease that affects vision.
Colorblind glasses claim to assist with detecting differences between colors. They also claim to add additional vibrancy to the colors that people with color blindness may not fully experience.
Titanium alloy
The definition of titanium alloy is relatively broad. As long as it contains titanium material, it can be called titanium alloy. Therefore, the quality and grade of titanium alloy glasses frames are uneven, and the component of titanium alloy has a direct impact on the price of titanium alloy glasses. Titanium alloy glasses are made not to reduce the cost, but to improve the application performance of the material.
Zenni Optical Oval Glasses
These inexpensive, no-fuss oval glasses come in clear, brown, black, or aqua. Price includes frame and basic prescription lenses, scratch-resistant coating, and UV protection. People with square faces may be best suited to wearing oval glasses. Zenni has a try-on feature where you can upload a photo of yourself so you can see what you look like with the glasses on.
What is a titanium glasses frame?
Titanium is a metal that has long been used in aerospace, and even in cutting-edge defense because it is so strong and lightweight. Chemically stable, the material is widely used in artificial joints. One thing to emphasize, the titanium welding process is very demanding. The production cost of titanium and titanium alloy glasses is high, and the process has special high requirements in cutting, stamping, welding, and electroplating (for example, welding must be completed in a vacuum), so the price is relatively expensive.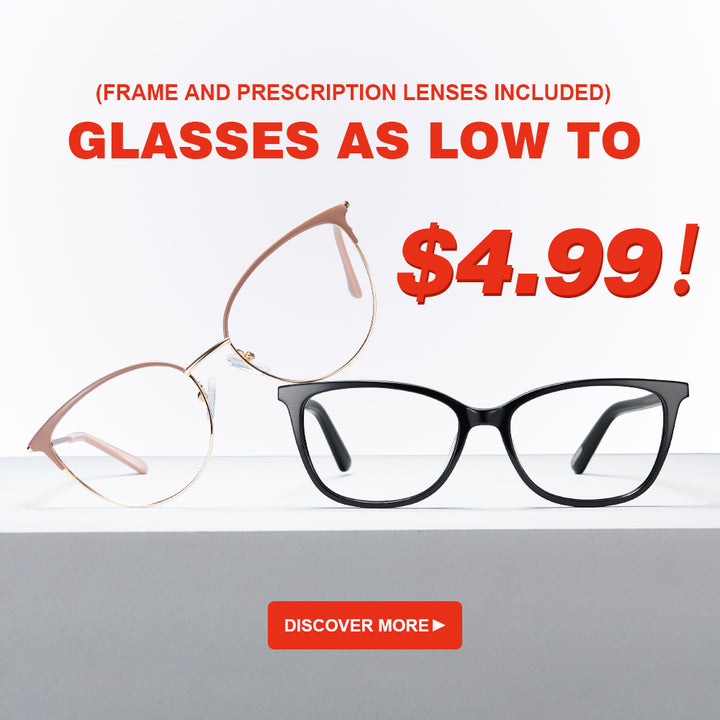 Is blue light blocking worth it?
There are two main problems with anti-blue glasses currently on the market. One is that the place to be prevented is not preventable, and the other is that people have color casts due to wrong protection and aggravate visual fatigue. Studies have shown that our eyes are the most intolerant of blue light in the 400-440 nanometer band. Therefore, current manufacturers mainly block blue light in this band when producing anti-blue glasses. However, the blue waveband of electronic products is between 450 nanometers and 490 nanometers, so most anti-blue glasses have little protection in this waveband. In addition, the blocking rate of anti-blue glasses is 20%~30% to achieve a good anti-blue light effect, but now the blocking rate of anti-blue glasses on the market has basically reached 80%~90%. All in all, these blocking blue light glasses cannot prevent the blue light in the 450-490 nanometer band, and their high blocking rate will also cause a color shift, which makes people more likely to have eye fatigue and headache.
In daily life, the intensity of blue light is low, not enough to cause damage to the fundus, so ordinary people do not need to wear anti-blue glasses unless they are working in extremely strong light conditions or working in special environments. To protect the eyes, it is more important for people to develop good eye habits. For example, wear a pair of suitable glasses and read insufficient light and at an appropriate distance. Avoid using electronic products for a long time. Take a break for 20 to 30 seconds every 20 to 30 minutes, and look at the distance regularly. If you have dry eyes while reading the electronic screen, remember to blink to 12 times per minute. It is best to wear sunglasses when outdoors.