Progressive Lens
Standard progressive lenses are multifocal lenses with three observation areas, farsightedness, intermediate vision, and nearsightedness. Unlike bifocals, there are no visible lines between each viewing area. They have a seamless, invisible design, where the optical power changes 'gradually' throughout the lens. Many people confuse 'bifocal' or 'trifocal' with 'progressive' but remember that bifocals and trifocals have visible lines in the lens, while progressive lenses do not. Because progressive lenses have no lines in the lens, they are more popular multifocal lenses than bifocal lenses.
The main observation area of the progressive lens is a far distance, the smaller area at the bottom of the lens is used for myopia, and the middle area in the middle is smaller. Standard progressive glasses are very suitable for general purpose glasses, focusing on hyperopia activities (such as driving and walking) and sufficient area in the lenses for nearsighted activities (such as reading and computer use). The left and right sides or 'convex corners' of the lens are deliberately blurred to achieve an invisible design. The clearest line of sight in the gradual process is from the center to the top of the lens.
The characteristics of suppleness, lightweight and non-deformation
Pure titanium glasses have the characteristics of ultra-high flexibility, ultra-light, and not easily deformed. Pure titanium spectacle frames get rid of the shortcomings of ordinary spectacle frames that are stiff, heavy, and easily deformed. Medically implanted high-grade plate materials, combined with the color electroplating process, highlight youthful vitality and three-dimensional sense, making our facial features more refined. The nose pads are stable, not slack, and highly conformable, which avoids the embarrassing moment of the glasses frame falling down. And pure titanium glasses can make you look stable and reliable, and people can't help giving you more trust.
What Are the Disadvantages of Progressive Lenses?
In this section, we will show you some progressive lenses disadvantages.
1. You must learn how to see through the lens. Since there is no visible line in progressive lenses, you may need one or two weeks to learn the correct way to look through the lens.
2. Temporary vision distortions. The lower part of a progressive lens is magnified since it is designed for reading. So, when you look downward when stepping off a curb or walking upstairs, your feet may appear larger through the progressive lens so that it is difficult for you to gauge your step.
3. Progressive lenses are expensive than traditional glasses. So, when you purchasing the progressive lenses, you can compare several different optical stores. In addition, Koalaeye Optical, a professional glasses provider, offers various glasses including cheap progressive lenses, sunglasses, blue light glasses, and so on. Besides, it provides the free shipping service.
What is night blindness?
Diminished night vision can also be called night blindness. When you suffer from night blindness, it does not mean that you can't see anything at all at night. This means that you have difficulty driving or seeing things in dark or dim lighting conditions. Night blindness also makes it difficult for the eyes to change from bright light to dim light. This is why night driving in oncoming vehicles can be challenging for some people with night blindness.
Many people have experienced a condition called night blindness, which can make driving at night difficult. Driving glasses at night should help alleviate this situation. However, research shows that night driving glasses are generally ineffective.
If you encounter problems while driving at night, please make sure that all reflective surfaces in your car are clean and free of dirt. You should also see an ophthalmologist determine the cause of the problem. Many causes of night blindness can be easily corrected, making you and others safer during the journey.
Blue light blocking glasses lenses and common glasses lenses have different functions.
Blue light-blocking glasses are glasses that prevent blue light from causing irritation to the eyes. Its main function is to prevent the eyes from being affected by this light and from being irradiated. It is suitable for use in extreme working environments. Blue light-blocking glasses are not for everyone. Special anti-blue light glasses can effectively isolate ultraviolet and radiation and can filter blue light. They are suitable for use when using electronic products. And common glasses are used to improve vision, eye protection, and could solve a variety of vision problems, including myopia, farsightedness, astigmatism, presbyopia or strabismus, amblyopia, and so on.
Visionworks
Eyeglass frames aren't just about sight, they're a fashion statement. In the Visionworks collection of designer glasses, there are top brands to choose from, including Nike, Ray-Ban, and Guess. By using the filter, you can browse the frames by category, gender, brand, price, color, lens type, and more, making it easy to buy glasses online. While the lenses sharpen your vision and bring the world into focus, the frames are a statement of your personality and style. If you want to buy glasses online, they offer a good price option.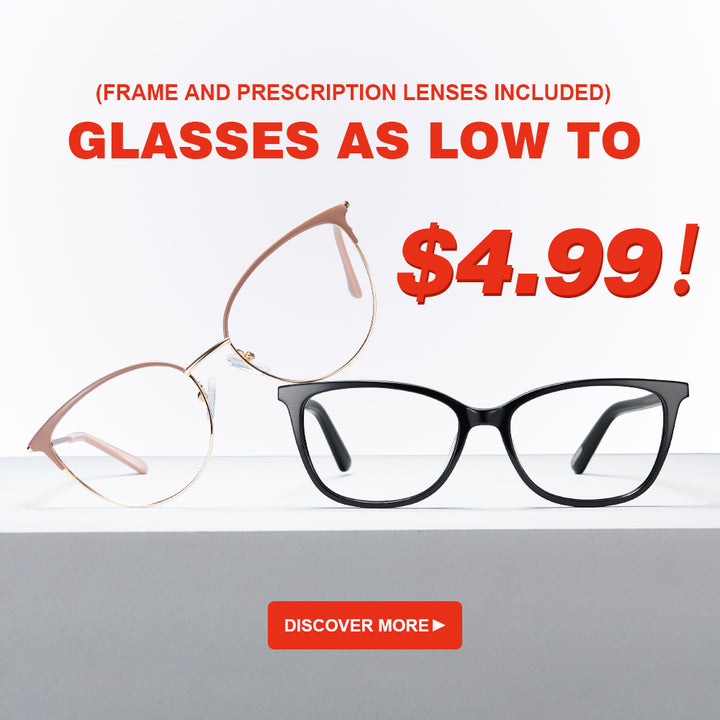 Magnesium aluminum spectacle frame
One of the characteristics of magnesium-aluminum spectacle frames is that they are resistant to corrosion, sweat and wear. In addition, spectacle frames made of magnesium-aluminum are also rich in color and look very textured, so many business people like to use such spectacle frames to display Its own charm.