Overnight Glasses
Overnight Glasses is created by experienced members of the optical industry. You'll get high-priced lenses, coatings, and prescription glasses approved by the FOOD and Drug Administration (FDA) and the American National Standards Institute (ANSI).
Production, inspection, and customer support are all done by certified opticians in the US with 100% accuracy. Freeform Progressives Lenses designed by Seiko, Transitions Lenses, Trivex Trilogy, Nu Polar Polarized films, even the most basic prescriptions for monopod lenses, are manufactured, assembled, and double-checked in the United States by their certified personnel. The inventory includes prescription glasses and prescription sunglasses from well-known brands such as Ray-Ban, Oakley, Dior, Versace, Salvatore Ferragamo, Dolce and Gabbana (D&G), Prada, Tom-Ford,Burberry Eyewear, and Ermenegildo Zegna are both priced at less than half what other retailers offer.
Agstum Blue Light Blocking Glasses - Flexible Rimless Titanium Alloy Eyeglasses Frames
The frame is equipped with anti-blue light lenses, which you can easily replace with your own if you have eye problems. Blue light-proof lenses are to make you have a better sleep. They are to prevent harmful blue light, which provides all-day protection against the harmful effects of high-energy visible light and UV400. You can enjoy your digital time without worrying about eye strain, blurry vision, and headaches. It uses a durable memory metal optical frame.
Essilor glasses
Essilor glasses are cost-effective glasses. Essilor is originated in France and has a history of 160 years. If Ray-Ban focuses on styling and sunglasses are its flagship products, Essilor is the first in the field of optometry. Essilor focuses on the research of the precision of optometry lenses and has always been a leader in the technology of myopic lenses. Innovation is at the heart of Essilor's DNA, so new lenses are constantly being created for different groups of people.
Why do you need night-driving glasses?
Aging causes our pupils to become progressively smaller, so they don't dilate as quickly. A smaller pupil means less light reaches your retina, which makes it harder to see at night. The weak artificial light, and the fact that we can't see beyond these sources in the dark, exacerbate the dangers of night driving. For people wearing prescription glasses, the risk of driving at night is much greater. Driving can be stressful, especially if you have poor eyesight. This is especially true at night. If you have poor vision and drive at night, you're vulnerable to a number of potential hazards, and we're talking about prescription glasses for night driving. These glasses can play a big role in making you safer and more comfortable. They can even save your life. This is especially important as night vision decreases with age. When you drive at night, choosing the best prescription glasses for night driving can make your life easier.
How long does it take to get used to progressive lenses?
Because the adjustment of each eye is different, so there will be some differences in the adaptation period. It usually takes about two weeks to get used to it. Probably many young people are familiar with this kind of lens, so they adapt to them for only a week or so and can restore the normal visual effect. If it's been two weeks and you still feel that you can't see clearly, or you have the feeling of nausea, etc., then you need to test and adjust. You need to go to the hospital to see the specific case, to find out whether it is a quality problem of the sunglasses, or there are some artificial reasons. If there is a problem, we should also replace the lenses in time, otherwise, it may lead to the problem of visual fatigue. Therefore, it is still necessary to promptly confirm the case of optometry, and then replace the appropriate glasses.
Titanium glasses are very popular.
Nowadays, the relatively popular titanium glasses, taken from titanium metal light, are not easy to break, are elastic, have super corrosion resistance, have a good touch, are non-allergic, and have memory characteristics. They have become a new type of glasses frame material. So that the wearer will no longer wear traditional overweight glasses, with no long-term pressure on the bridge of the nose caused by muscle oppression, and another discomfort. And they do not have to worry about glasses after long-term use of discoloration and lackluster and other problems. The titanium frame is more and more popular and becoming a fashion. Especially the high-end business elites praise pure titanium frame. No matter from the material, lens frame, suitable crowd, they can say to be an especially good choice!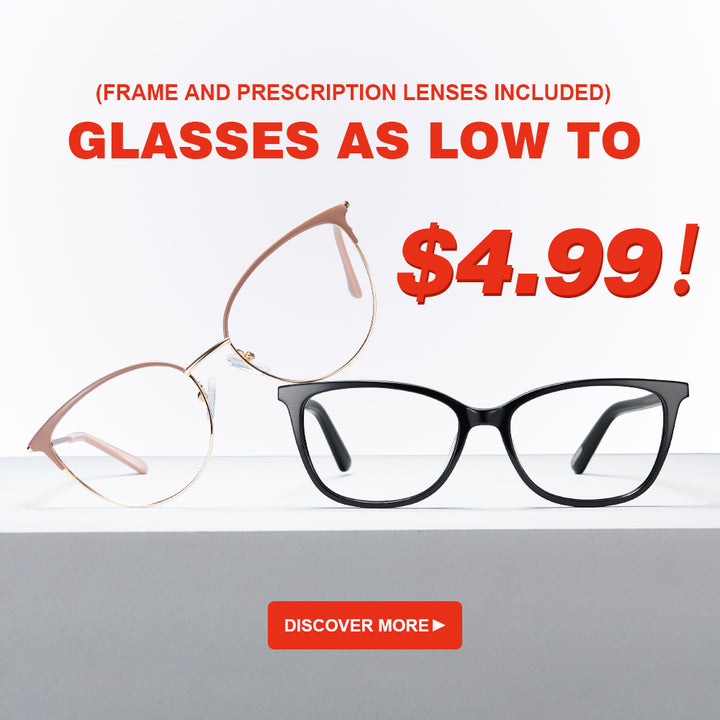 How to Find Reading Glasses Strengths?
With the increase of age, your vision may begin to decrease and this is an inevitable change in your life. So, when you are trying to decipher some smaller prints, you may need the reading glasses.
When your vision begins to decrease, do not worry, this is a normal change. You will find that the deterioration insight often occurs around the age of 40. The technical term for this condition is called presbyopia, a natural, age-related change in the lens of the eye which makes it more difficult to focus on smaller print and close-up objects.
The condition may become worse as you are near 60 years of age, depending on the type of near distance tasks you performing. Of course, you also need to consider the actual situations.