How to Choose Reading Glasses?
Choose big frames the first time. When choosing reading glasses, you can choose the big frames for the first time. You may need larger glasses frames or lenses to really get the sweet spot of where the prescription is.
And if you have never worn glasses for eye conditions such as nearsightedness, farsightedness or astigmatism, it is likely you will be able to see well with non-prescription reading glasses. So, you can buy these non-prescription reading glasses.
What Are Anti-Glare Glasses?
Anti-glare glasses are made with lenses that have an anti-glare coating or anti-reflective coating. This is an extremely thin layer placed on the lens itself so as to remove any reflections you might see from the surface of the glasses. This improves your vision by reducing the amount of glare that reflects off of your lenses.
Can you get prescription glasses for night driving?
It is recommended to choose prescription night driving glasses with an anti-reflective coating.When you're driving at night, you'll encounter several bright light sources, including the car's headlights, taillights, and street lights. These light sources can be a distraction for any driver, but especially for those with eye problems. The light reflected from these light sources can cause these drivers to temporarily lose sight of the road, which can lead to many unfortunate situations. As a result, the anti-reflective coating protects your eyes from nighttime brightness and daytime UV damage. The coating on the glass prevents the reflection of these light sources, allowing you to better focus on what's happening in front of your car. Meanwhile, prescription glasses with an anti-reflective coating can reduce glare and improve vision. Whatever prescription glasses you choose for night driving, make sure they have an anti-reflective coating.
What is vision insurance?
The term vision insurance is commonly used to describe health and wellness plans designed to reduce the cost of regular preventive eye care (eye exams) and prescription glasses (glasses and contact lenses). Some vision plans provide discounts on elective vision correction precesses, like LASIK and PRK. But unlike large health insurance plans, most vision plans are discount or health benefit plans that provide specific benefits and discounts on annual premiums. They can be used to cover most of the cost of eyewear, or they can be used to make high-end eyewear products and improvements, like progressive lenses, anti-reflective coatings, and photochromic lenses, which are much cheaper. Vision insurance plans usually operate differently than other health insurance plans or large medical insurance plans.
How to Choose Glasses for Square Face?
What glasses suit my face or what glasses suit my square face? If you have the same questions, you come to the right place. This post will show you some advice.
In fact, there is a wide range of eyeglasses available for square faces. Round and oval glasses are the best choice for people with square faces. These frames will soften and balance your strong jawline and add contrast to your face shape.
Now, we will show you some suggestions for the glasses for square faces.
Round glasses: round glasses are a sophisticated, polished look that works well with a square face shape. No matter what color you choose, this style works beautifully with a square face shape.
Browline glasses: as for glasses for square face, you can choose the browline glasses. These glasses are thicker at the top, mimicking the way the eyebrows frame the face. Their unique design is one of the best glasses for square faces.
The hinge is not easy to break, rust and impact resistant
Ordinary glasses frames are easy to break and rust, so we always have to replace glasses frequently. Pure titanium spectacle frames are made of 'space metal' aviation materials, and strive to accompany your growth with each pair of pure titanium spectacle frames, witness every moment of your happiness, anger, sorrow, and joy. Let pure titanium spectacles become your personal little guard and the doorman for the window of the soul.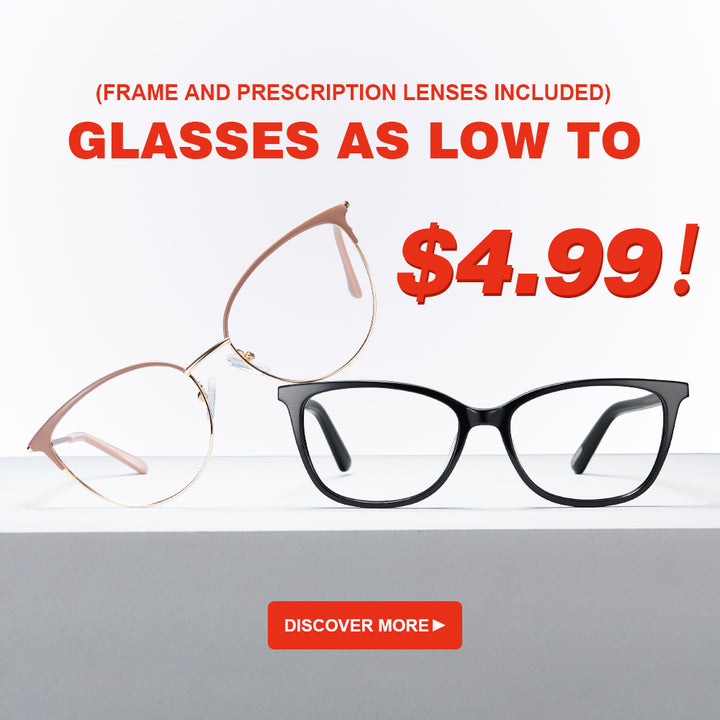 OVERSIZED FRAMES
These mesmerizing oversized glasses provide facial protection for the eyes and are popular. From the fashion of the 70s to the Hollywood glamour of the early 2000s, it makes you feel confident and protected.