Is it a good idea to buy glasses online?
If the product is purchased from a reputable and trusted retailer, buying glasses online is just as safe as buying any other product online. Buying custom-made products, such as 'prescription glasses' online, is a bit more complicated than buying regular 'ready-made' glasses. All uploaded prescription glasses orders are reviewed and notified when serious errors are found in the prescription. All prescription glasses to be shipped are also carefully checked by quality control personnel to ensure that the glasses match the required prescription to the highest standard.
Acquisition of optometric degrees when buying glasses online
The degrees are mainly got from three places: physical store paid optometry data, hospital optometry data, previous degree (remember or retest). If you are in the hospital for optometry, it should be noted that there must be test glasses to try on, if there are no test glasses to try on, the data is not accurate.
Women's clear glasses frames
Check More
Clear square glasses frames create an inevitably attractive look. They give you a bold and unobtrusive look at the same time. They are too cool to add some glamour to your personality.
If you are bored of your daily-basic glasses and just want a quick makeover within budget, you can get a new pair of clear eyeglasses at KOALAEYE.
The Price of Progressive Lens
On both sides of the lens of the progressive lens, some places are deformed, which makes the image blurred. In addition, it has a narrow field of view in the near and middle distances. The narrow focus point for a long time can easily make the eyes tired. It is suitable for the alternate vision of far, middle, and near. Under normal circumstances, the price of the progressive lens is different from the purchase merchant, region, brand, and quality, but the price of the progressive lens on the official website is between 30-85 US dollars. Of course, some products will be less than $30, or more than $85.
What Are Single Vision Lenses?
What are single vision lenses? You may have the same question. Single vision lenses have only one prescription for a given distance. Most reading glasses and distance glasses have single vision lenses because they are designed for people who are difficult in seeing either near or far. Some people are using their single vision glasses for both far and near depending on their types of prescription.
You can choose to wear single vision reading glasses to correct your eyesight if you have trouble reading text on your phone or computer screens. You can also wear single vision glasses to help you make out traffic signs while driving.
Single vision lenses for farsightedness are thicker at the center than those for nearsightedness, which are thicker at the edges. And the single vision lenses generally range between 3-4mm in thickness. The thickness varies depending on the size of the frame and lens material chosen.
After learning some information about one lens glasses, do you know the benefits of them? So, in the following part, we will show you the advantages of single vision lenses.
What is the best lens material?
Crown glass was first used to make lenses. The glass melt was blown into a crown, or hollow sphere, and then reheated in the center of a rapidly rotating plate, which was then unrolled and flattened by centrifugal force. Flat and thin edges are cut into suitable shapes to make window panes. The circular bulge in the middle is the prototype of the lens. The glass material used to make lenses was originally colorless transparent glass with a refractive index of 1.523. Other substances were added to the lens to improve its ability to absorb ultraviolet light.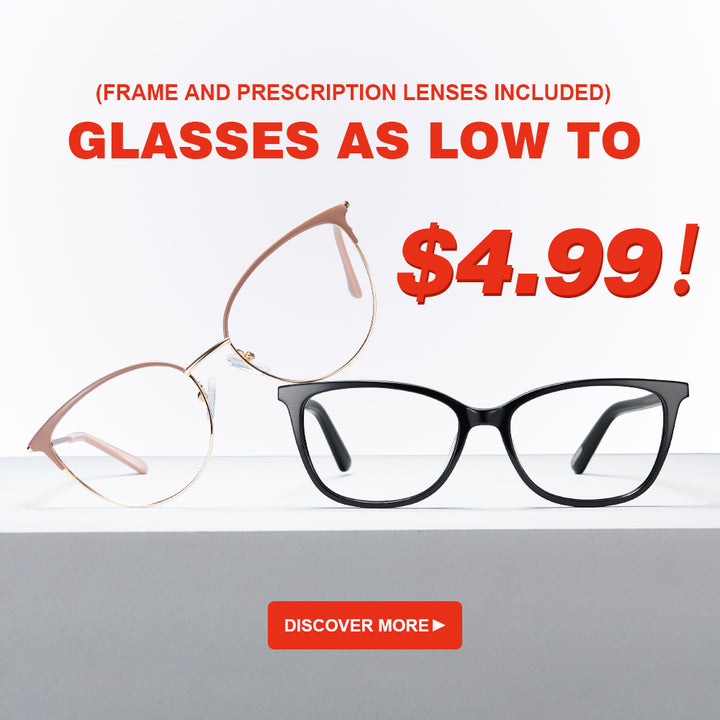 Colored Clear sunglasses
The glasses style is distinctive, with an exaggerated outer edge and blue clear design. They show youth breath. The small eyebrow on the glasses side that shows faintly lets the whole look more stereoscopic. Relative to other colorless clear sunglasses, color clear glasses convey a strong youth breath. It is all color design that greatly enriched the color part of the overall image.