The clear frame is paired with wire glasses.
Compared to traditional chunky glasses, gold-rimmed glasses have less color saturation, so they are almost skin-neutral. Gold-rimmed glasses and clear frames are similar in style but more decorative. The geeky-chic style has become popular since the Gucci fashion show, which started with large frames. Who says you can't be stylish with glasses?
Full-frame glasses
Full-rimed Glasses are now commonly used, which can make the lens fixed, with good protection of glasses. They are firm and easy to finalize the design, with strong hardness. Full-rim glasses frame is in the majority with plank material. The style is sporty and stylish, which is pursued by young people nowadays. Full-frame glasses are of different styles, rich colors, and can mask part of the lens thickness. The beautiful extent is very good, so are loved by many people with slightly higher degrees.
Armani glasses
As a sub-brand of luxury Armani, it is a high-end eyewear brand. It is representative of exquisite quality and noble luxury, and it pays attention to details and displays noble temperament. The handmade frame, superb craft, and workmanship make the charm of the Armani spectacle frame show in front of everyone. The medical environment-friendly silicone nose pad is designed according to the structure of the human nose bridge, which not only fits the nose more but is very comfortable. The prices of the Armani frame are basically around 1500 yuan.
Can you buy a pair of rimless glasses with a high prescription?
Rimless glasses have many benefits. Rimless glasses are a popular choice for eyewear wearers in terms of performance, price, and styling. However, you may wonder if rimless glasses will fit your prescription. The answer is yes, you can get rimless glasses, even with a prescription.
Leimi Driving Glasses
With professional production and sales of sunglasses/flat glasses/sunglasses, Leimi has been focusing on the fashion aesthetics of sculpted glasses. They are presented through the exquisite selection of materials and fashionable and comfortable design. Leimi carefully makes glasses and discovers the beauty of the world together. Leimi advocates for consumers to experience the number of products through the exquisite materials and fashionable and comfortable design of various glasses products. Leimi believes that it can impress consumers with its products. Since its establishment, Leimi has always been striving to treat customers with high-quality products and good service. At present, Leimi's main products are swimming goggles, reading glasses, sunglasses, lenses, anti-radiation glasses, sunglasses for women, children's glasses, glasses frames, polaroid glasses, driver's glasses.
The Advantages of Polycarbonate Glasses
In fact, polycarbonate glasses come with several benefits and this section will show some of them.
First, polycarbonate glasses are safe and are virtually unbreakable. A study found that polycarbonate glasses were more impact-resistance than glasses or other types of plastic lenses.
Second, polycarbonate glasses are thinner than other types of lenses. This feature makes them ideal for people who have strong prescriptions. Lighter and thinner eyeglasses are less likely to slip off your nose and are more comfortable for everyday wear.
Third, extended exposure to UV radiation from the sun can cause damage to your eyes and lead to some eye conditions such as cataracts or macular degeneration. Of course, polycarbonate glasses can block out harmful UV rays from the sun and provide good protection for your eyes.
However, there are some negative voices of polycarbonate lenses.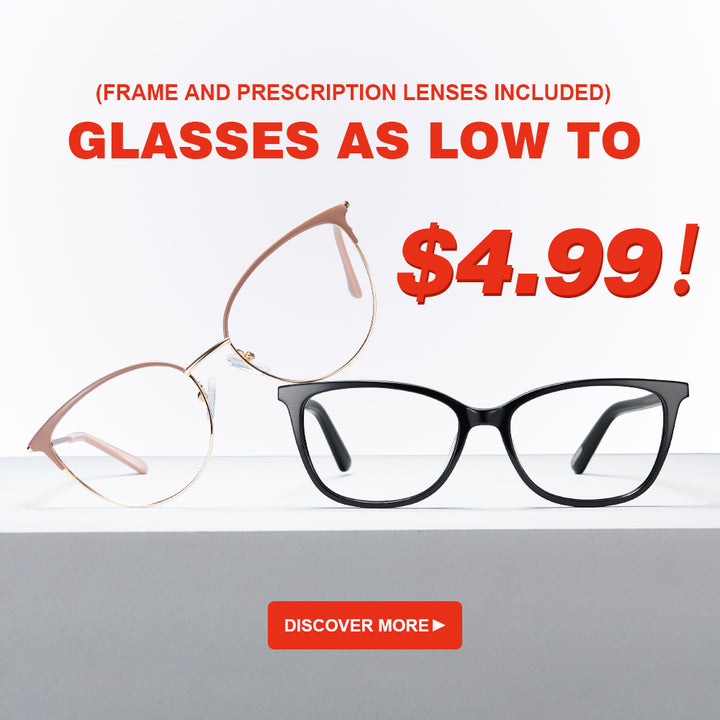 Use them in exchange for a new pair.
A trade-in would be an excellent option. The old eyeglasses can be recycled by taking them to the optical shop, which is a low carbon and environmentally friendly.