The development of glasses
In 1451, Nicholas of Cusa of Germany invented a lens that was thinner in the middle and thicker at the end to help short-sighted people. In 1727, Edward Scarlett, an English optician, invented modern frames that could be worn over ears and noses. Benjamin Franklin, an American scientist, and philosopher invented bifocals, which divide the lenses into far and near parts. The two lenses are held together by a metal frame. Frame construction has improved over the centuries, and today frames have come in different kinds of styles and designs. Unbreakable lenses were invented in 1955, and in 1971 a new type of lens combining plastic and glass properties was invented.
Advantages Of TR90 Frames
Lightweight. The weight is about half the weight of the plate frame, which can reduce the burden on the bridge of the nose and ears, and it is also comfortable to wear for a long time.
Bright colors. Compared with ordinary plastic frames, the color of TR90 frames is even better.
Impact resistance. The TR90 frame is extremely flexible, and its good elasticity can effectively prevent damage to the eyes caused by impact during sports.
Regardless of whether it is a sheet frame or a TR90 frame, they have their own advantages. You can choose them according to your requirements, Importantly, it is comfortable to wear and good-looking.
Eyemart Express
Eyemart Express was founded with the clear goal of providing people with affordable, fast eyeglasses of the day. That has been their focus for 30 years and will continue to be their focus as they look to the future. Seeing things clearly is often life-changing, and they're dedicated to helping you see some of the greatest moments of your life. In short, Eyemart Express, they do not only hire talented staff. They invest in them. Their optical training and development program is designed to make their staff improve. They strive to develop insightful and intelligent leaders in workplaces and communities. They built a proud culture based on a clear set of principles: trust, compassion, openness to chances, and development. In short, they believe that developing great people creates the best environment for their business, their products, and most importantly, their customers.
Sports goggles
With the improvement of people's sports concept and sports protection concept, sports goggles are also widely welcomed. Safety glasses are worn during sports must have four major functions, safety (PC lenses), protection (TR-90 frame, soft and flexible), comfortable (non-slip nose pads and foot covers), and beauty (match sports and leisure clothing).
Sports goggles with shatter-resistant plastic lenses and side shields can prevent balls or sand from hitting the eyes. It can be fixed on the head without worrying about falling off during intense movements. The unique design of the rim of the frame makes the glasses very close to the human face and has a proper external isolation effect so that the human eye is not easy to be attacked by bacteria. The special lens has the functions of anti-fog, anti-shock, and ultraviolet rays, which is very suitable for outdoor activities.
Are polarized glasses good for fishing?
Fishing goggles are polarized lenses. Fishing goggles are a type of goggles that can remove scales on the surface of the water so that the fisherman can see the fish taking the bait. Polarized sunglasses increase color saturation and prevent eye strain. Wear gray glasses on sunny days when fishing. They can fully absorb infrared rays, as well as most ultraviolet rays, without changing the original color of the scene. Warm, natural colors are a popular lens choice. Wear green glasses on cloudy days when fishing. like gray glasses, they can absorb all the lone infrared rays and 99% of the ultraviolet rays, but sometimes the color of the scene after passing through the green lens will be changed. But because green brings a cool and refreshing feeling, it is also good for eye protection.
How to measure pupil distance?
You can ask your optometrist for this data, or if you have an extra pair of glasses, please send it to the merchant with your printed order and they will record your pupil distance value from it to ensure that your lenses have an accurate vision center. They will send you your new and old glasses together. The average pupil distance for adults is usually between 60mm and 66mm.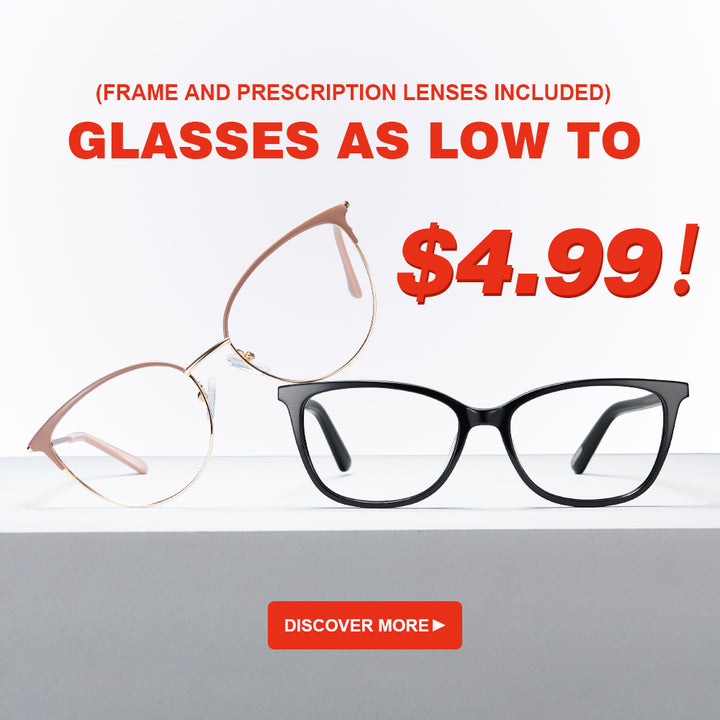 Semi-Rimless/ Eye-Brow Glasses
Or so-called club glasses to look slim and elegant. Some people call them eyebrow glasses. They are semi-rimless glasses. They look cool for both men and women.