Application of titanium alloy
Titanium alloy is mainly used in aircraft engine compressor parts, followed by rocket, missile, and high-speed aircraft structural parts.By the mid-1960s, titanium and its alloys were already in common industrial use, making electrodes for industrial electrolysis, condensers for power stations, heaters for petroleum refining and seawater desalination, and pollution control devices.Titanium and its alloys have become a kind of corrosion-resistant structural material.In addition, it is used to produce hydrogen storage materials and shape memory alloys.
What Are High Index Lenses?
High index lenses are composed of a special plastic that is good at bending light. With this feature, high index lenses can be much thinner than standard lenses while having the same prescriptions.
So, polycarbonate lenses vs high index lenses, what are their differences?
Are Horn Rimmed Glasses Suitable for You?
Since the horn rimmed glasses are fashionable, some of you may ask whether horn rimmed glasses or horn rimmed sunglasses are suitable for you. It may depend on several factors such as style, preference, profession and responsibility. Horn rimmed glasses can bring a sense of fashion sense for you.
In addition, horn rimmed glasses will never go out of style. If you like them, have a try.
Can you look at your phone while wearing polarized sunglasses?
That's because polarized lenses filter the light from some phones, leaving only black stripes visible.Polarized sunglasses have polarized lenses, and cell phone screens have polarized patches in their components. The polarized film has the function of shielding and passing through the incident light, which can make the longitudinal light or transverse light one kind of passing through, one kind of obscured. Because different phones have different polaroid settings, there will be different shades at different viewing angles. Thanks to a combination of polarizing lenses and lenses, both of which filter the direction of light, the screen can't be seen when the shielding and penetrating parts overlap.
Many Different Kinds Of Glasses From KOALAEYE
The anti-blue light glasses, driving glasses, and so on make the function of the glasses pretty powerful. They have efficient ultraviolet absorption. They are not easy to absorb dust and impurities. Each pair of KoalaEye glasses has to go through a number of major production processes to meet you, just to give you a new visual enjoyment. KoalaEye is available with non-prescription and prescription driving glasses, both with anti-reflective coating. Driving glasses reduce glare by scattering and filtering the harmful blue light.
Why are rimless glasses so expensive?
Rimless glasses are the design vantage point in the frame of glasses. The structure of rimless glasses requires many higher physical features (flexibility, surface texture, etc.) and machining accuracy than TR, PEI, and other materials. In order to ensure comfortable wear, the common materials are very exquisite. And for processing technology, the frame is the most difficult. It's not just grinding, it's a full polishing, and it's perforating. This is the technical demand and the most time-consuming.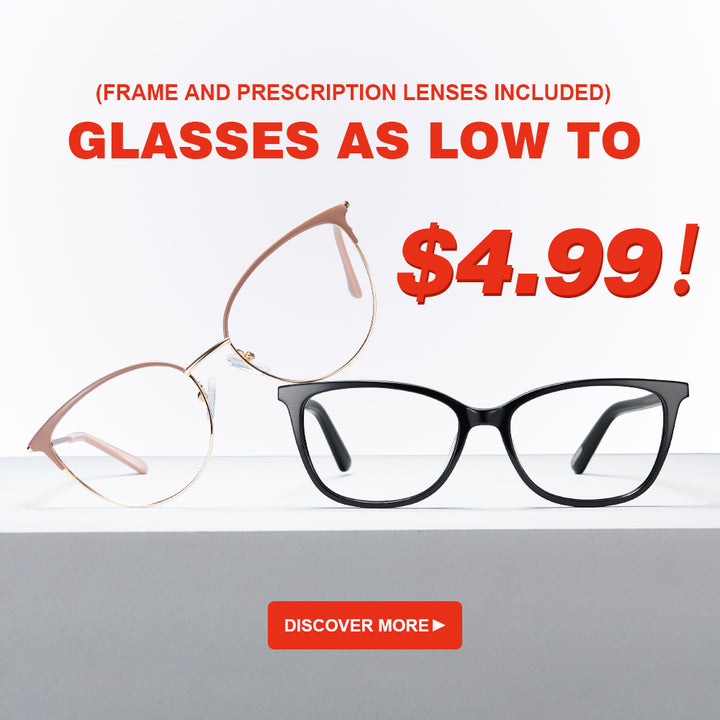 How to Test Computer Glasses (Clear Glasses)
First, we will show you how to test computer glasses with clear glasses.
1. Ask for Blue Light Glasses Brand Spectrum Report
To find out whether your blue light glasses are the best computer glasses, you should contact the company you bought them from and ask for a spectrum report. It will show you how much blue light your computer glasses can block.
After sending the spectrum report to you, you should make sure that your computer glasses are able to filter at least 30% blue light, otherwise, they are unsafe.
2. Use the Lens Reflection Test
As for how to test computer glasses, you can use the lens reflection test. You can see what color the light is that reflecting off the lenses.
If it reflects the blue light, they are filtering some blue light. If the reflection is violent or purple, the computer glasses may be not effective.
This is a good way for you to perform a blue light test at home.