The hazards of rusty spectacle frames
The most common allergenic metal is nickel. Once allergy occurs, it can cause contact dermatitides such as redness, swelling, itching, and yellow water on the surrounding skin. Many alloy products in daily life contain nickel, such as coins, various alloy products, electroplated objects, spectacle frames, metal watchbands, belt buckles, artificial jewelry, underwear buckles, etc. Their direct contact with the skin will cause allergies to sensitive people. Therefore, the temples and nose pads are the parts that contact the skin with a larger area. In particular, the outer surface of the metal frame and the metal contain a large amount of nickel, which can cause rust spots and skin corrosion, and allergies through contact with the skin and the erosion of sweat.
The spirit behind celluloid glasses
Because celluloid material is flammable, it cannot be mechanized and basically needs to be created by hand, which forms a unique set of handcraft modes of Japanese crafters. Today, there are only a few celluloid factories in Japan, and the unique manual process and production are relatively small. This makes celluloid handmade glasses even rarer and more valuable. Celluloid was originally a very common and cheap material, even with a certain degree of danger, but because of the unique craftsmanship of skilled craftsmen, its performance was brought to the extreme, so that celluloid glasses became unique and sought after by some people. The material of the frame is an important factor that determines the comfort of the glasses. While ensuring comfort, people hope that the glasses can have a decorative effect and play a role in clothing matching in different scenes.
Why are eyeglass frames are so expensive?
Plastic frames are often used for rimless glasses, but they are not very resistant to corrosion and break easily. The plate is a new type of plastic, and it is light and has high hardness, not easy to deform, but the surface is easily corroded by sweat. TR90 has features of wear resistance, good chemical resistance, solvent resistance, weather resistance, not burning, high-temperature resistance. Plastic steel does not contain any metal, but it is a kind of high-strength molecular material, lighter than TR90. They have a higher level in corrosion resistance and strength and other aspects. The frames made of good materials are more comfortable, durable, and textured in daily wear, and will not cause skin allergies. Plate, titanium, TR90, alloy are the most used materials on the market at present. The price is in dozens of yuan to hundreds, thousands of yuan.
What Glasses Are Made Of?
In general, most glasses are made of plastic lenses. Why are glasses lenses made of plastic? In fact, plastic glasses are lighter than traditional glasses lenses used in eyeglasses, which means they are more comfortable to wear. At the same time, it is easy to apply lens coatings like anti-reflective to plastic lenses.
Besides, children's glasses are also made of plastic because it is more resistant to impact. There are four main types of plastics used to make eyeglasses and sunglasses lenses which are plastic, Trivex, polycarbonate and high-index plastics.
The plastic lenses made from CR-39 were first introduced. CR-39 is an abbreviation for Columbia Resin #39, the 39th plastic of that type made by Columbia Resin.
Then the polycarbonate glasses were invented. Polycarbonate became out of this world once it found use in aeronautics. Polycarbonate is a type of plastic that can be produced as transparent and easily shaped, making it great for glasses lenses. Polycarbonate is impact resistant so that they are a good lens choice for kids. And the polycarbonate lenses have 100% UV protection.
Next, high-index lenses are available. High-index lenses have a high refractive index with a thin lens. Although high-index lenses are thinner, they are heavier due to the higher density of these plastics.
So, what glasses are made of? Most glasses are made of plastics. Then how are glasses made? To get the answer, keep on your reading.
The main parts of glasses
1. Spectacle lenses
One of the most important accessories for glasses is spectacle lenses. Due to the increase in myopia patients, the demand for spectacle lenses is also very large, but the prices of spectacles on the market are also uneven. To know whether the spectacle lens is good or not, you can't just look at the price of the product, but learn more about the value of the lens itself. For example, the resin lens is lighter and suitable for patients who wear it for a long time. The quality of the optical glass lens is better, and it is not easy to break, suitable for some elderly people.
The quality of spectacle lenses is also a key consideration. The market generally classifies lenses based on their structure, materials, and usefulness. The information on spectacle lenses is mostly chemical substances. It is very beneficial for us to select some good-quality lens materials. It is not only necessary to consider the function of the lens, but also to consider whether the lens material is harmful to the human body. Generally, the crystal stone materials are very safe and reliable, and we can choose carefully.
2. Spectacle frame
Another important figure in eyeglasses accessories is the frame. For those who like lightweight glasses, it is more appropriate to choose ultra-light frames or half frames. However, the frame must have durable and play a good role in maintaining the lens, otherwise, it will lose the meaning of the frame. Of course, the temples are also a part of the frame. There are also nose pads for glasses accessories. Many people have more requirements for nose pads. Generally, they choose soft ones that are not easy to press on the bridge of the nose.
Why should you choose thin lenses?
Regular lenses are great for low-prescription people, but for high-prescription people, high-prescription regular lenses are too thick and heavy, making them unattractive and have a poor wearing experience. For high-prescription people, we recommend that they choose thin lenses with a high refractive index because they are lighter and more attractive to wear. For any astigmatism above +3.00, we recommend 1.67 or 1.74 refractive index lenses because these lenses are aspherical in design, which means they are thinner, flatter, and lighter than standard spherical lenses, which reduces the magnification of your eyes to other people.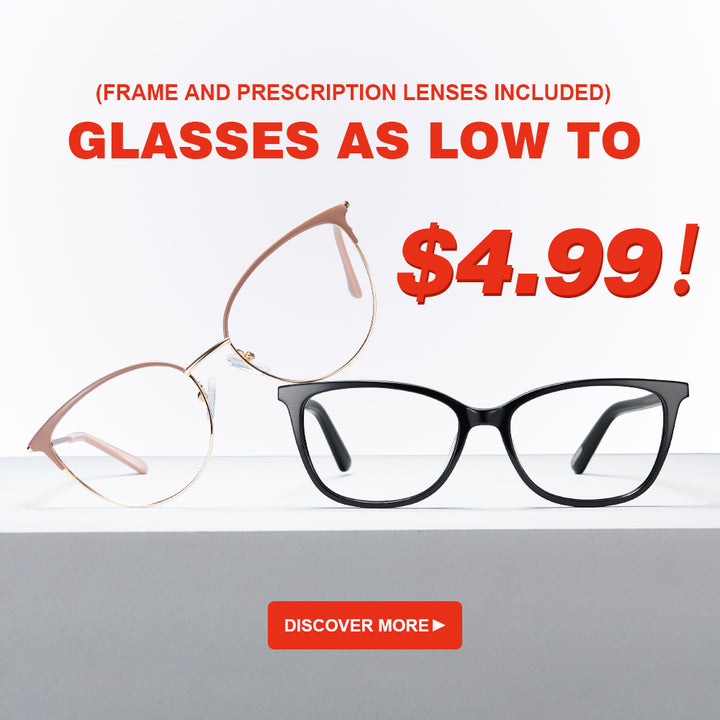 How to adapt to progressive lenses?
People who are prone to motion sickness or have inner ear diseases may suffer dizziness, nausea, vomiting, and other symptoms due to their inability to tolerate the slight deformation of the visual objects, so they need to pay more attention when wearing them. For people who have not worn reading glasses before, it is not recommended to wear graded multi-focus glasses directly because their eyes will not be able to adapt quickly.