The ease and convenience of shopping online can save time and effort. Like shopping for most things, buying prescription eyeglasses online has become the new norm. Because there are advantages and disadvantages to buying discount eyeglasses online, it is important to weigh the possibilities before you make an online purchase. Although there are problems associated with not being able to try glasses on before buying them, there's also the fact that shopping online for prescription glasses usually means more choice and a lot more savings. Therefore, buying affordable eyeglasses online get more and more popular.
The Pros of Buying Discount Eyeglasses Online
Buying discount eyeglasses online can be very convenient, as it can save you a trip to the optical store. You can scroll through thousands of styles of eyeglasses in a matter of minutes and shop around with ease. But before you order your prescription glasses, you will still need to obtain a prescription for glasses from an eye doctor, and you'll need to have your measurements on hand. Buying prescription glasses online can end up saving you between 30 and 75 percent over eyeglass store prices. Also, you can compare prices between multiple providers with ease, and find affordable eyeglasses.
Where to Buy Discount Eyeglasses Online
GlassesUSA.com
GlassesUSA.com offers a huge selection of affordable eyeglasses. Also, GlassesUSA.com offers free shipping and returns, as well as a 365-day warranty. With a no-questions-asked return policy offering a full refund, this is one of the better deals for online glasses shopping. The company offers plenty of discount eyeglasses online, along with the most up-to-date seasonal options. Most customers report that they have one of the best, biggest selections of prescription eyeglasses online. They are very affordable too, with prescription lenses in an inexpensive and well-made frame starting at $38. When you buy frames with them the first time, you get another 65% discount. You can use their "online mirror" feature to virtually try on frames.
Zenni Optical
With prices starting at $6.95 for single-vision prescription glasses, it's hard to find a place to buy more affordable eyeglasses than Zenni Optical. Like Glasses USA, Zenni Optical also carries thousands of frame designs. However, Zenni Optical manufactures its own eyeglasses at the same time. That cuts out intermediaries and the need to hold massive amounts of inventory, which is why Zenni Optical is so affordable. Once you find a design that appeals to you, you can also complete a virtual try-on to confirm you like the fit. If you're looking for designer glasses or an extensive list of name brands, this website isn't for you. However, if you want to buy discount eyeglasses online, it's hard to beat a starting price of $6.95 for frames and low prices on both progressive and bifocal lenses.
Warby Parker
One of the first blockbusters in the online glasses retail world, Warby Parker now offers in-person help at several brick-and-mortar stores in major cities across the United States. While ordering prescription eyeglasses online is still the best way to get the biggest range of styles and low prices, you can take your glasses into their stores for adjustment to better fit your face. They have an online app allowing you to upload a picture of yourself to virtually try on different frames. If you would like to pay the shipping cost, you can also get up to five pairs of frames to try on in person, at home, for free. After you decide to purchase glasses with them, send back the trial frames and then get free shipping on your actual prescription pair.
EyeBuyDirect
EyeBuyDirect is another place to buy affordable eyeglasses online. It's a worthwhile option if you're shopping for higher-end brands on a budget. EyeBuyDirect only sells three brands: Ray-Ban, Oakley, and their exclusive brand RFLKT. However, there's still plenty of frame variety to choose from for adults and kids. Additionally, if you shop for sales, you can find eyeglasses for up to 50% off. If you don't mind the lack of brands and want incredibly to buy discount eyeglasses online, EyeBuyDirect is one of the best websites to shop.
Koalaeye.com
Koalaeye.com is another discount eyeglasses online retailer that carries over 1,000 designs. Plus, they offer a complete pair of prescription eyeglasses starting under $20 and have an entry point for new customers to buy affordable eyeglasses. Pricing includes single-vision lenses. You can upgrade to thin or ultra-thin lenses for an extra $21 or $37, respectively. Basic progressive lenses cost an additional $35.95, meaning you can find progressive glasses for less than $60 if you buy the cheapest frames at Koalaeye.com. Thin and ultra-thin progressive lens upgrades cost about $21 and $37, respectively.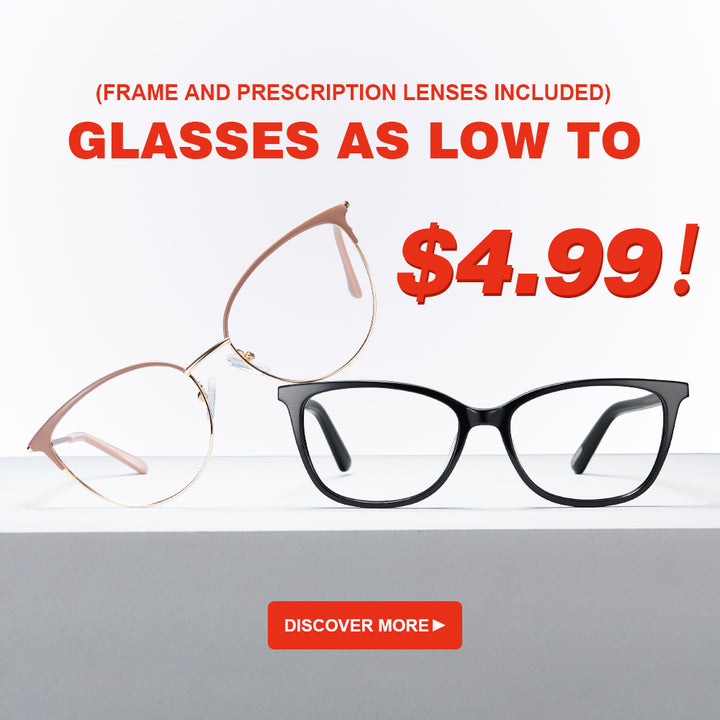 As for discount eyeglasses online, this post from Koalaeye Optical has shown the information about buying prescription eyeglasses online. If you have any different ideas for buying affordable eyeglasses, share them in the comment zone. If you have any problems with glasses or sunglasses, please feel free to contact us via email at service@koalaeye.com and we will reply to you as soon as possible.