Men's clear glasses are a fashion item.
Although glasses are the tool that corrects myopia, a lot of people like to dress up fashion with it now. Men's fashion frames allow you to express your taste and fashion sense and can increase your appearance and image. An eyeglass frame is an important part of a pair of glasses, mainly playing the role of supporting the lens. While the beautiful appearance of the eyeglass frame can play a certain role in aesthetics. Handsome frames add points for appearance.
A clear glasses frame is not only for a schoolgirl. Clear and transparent design more feel cool and refreshing in scorching summer. At the same time, it will not cover the facial features too much, making the face more delicate and clean. Small pure and fresh picture frames tie in some of the clothes of literature and art naturally. Therefore, the scope of use of clear glasses is very limited, only suitable for fashionable men.
Learn the 9 Necessary Parts of Glasses
Rims: the rims lend form and character to your eyeglasses and they also provide function by holding the lenses in place.
End pieces: they are small parts on the frame that extend outward and connect the lenses to the temple.
Bridge: it is the center of the frame that rests on your nose and joins the two rims together.
Hinges: hinges sit between the end pieces and the temple, allowing you to close your glasses folding the temple inward.
Lenses: lenses are the essential parts of eyeglasses. They are clear pieces of glasses, plastic or other lens materials held in place by the rims. The lenses are crafted and shaped with your unique prescription to help you to see clearly.
Screws: they are the small metal fasteners near the hinges and they are used to connect the end pieces with the temples.
Nose pads: nose pads give your glasses a more comfortable and secure fit. They are the round plastic pieces under the bridge that sit on your nose.
Pad arms: pad arms are able to extend from the rims and hold the nose pads in place. They are adjustable to fit the natural shape of your face.
Temples: temples are the long arms on both sides of the frame that fit over your ears for a snug fit.
These are all the 9 essential parts of eyeglasses. Knowing the name of parts of glasses can help you to repair them once they are broken or crooked.
What Is an Aspherical Lens?
An aspheric lens is a lens whose surface profiles are not portions of a sphere or cylinder. In photography, a lens assembly that includes an aspheric element is often called an aspherical lens.
The aspheric lens's more complex surface profile can reduce or eliminate spherical aberration and also reduce other optical aberrations such as astigmatism, compared to a simple lens. A single aspheric lens can often replace a much more complex multi-lens system. The resulting device is smaller and lighter and sometimes cheaper than the multi-lens design.
Aspheric lenses are flatter than traditional lenses, but they still offer the same vision-enhancing benefits. They have a more attractive profile because there is less curvature. In addition, aspherical lenses have a more complex front surface with a gradual curve so that they can perform better by improving the way light refracts onto the retina.
Besides, most aspherical lenses are high-index, which, when combined with the aspheric design, offers a slimmer and lighter option for people who wear glasses so as to improve the look and feel.
Understand blue light correctly.
Blue light has been shown to affect the body's circadian rhythms, with too much exposure to it late at night from gadgets such as mobile phones disrupting a person's ability to fall asleep. Therefore, it is recommended that people limit screen time two to three hours before bedtime and set their devices to night mode to reduce glare, relieve eye fatigue and minimize blue light at night. However, as we learn more about blue light, not all of it is bad for us. Blue light has been found to play an important role in maintaining health, such as regulating the secretion of hormones in living organisms. Blue light helps prevent reduced night vision and has been shown to benefit refractive development in adolescents and minors.
What Is Photophobia?
There are a lot of reasons causing our eyes discomforts, such as moving between indoors and outdoors on bright sunny days, staring at computer screens all day, driving at night, or watching TV. If the discomfort worsens over time with accompanying symptoms such as intense pain, excessive squinting, excessive tearing or burning sensations, it may become an eye condition called photophobia or light sensitivity.
One of the symptoms of photophobia is intolerance of light. To some degree, most of us are sensitive to bright or fluorescent lights, but those suffering from photophobia may experience a range of symptoms - from minor or mild irritation to serious debilitating reactions. The symptoms can include dizziness, headaches, migraines, server eye pain, excessive blinking, blurriness, and eye inflammation.
So, they are a few ways to combat photophobia.
What is the best lens material?
Trivex is a special material from PPG. Compared with PC lenses, the refractive index is lower (only 1.53) but the Abbe number is higher (up to 45), which results in smaller dispersion and better image quality. At the same time, the impact resistance of the Trivex lens is 10 times higher than that of the PC. It is the only explosion-proof safety lens that can withstand external force twists and turns in the market at present.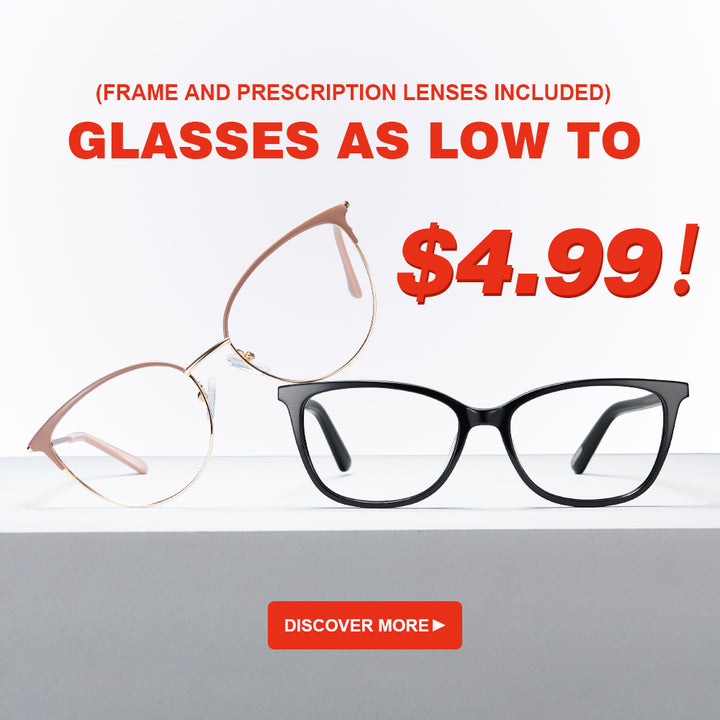 What Are Computer Glasses?
Computer glasses or glasses for computer are prescription glasses that are designed to wear when doing computer work. They allow you to focus your eyes on a computer screen. There are other activities such as playing piano or shooting requiring a similar custom fitting.
Glasses for computer use are also known as blue light glasses. They block blue light that causes eye strain due to prolonged viewing of digital screens. Blue light is part of the color spectrum, and everyone is exposed to it through sunlight.
The glasses for computer use have a shorter wavelength than other colors and are emitted by electronic devices such as smartphones, TVs, computers and more. The glare from blue light is what causes digital eye strain or other symptoms. But the glasses for computer can protect your eyes from the damage of the glare.
Depending on an individual's vision and type of work, there are several options while selecting glasses for computer use.
Monofocal: Monofocal or single-vision glasses are designed for computer work so that they provide the appropriate optical correction for the working distance between the screen and the user's eye. These glasses allow users to view the whole screen with a minimum up-and-down head movement. However, the disadvantage of the monofocal glasses is that both distant objects and reading materials that are closer than the computer screen will appear blurry.
Bifocal: When it comes to glasses for computer screens, the bifocal glasses would be a choice. Bifocal glasses can be prescribed so that the upper segment is set up for screen distance and the lower segment for work. The disadvantage of these bifocal glasses is that it will blurry if the objects are farther away than the screen.
Trifocal: These trifocal glasses for computers have lenses that combine a segment for far vision, another for near vision and the third one for at the screen distance. The disadvantage of these glasses for computer screen is the limitation to view areas.