Quinn Eye Center
A team of experienced eye care professionals provides comprehensive eye examinations. It offers high-quality lenses and a wide selection of stylish frames.
By utilizing the most advanced diagnostic technologies, they are committed to improving the quality of life through enhanced vision. The optical studio has a range of carefully designed frames and precision lenses. There are many lenses to choose from. Transition lenses are made from dynamic materials and can replace prescription sunglasses. UV-coated lenses can be used in ordinary glasses. Scratch-resistant coating is a clear coating that helps protect glass lenses from irritating scratches. The plastic lenses make the glasses much lighter than the glass ones. Special polycarbonate lenses greatly reduce the thickness of the lenses, giving them a more attractive silhouette. Anti-glare lenses are dipped in a special material that makes them less reflective than regular eyeglass lenses.
Discountglasses.com
Discountglasses.com once advertised a free try before you buy home audition kit for RX contact lenses, and the companies will send you two pairs already fitted with your own prescription lenses.Discountglasses.com now provides a virtual try-on program. Discountglasses.com provides free returns. You can safely order glasses to try on at home. The frames come with standard, high-quality 1.49 plastic lenses with a protective coating that protects the lenses from scratches and are prescribed between +/ -3.00.
What color coating is good?
The purpose of plating anti-reflection film is to reduce the reflection of light. But because it is impossible to be completely free of reflected light, there will always be some residual reflection on the surface of the lens that causes the visible color. Someone asks which kind of these residual color is best. It does not have a standard actually. It is mainly based on a personal preference for color. More on the market at present is green color. However, these residual colors can initially help us to judge the thickness of the film: when the film is thin (the thickness is less than 139nm), the reflected light will show light yellow, and when the film is thick (the thickness is more than 139nm), it will show blue-green. The current multi-layer anti-reflection film thickness is about 0.3μm.
First of all, you have to look at your face shape and skin color, and then combine your working environment needs and personal preferences to choose the frame. The corrective glasses should be combined with the test data. Finally, you have full consideration. The single pair has certain characteristics. And the glasses frame has popular fashion characteristics, so the style is always updated.
How much does it cost to get glasses at Walmart?
The price of the frame varies according to the material. Also, the price of the lenses will vary depending on your prescription. Walmart Vision Center provides frames online starting at less than $20 and going as high as $165. More than 250 prescription glasses are available for under $100, including styles for men, women, and children. The price of the lens depends on the type and frame you choose. The fundamental price of the frame includes clear, plastic, single-vision lenses with scratch-resistant coatings.
What is the function of eyeglasses holder straps?
If your glasses are loose or slip off a lot, or if you have an active lifestyle, the eyeglasses holder straps can be very helpful. This simple device is designed to help you track your glasses and keep them from falling off. Retailers sell eyewear holder straps in a variety of designs, materials, and colors.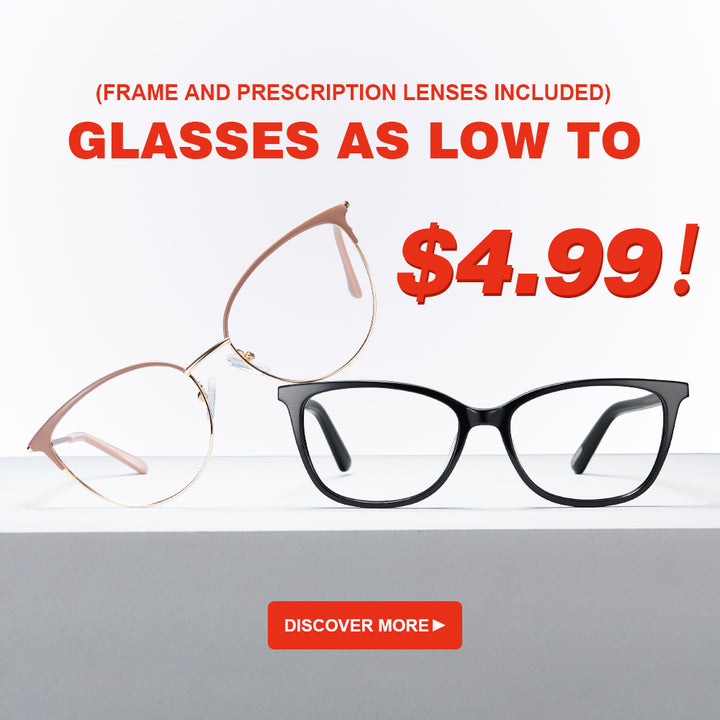 The lenses of prescription glasses
Common materials for lenses include glass, resin, and PC. The glass is fragile and heavy, and few people wear it anymore. PC film is tough and not fragile, but it is not resistant to high temperature and the surface is easily scratched. The most common type of lens on the market today is the resin lens, which is light in weight, hard to break, and reasonable in price. At present, it is generally recommended that you choose resin sheets, and it is recommended that people with ultra-high myopia choose glass sheets.
Generally, lenses can be divided into spherical and aspherical surfaces according to different curvature designs. When choosing, refer to the degree of the eye. For people with lower degrees, There are fewer differences between the two shapes. For people with moderate to high myopia, aspherical lenses will have better imaging effects and clearer vision.
When choosing a lens, a parameter that is often mentioned is the refractive index. Common refractive indexes are 1.56, 1.60, 1.67, and 1.74. With the same degree, the higher the refractive index, the thinner the lens.