AMMA RAY 003 anti-ultraviolet, strong, harmful blue light computer glasses
They can reduce digital eye strain caused by the harmful blue light emitted by digital screens. They help relieve visual fatigue and discomfort caused by long hours surfing the Internet, playing games, and working under fluorescent lights. These photosensitive glasses come with UV400 for protection and glare reduction. Ultra-light, with flexible TR90 nylon materials, the glasses are durable. The casual frame is designed to make you look professional and stylish while working or playing video games. The magnification/power of your computer reading glasses depends on how far away you are from the screen.
Why are titanium glasses so expensive?
Strong and Durable. They are widely used in aerospace technology, jewelry, surgical instruments, and other fields. It is the most progressive material in the eyewear industry. Titanium is a very hard, lightweight metal that is proper for eyeglass frames. With good hardness, high strength, the glasses are not easy to deform. It is not easy to scratch and wear and has good corrosion resistance and plasticity. It has a high melting point, corrosion resistance, and hard electroplating. Titanium can be made into memory metal, which means it can bend and return to its original shape. Hinge is not easy to break, having rust resistance, impact resistance. When it's used in glasses, it fits the bill.If you've ever broken a frame, titanium is possible the best material for you.
Can you buy prescription glasses for night driving?
Your eye doctor may prescribe special night driving glasses with an anti-reflective coating. AR coating helps reduce glare, improves vision, and helps you see better on the road at night. The lenses developed using wavefront diagnostics reduce halos, stellar bursts, glare, and other visual disturbances.
Features of pure titanium glasses frame
Due to the lightweight (ordinary nickel-based alloy frame weight 48%-60%), high strength, corrosion resistance, surface easy coloring, beautiful and durable features of spectacle frame made of pure titanium, they have been loved by most consumers. But the elastic modulus of pure titanium is higher (about 120GPa). The temples of the frames made from them are not elastic enough. After wearing the glasses for a period of time, the temples of the glasses need to be adjusted due to the relaxation of the stress. The processing plasticity of titanium metal is worse than that of other metal materials, so the processing technology of its wire is difficult. The surface quality is difficult to control, and the technical content is high. The surface quality of pure titanium wire produced by a few domestic manufacturers is poor.
Tortoise Glasses
This unique pattern is the perfect choice for those who want to wear tops and jackets of any color. They fit almost any color. Tortoise glasses come in many colors, and this stylish pattern has a wide palette, so there's no need to worry about skin and hair color. If you want to keep up with current eyewear trends, unique-patterned tortoiseshell glasses are your best bet.
How to Find Reading Glasses Strengths?
Some reading glasses also come with strengths. So, how do you know what strength reading glasses to get and how to find reading glasses strengths? The strength of all reading glasses is measured in dioptre, with units increasing by 0.25 dioptre depending on the power of the lens.
The reading glasses strengths range from +0.75 dioptre to +3.00 dioptre. Both lenses have the same power which is indicated by a permanent marking on the inside of the frame or with a removable sticker on the lens. So, you can find the reading glasses strengths of the glasses.
The important thing you need to notice is that when higher the number, the greater the power of the lenses is when choosing reading glasses. So, glasses with a marking of 1.0 are low power while those marking +3.0 are high powered.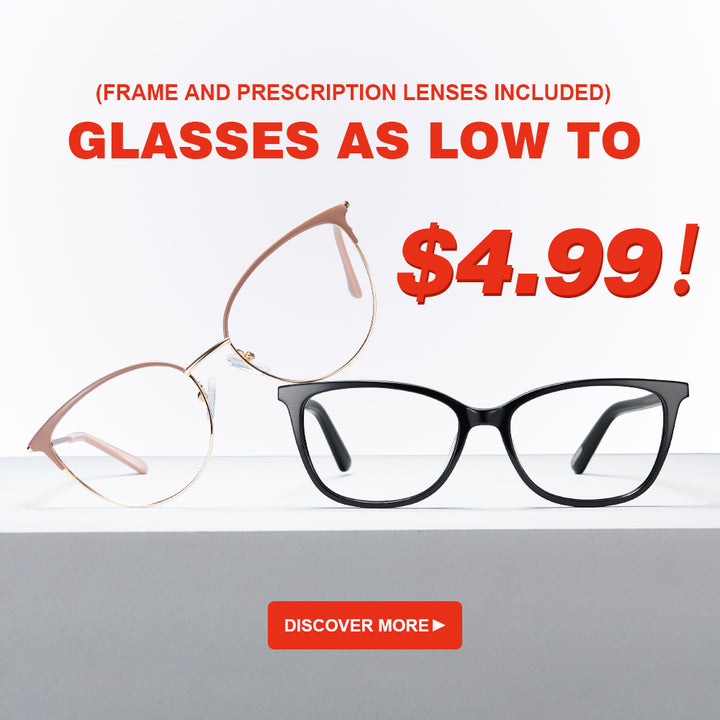 5 Signs You Need Reading Glasses
In this section, we will list some signs you need reading glasses.
You are over 40 years old. Everyone's eyesight changes at a different rate, but most people develop presbyopia in their 40s. Presbyopia is a condition in which the eye strain to focus on nearby objects, which is different from farsightedness, a condition in which you can see distant objects clearly, but objects nearby may be blurry. Farsightedness is usually present at birth, but presbyopia develops during the aging process.
If you find that you never seem to have enough light when reading, regardless of the room type or the number of lamps you have turned on, it may be time to get reading glasses. According to a study, a 60-year-old people requires three times as much light as a 20-year old to do the same task.
If your eyes get tired when reading or working at your computer, you may need reading glasses. Do you find yourself dozing off at your computer, or do your eyelids get heavy when your reading or do detailed work? If so, you may be developing presbyopia, and you may need the reading glasses.
Another sign you need reading glasses is that you are getting more headaches. Consistently straining your eyes to read or focus on craft could give more headaches. A headache right behind your eyes could be indicative of hyperopia. It is important to remember the 20-20-20 rule: every 20 minutes, look at something at least 20 feet away for 20 seconds. If your headaches persist, you should see an eye doctor and have a check.
If you see halos, you may need reading glasses. When your lens cannot focus light into your retina, it makes your vision appear blurry. Thus, reading glasses can solve this problem.
Do I need reading glasses? After reading this post, you may have a basic understanding. If you need a pair of reading glasses, try Koalaeye glasses. They are stylish and cheap, and the glasses will be mailed to you with great convenience.