Can You Put New Lenses in Old Frames?
In this section, we will show you how to replace new lenses with old frames. In general, optical shops will replace the lenses for you if your frames are in good condition and the shapes of the lenses is not too complicated.
So, can you put new lenses in old frames? Of course, you can do that if your old frame is good and shape of lenses is not too complicated.
However, glasses lens replacement depends on the quality of your existing frames, their conditions, and your prescription specifics. Not every pair of sunglasses or glasses for that matter can be reglazed. Sometimes fresh frames are required to match your new lenses. By far the most common reason for this would be because the existing frame is becoming brittle or is otherwise at risk of breaking. There is no point putting beautiful new lenses into a frame that breaks either during fitting or soon after.
In addition, when considering glasses lens replacement, you need to consider the materials of frames. In general, plastic frames are more likely to become brittle with age than metal frames. Of course, there are some other factors to be considered.
Pay attention to the wearing of myopia sunglasses when driving.
Some drivers are slightly myopic, usually driving without wearing a myopic mirror. There is no problem. But once you wear sunglasses, the problem comes: your eyes are more likely to tire and your vision will decline, just as your driving vision will be affected at night. Therefore, for the driver of slight myopia, there is no problem in usually driving, but if you want to wear sunglasses, you must be equipped with the lens of myopia degrees.
Myopia Glasses
Glasses are lenses used to correct vision or protect eyes. It is not only an eye protection product but also a cosmetic decoration. Nowadays, there are more and more varieties of glasses, and the classification is getting more and more detailed. In addition to myopia glasses, reading glasses, and sunglasses, it also includes driver protective glasses, computer protective glasses, leisure goggles, and sports goggles, which are suitable for special industries, special work, and leisure and entertainment. Moreover, the progress of the times promotes the maturity of people's consumer psychology. Consumers pay more attention to the diversification and individualization of products. The demand for glasses has risen from a single level of vision care to three-dimensional consumption spaces such as humanities and aesthetics. This will stimulate the research, development, and sales of new varieties and new styles of glasses, and bring new opportunities for the development of the glasses retail industry.
Myopia glasses mainly include frame glasses and contact lenses. With the increasing demand for glasses by people who love beauty, myopia glasses have begun to combine the beautiful nature of sunglasses, and many new products have come out. The addition of contact lenses can be regarded as a supplement in terms of myopia glasses. The popularity of contact lenses has a sufficient reason that it eliminates the trouble of frame glasses, does not affect the appearance, and the feeling of seeing objects is more three-dimensional.
How do you identify the refractive index of lens?
In reality, this problem is often a problem for optical shop practitioners, sometimes they worry about whether the manufacturer's lenses match the nominal value of the refractive index. We need a prop, and that's the camber. Because it can be used to measure the strength of the lens. The luminosity of the lens can be calculated by subtracting the curvature of the inner and outer surfaces of the lens. The curvature difference of a lens of the same luminosity is inversely proportional to the refractive index, that is, a lens with a higher refractive index only needs a smaller curvature difference to achieve the same luminosity.
Eyeglass pinches your nose.
Not only can a pair of glasses that pinch your nose be uncomfortable, but chronic stress can also lead to headaches or migraines. How you solve this problem depends on your frame material. If you're wearing a metal frame, just use your thumb to widen the plastic nose pad until the frame fits comfortably. If wearing plastic frames, after soaking the glasses arm in warm water for 30 to 60 seconds, gently press the glasses arm outward to make the glasses more comfortable. If your glasses continue to clamp your nose after adjustment, seek help from a professional optician.
Superlite titanium rimless collection
The SuperLite Titanium rimless series is provided by super strong titanium, stainless steel, and TR90 acetate plastic, combining all the best glasses in the world. Titanium is stronger and lighter than regular metal, making your rimless glasses more durable and comfortable to wear. Rimless glasses, no matter their shape or color, give people an elegant, mature feeling, and you are sure to find your perfect style here. The SuperLite Rimless Series have a very flexible system for rimless glasses from strength to strength with the new model.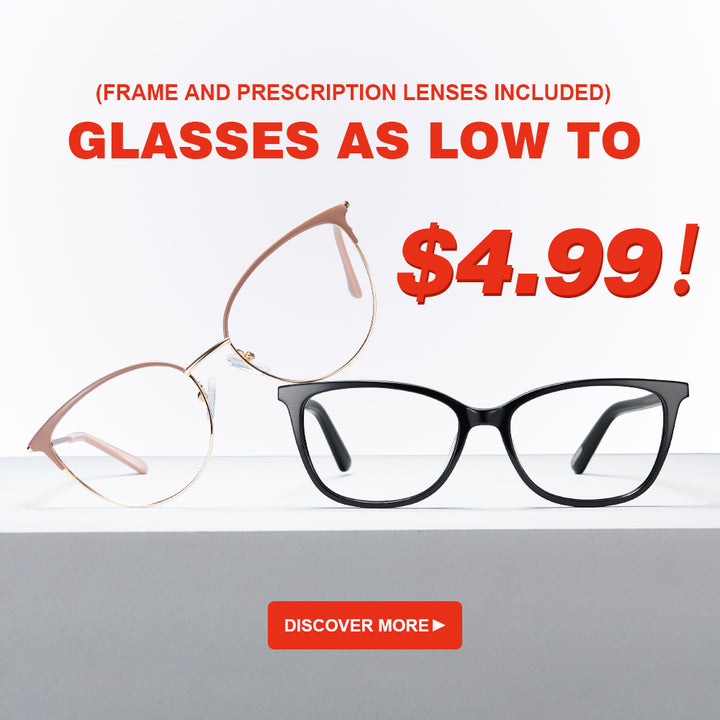 HINDAR blue light blocking glasses
With advanced equipment, system production, and strict management, they adopt German technology and PARUPU lens geometric structure owned by HINDAR OPTICE LAB, which can effectively block various kinds of blue light, ultraviolet light, and other different wavelengths, to protect the health of eyes. Since its inception, Hindar has enjoyed a lot of popularity, and while it has achieved some good results, it has not slowed down and is still striving to become the top brand in the industry.