When it comes to eyeglass frames, we offen have a wide range of materials to choose, the price also quite different. Titanium frames, often considered a premium choice, stand out due to their lightweight, durability, and corrosion resistance. However, with these advantages comes a higher price tag compared to other materials like plastic or metal alloys. In this article, we will explore the reasons why titanium glasses are more expensive and whether the investment is worth it.
Material Cost
Titanium is a high-quality, premium material that is more expensive to produce than many other frame materials. It is known for its strength-to-weight ratio, corrosion resistance, and biocompatibility, making it a popular choice for medical implants and aerospace applications. The cost of sourcing and processing titanium contributes significantly to the overall price of titanium eyeglass frames.
Manufacturing Complexity
The process of shaping and finishing titanium frames is more complex and time-consuming than that of other materials. Titanium is a strong and lightweight metal, but it's also relatively difficult to work with due to its toughness. Crafting titanium frames involves precision machining, which requires specialized equipment and skilled artisans. The complexity of manufacturing drives up production costs, which are then reflected in the final price.
Lightweight and Strength
One of the primary reasons people opt for titanium frames is their lightweight yet incredibly robust nature. Titanium offers excellent strength without adding excess weight, making it a comfortable and durable choice for eyeglasses. This unique combination of features makes titanium a premium material and contributes to its higher cost.
Corrosion Resistance
Titanium frames are highly resistant to corrosion, ensuring they maintain their appearance and structural integrity over time. This resistance to environmental factors such as moisture, salt, and acids makes titanium frames a long-lasting investment. The added durability comes at a cost, as the production of corrosion-resistant titanium alloys is more expensive than standard metals.
Hypoallergenic Properties
Titanium is hypoallergenic, meaning it is less likely to cause skin irritations or allergic reactions compared to other metals. This feature is particularly attractive to individuals with sensitive skin or allergies. The hypoallergenic properties of titanium contribute to its higher price, as the material must undergo specific processes to ensure its hypoallergenic nature.
Brand and Design
Titanium glasses are often associated with high-end brands and designer eyewear. The reputation and branding of these frames can significantly impact their cost. While you can find affordable titanium frames from less well-known brands, premium designers often charge a premium price for their craftsmanship, style, and prestige.
Titanium glasses are more expensive than eyeglass frames made from other materials due to a combination of factors. The high material cost, manufacturing complexity, lightweight strength, corrosion resistance, hypoallergenic properties, and brand influence all contribute to the premium price tag. For individuals who prioritize comfort, durability, and a long-lasting investment in eyewear, titanium frames can be worth the extra expense. However, it's essential to weigh these factors against your budget and personal preferences when making your eyeglass frame choice.
 Ultimately, the decision should align with your priorities for style, comfort, and functionality.
Are titanium glasses really more expensive?
Due to its lightweight, corrosion resistance, non-allergic and memory quality, titanium is becoming a new type of glass frame material. But titanium frames are more expensive than other metal, sheet, or plastic frames. Titanium is not a rare metal. It has the fourth-largest reserves after aluminum, iron, and magnesium, and is 16 times more than the world's copper, nickel, leads, and zinc combined. Scarce resources are supposed to have higher prices. With so much titanium in store, why would titanium frames be more expensive than frames made of other materials?
The characteristics of metal material
The material of metal glasses frame chooses some kind of metal material or alloy to make mostly. Most of the copper alloys are treated as the base material and then have surface treatment processing. Then there is the recent rise of pure titanium frames and those made of memory alloy. Metal frames are usually equipped with nose pads, which are movable to accommodate a variety of nasal shapes. The end of the temple is often covered with a plastic cover, not only beautiful but also to protect the temple and skin.
The advantages of metal frames
Its advantage is that the lens is fixed firmly, not easy to fall off. But the weight of the glasses increased slightly compared to the other frames. Full-frame glasses give people a sense of calm. The frame can cover the thickness of the lens very well, suitable for people with high degrees.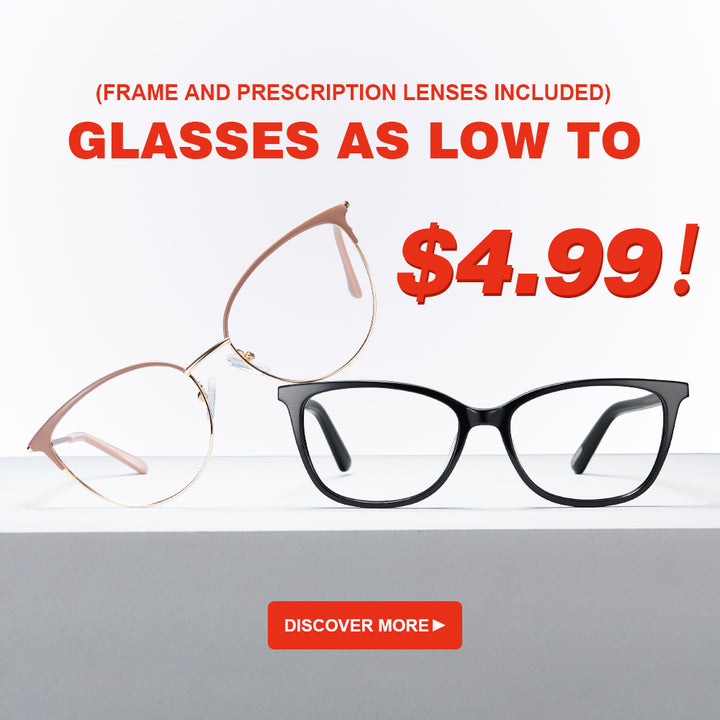 Titanium is currently too expensive to refine.
It is highly demanding in buckling, stamping, cutting, and welding. The extraction of titanium, like that of aluminum before the 19th century, was quite costly and produced in limited quantities, so it was used only in extremely important fields, such as aerospace, electronics, precision instrument manufacturing, and so on.
The production process of titanium frames is complicated.
The production of titanium frames requires special processing equipment, special welding technology, and electroplating technology, which has many processing procedures and high production costs. In particular, some glasses choose the most difficult pure titanium andβtitanium. Titanium is very soft and very "sticky", and very lively at high temperatures,so the processing is very difficult.