Where to Buy Non-Prescription Glasses?
From the above information, you can know that glasses without prescription are good for your eyes. So, you may ask where to buy non-prescription glasses. In general, you can buy non-prescription glasses from a local optical store or online. And here, we want to recommend the Koalaeye glasses.
Koalaeye Optical is an online optical store that provides all kinds of glasses and sunglasses like blue light blocking glasses, non-prescription reading glasses, and so on. So, from here, you can get satisfied non-prescription glasses. Besides, Koalaeye provides a free shipping service and you can get the package without going out.
Myopia Glasses
Glasses are lenses used to correct vision or protect eyes. It is not only an eye protection product but also a cosmetic decoration. Nowadays, there are more and more varieties of glasses, and the classification is getting more and more detailed. In addition to myopia glasses, reading glasses, and sunglasses, it also includes driver protective glasses, computer protective glasses, leisure goggles, and sports goggles, which are suitable for special industries, special work, and leisure and entertainment. Moreover, the progress of the times promotes the maturity of people's consumer psychology. Consumers pay more attention to the diversification and individualization of products. The demand for glasses has risen from a single level of vision care to three-dimensional consumption spaces such as humanities and aesthetics. This will stimulate the research, development, and sales of new varieties and new styles of glasses, and bring new opportunities for the development of the glasses retail industry.
Myopia glasses mainly include frame glasses and contact lenses. With the increasing demand for glasses by people who love beauty, myopia glasses have begun to combine the beautiful nature of sunglasses, and many new products have come out. The addition of contact lenses can be regarded as a supplement in terms of myopia glasses. The popularity of contact lenses has a sufficient reason that it eliminates the trouble of frame glasses, does not affect the appearance, and the feeling of seeing objects is more three-dimensional.
Best Eyeglasses For Women - Chanel
Chanel glasses inherit the consistent tradition of Chanel brand. The elaborate design of the style can be clearly seen from its detailed carving, innovative technology, and excellent lines and contours. In addition to the elegant logo, the glasses themselves appeal to the public with their sharp silhouettes and avant-garde designs and colors. Chanel is the lofty yearning in the heart of every woman. Its thin and light frame, streamlined design, increasingly foil the wearer's eyes.
The Pros of Rimless Glasses
First, rimless glasses are light weight. Compared with other glasses frames, they are much more lightweight and greatly ease the pressure on the bridge of nose and eyes. So, it is suitable for those people who have strong prescriptions. As we know, the stronger prescription is, the heavier glasses are. So, no frame glasses would be a good choice.
Second, rimless glasses are fashionable. They make you look elegant and sophisticated.
Third, when you wear rimless glasses, there will be no restrictions or limits when it comes to the size of your lenses or the shape of your lenses. You may be surprised at all the options you will have when you make the decision to wear rimless glasses.
Meanwhile, besides the advantages of rimless glasses, there are some negative voices of frameless glasses.
What Are Varifocal Glasses?
Varifocal glasses, also known as varifocals, varifocal lens, PLA, or progressive lenses, have a gradual change in strength from the top of the lens to the bottom with multiple focal points in between. Unlike bifocals, varifocal glasses have no specific area of lens strength, but progressive lens zones.
The way to look through varifocal glasses depends on what you want to look at. If you are looking at the distance, you look through the top of the lens. If you want to look at the close objects, you may need to move your eyes lower to keep the objects in focus. For the best close-up focus, you need to look through the bottom of the lens.
The benefits of varifocal glasses are that they do not need to buy or prepare 2 separate pairs of glasses or need to switch between frames for different vision needs.
However, if you wear the varifocal glasses for the first time, you may come across some problems.
The frame of prescription glasses
At present, the more common materials for frames are non-metal and metal. Non-metals mainly include TR90, sheet material, etc., and metals include alloys, titanium, and so on. TR90 and sheet material are actually plastics, but they are firm and are not easy be deformed at room temperature. Also, they have good formability so that they can be made in many fashionable styles. The general alloy material has good firmness and flexibility, but the disadvantage is that it is easy to fade. The pure titanium frame is corrosion-resistant and very strong. It is about 40% lighter than the general alloy frame. It must be welded and electroplated in an oxygen-free state, which requires high equipment and technology. Relatively speaking, the price of TR90 and alloys will be lower, and pure titanium will be more expensive. You can choose according to your budget.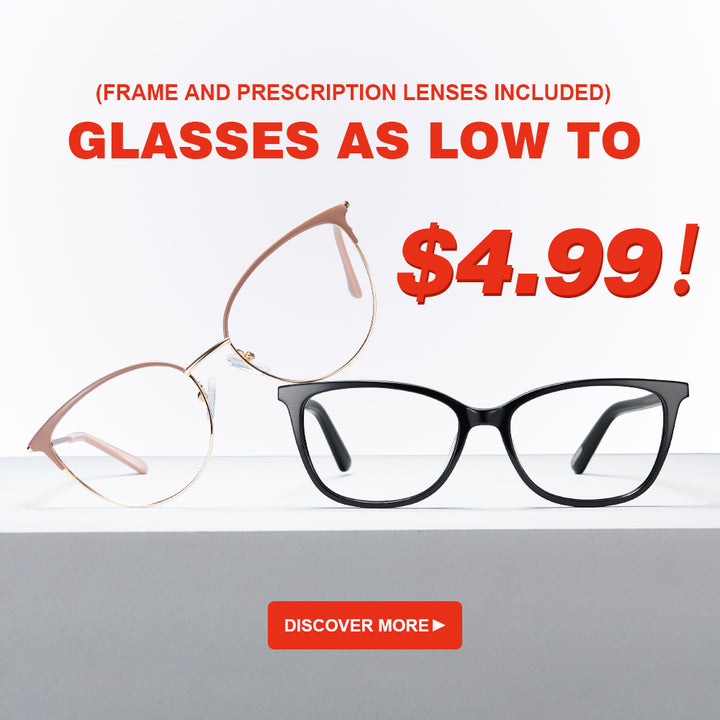 Contact lenses or glasses, which is better?
The choice between glasses and contact lenses is a matter of personal preference. Lifestyle, comfort, convenience, budget, and beauty should be all the factors in your decision. Each approach has its pros and cons in terms of vision, ease of use, and eye health. So deciding that if you wear contacts or glasses, and when, is often a matter of personal preference. But Keep in mind that if you wear contacts all day, you should have up-to-date glasses in case you need to stop because of an eye infection or irritation.