Aluminum Night Driving Glasses
These night vision glasses feature advanced HD technology. The aluminum frame is lightweight, allowing you to comfortably wear your driving glasses and reduce glare for safe driving. Because the lenses are yellow, these glasses act as night vision goggles to reduce glare, reflections, and their negative effects, while improving and brightening the visual area. Polarized lenses have a special anti-reflective coating that eliminates intense reflected light and reduces glare and scattered reflections. They can double as day and night glasses, improving clarity around the clock.
The disadvantages of progressive lenses
The field of view in the near and middle distances is relatively narrow.
The adaptation time is longer and patients with greater astigmatism are not suitable for wearing.
The peripheral aberration is large, and there will be large astigmatism in the periphery.
How To Choose Better Night Driving Glasses?
You should select light alloy material and polymer material with memory, collision resistance, and low friction coefficient characteristics. It can effectively prevent the damage to the eyes and face caused by the friction of the broken lens frame during use. Because of its specific molecular structure, the chemical resistance is good. In the high-temperature environment. it is not easy to deform and can withstand 350 degrees in a short time of high temperature, not easy to melt and combustion. The glasses made of this material are light and strong, and the ears will not be uncomfortable because of wearing the glasses for a long time.
Blue Light Blocking Glasses - Jonas Paul Harper Teen Glasses
If you're looking for blue-blocking glasses specifically designed for teenagers, there's a range of styles for teenage girls and teenage boys (as well as children). They have stylish squares and acetate frames. Including brown Tortoise-shell, purple Tortoise-shell, black, and blue striped. Each pair comes with shatterproof polycarbonate lenses. The spring hinge means increased durability. The nose pad is prolonged to help stay on the tiny bridge of the nose. They provide excellent products and customer service.
The Cons of Transition Lenses
However, besides the pros of transition lenses, there are also some negative voices of transition lenses.
The transition lenses are not effective in cars because the windshield blocks the UV rays so that transition lenses won't darken very well in the car.
Different brands of photochromic glasses have different levels of darkness and different reaction times. So, you may need to ask the doctor to find the brand that works best for you. Transition glasses are affected by colder weather. So it means that it may take a bit longer to react to UV rays in winter. Most transition lenses are not polarized which may result in harsh glares.
So, if you need transition glasses, try Koalaeye Optical, which provides the Koalaeye photochromic glasses. Besides these, Koalaeye Optical also provides other kinds of glasses, such as blue light blocking glasses, polarized sunglasses, progressive sunglasses, and so on.
Does the phone screen have irregular color bars when wearing polarized lenses?
It is mainly the special properties of the polarizing film. The polarizer is able to see the internal stresses in the plastic, so when we usually look at the edge of the mobile phone screen, it will have a colored stripe or a black piece, which is mainly caused by the uneven edge pressure when the screen is installed. It's mostly a matter of light and shade. Wearing a polarized lens to see the LCD screen a tilt will find that the screen darkens, mainly because the polarizing lens can absorb light in a certain direction. The LCD screen is a one-way light (different from sunlight), so it is absorbed, so it is found to be dark.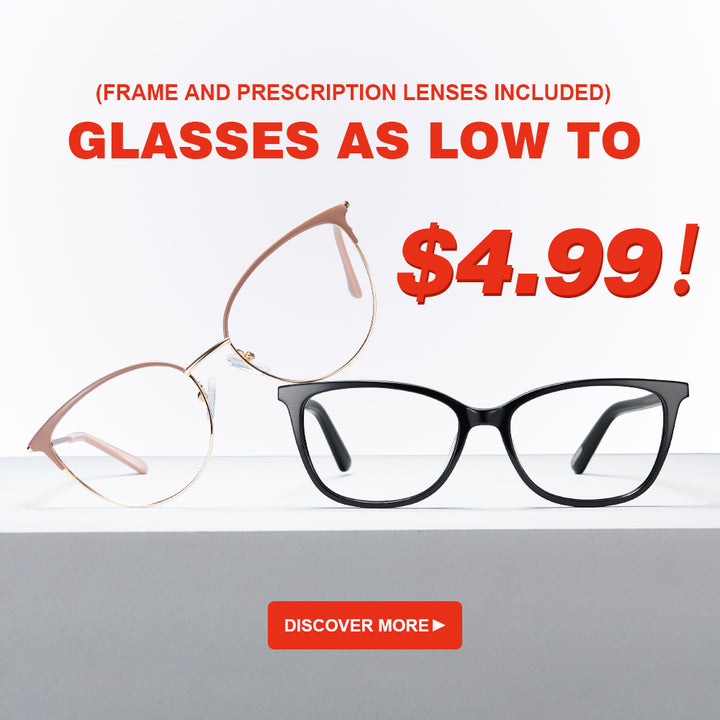 Are beta titanium glasses frames expensive?
What's the probable price of a Beta titanium eyeglass frame? The price of β titanium frame and pure titanium are similar, and the price is usually high, But hundreds to thousands, according to the brand and workmanship. Beta-titanium is usually cheaper than pure titanium. Why are titanium and beta-titanium cheap, but expensive to process into eyeglass frames? The so-called pure titanium and β titanium frames are really titanium alloy frames in the strict sense, and the processing difficulty is really great. IP plating must be used for electroplating, so the processing cost is much higher than that of copper alloy, and the labor cost needs to be included.