Buy Prescription Glasses Online Step By Step
1. Before you can buy glasses online, you'll need a current glasses prescription.
2. Select an online retailer, comparing online retailers like EyeBuyDirect and KOALAEYE until you find the best fit for your needs.
3. Shop for the perfect frames according to face shape, frame favorites, the budget, etc.
4. Once you've found your perfect frames, you'll enter your eyeglasses prescription and pupillary distance to choose the lenses.
5. Read over the fine print on return/exchange policies and product warranties before you complete your order.
6. Having picked your perfect frames, entered your prescription information, added any lens coatings and upgrades, and checked your online retailer's warranty and return policy, it's time to complete your order.
How to see if the lenses are too high?
Look at an object in a distance 65 feet away or more.
If you can't see it clear, keep your eyes on the object and lower your chin. Check whether you can see clearly while looking through a more upper part in the lens than your lenses are too high.
Then you need to watch the difference in the blurriness on the contours of the roadsign.
Now, we will show you how to check if your lenses are too low. Hold something you want to read in your hands and lower your look with your eyes. Do not move your chin down as you look down. If you can't read without lifting the glasses, the lenses are too low.
How to Choose Glasses for Face Shape?
How to choose glasses to suit my face? For the oval face shape, the walnut-shaped frames that are not too deep or narrow are a very good choice. For heart-shaped faces, the light-colored frames and rimless frames that have a light, airy appearance also are good choices. For oblong face shape, the frames with decorative or contrasting temples would be a good choice.
For square face shape, narrow frame styles are recommended. For diamond face shape, rimless spectacles and frames with oval or cat-eye shapes can be good choices. For round face shape, frames with a clear bridge and rectangular frames that are wider than they are deep would be good choices. For base-down triangle shapes, the frames with cat-eye shapes are recommended.
When selecting the eyeglasses shapes, you also need to consider other factors, such as hairstyle, eye color, and so on.
In addition, to choose eyeglasses, you can try Koalaeye Optical, which provides all kinds of glasses frames, eyeglasses, and sunglasses.
The role of the driving glasses
Good driving glasses can be very good to block high energy light, in the evening they can let more faint light enter into our eyes, really solving the problem of only blocking the light and not blocking the road. They have very good night vision function, and can better eliminate glare, better improve the vision of the driver. The driver can drive safely day and night. Strong sunlight improves visual clarity. They are special driving glasses and can brighten polarized light and improve driving safety. With unisex style, high-definition vision, comfort, and light. It can be used on rainy and foggy days and can be used by myopic people. It can effectively filter strong light and high beam lamps, and the long-term use makes you not tired. Both rainy and cloudy days can improve visual clarity. It can effectively prevent strong light, ultraviolet light, and glare is durable and can solve the problem.
What are progressive lenses?
Progressive lenses, also called progressive multifocal lenses, are lenses that have multiple focal points. If it is divided from the focal point, the lenses can be divided into single focal lenses, bifocal lenses, and multifocal lenses. The original intention of progressive multifocal lenses is to provide natural, convenient, and comfortable correction methods for presbyopia patients. A pair of glasses can see far away, close up, and mid-range objects. After wearing them, one pair of glasses is equivalent to using multiple glasses. Because of the different nature, characteristics and applicability, progressive lenses are more expensive than single vision lenses.
Anti-fog lens cloth
Anti-fogging glasses cloth is composed of multiple layers of material pressed together, and the material absorbed a sufficient amount of antifogging agent. It can be directly wiped on any lens. Like spray anti-fogging agents, anti-fogging time is relatively short, and can not be wiped or washed. Long time use will affect the life of the lens. The range of lenses available is limited.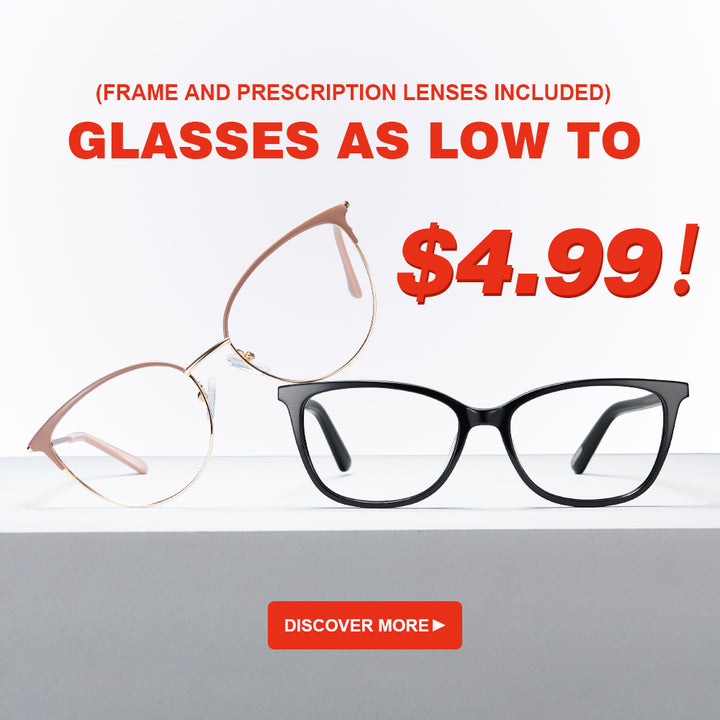 The length of the temple is important.
The glasses should fit snugly over and behind the ears. If they clip behind the ear, mostly, the arm might be too short. The arms of your glasses should be straight back toward your ears, touching only the side of your head, just in front of your ears. If the temple bends too soon, it pushes the glasses under the nose, putting too much pressure on the bridge of the nose and causing a headache.