In addition to the collocation of clothes, the choice of accessories is a required course. An exquisite often deserve to act as the effect that makes the finishing point on modeling and they are applied for many times in life, such as ties, scarves, bags, and so on, including "practical" glasses. If you want to choose the glasses that are trendy and full of personality, the style of the frame must be selected, because good looking glasses frame can increase the aura to our appearance. The eyeglass type on the market is rich and colorful, and each pair has its characteristics. It really takes some thought to choose.
Thick black frame 
During that time, in the memory of every nearsighted person, there is such a pair of black frame glasses. They can be big can be small, and can be square, round. If you wear this kind of glasses, you are the most handsome boy in the whole street. Of course, black-rimmed glasses have their benefits. Many big-name fashion magazines often use them to give stars a concave look during the shoot.
Retro glasses
The retro glasses have a strong retro flavor. Then, of course, you should choose a special design to wear, simple will make you stand out from the crowd. The square full frame is very retro, using special metal. The metal frame wears comfortable and has a better decorative effect.
Eyebrow frame
Just like an eyebrow, the big feature of the eyebrow frame is that the lines are relatively smooth, with curved radian like women's eyebrows, ergonomic, which can effectively reduce the pressure on the face of the glasses frame. And the design of the eyebrow line frame is beautiful and delicate, smooth and free, bringing you a cool visual experience.
Clear frame eyeglasses
Translucent material reduced the presence of thick frame glasses, more lively and playful. The transparent frame is not schoolgirl exclusive, and the clear design makes you feel cool in hot summer. At the same time, it will not overblock the facial features, making the face more delicate and clean. Small and pure and fresh frame naturally matches the dress of some of literature and art. Accordingly, the use scope of transparent glasses has a very big limitation, suiting tide man only.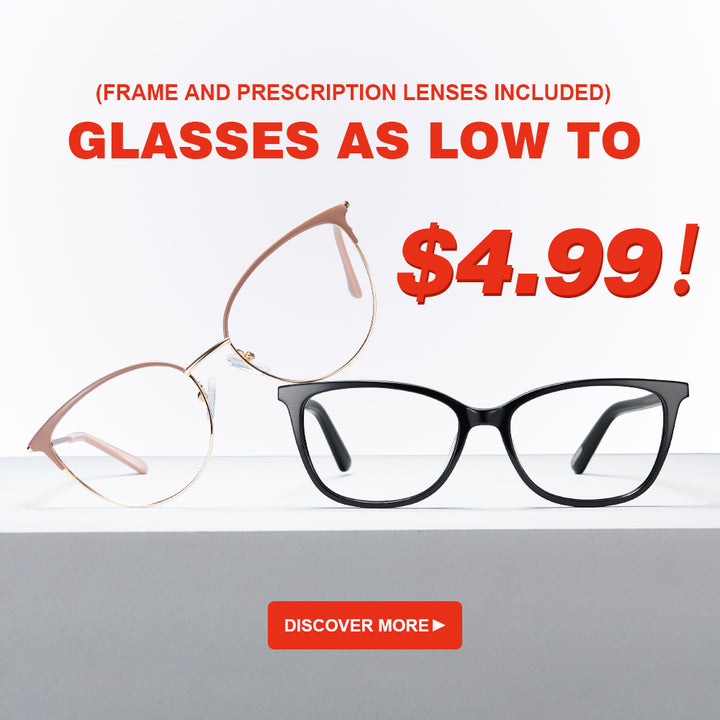 Gold round frame eyeglasses
Round metal frames have become a hot trend in the last two years, and the pop culture of metal glasses has become unstoppable. A round frame divides a big frame and a small frame, and a small round frame is more delicate. But the requirement for facial features is very high, and the big round frame is more lively and lovely.
But for glasses, in addition, to become fashion accessories, it is very important that they should be commensurate with their temperament, personality. Small round frames are more suitable for small faces and are more delicate, while larger faces will look larger and rounder.
Metal square frame eyeglasses
A large square frame shows a face small, with a strong stylish sense. A lot of stars often use it for concave modeling, making their whole collocation more tide. People with diopters try to avoid choosing such large frames as daily optical glasses to wear.