VisionKids HappiMegane Anti Blue Light Glasses for Kids
With stylish design, they can effectively block blue, ultraviolet, and other harmful lights, relieve eye fatigue and can maintain natural high-definition visibility. They are safe to wear, with a durable frame, good recycling ability, durable, not afraid of breaking. They are wear-resistant, anti-skid, ergonomically designed to reduce ear pressure. The arc-shaped design fits highly with the root of the ear, effectively anti-skid.
Eye Contact
Eye Contact has been providing the most discerning customer service since 1996 and providing comprehensive care and designer glasses for your family. Each patient has unique visual and lifestyle needs and Eye Contact strives to find a wonderful customized visual solution for each individual. It provides a large selection of frames and the best contact lenses for your work, hobbies, and pursuits.They have experts who take into consideration your face shape, personal preferences, and budget, and they always recommend the perfect couple.
Possible effects of driver's lens color on driving
Color plays a very important role in your everyday driving experience -- red, yellow, and green traffic lights, among many other signs and signals, are designed to grab your attention and keep you safe. If everything you see is yellow, you may make the wrong decision at the red light and may cause an accident. To keep your vision clear in night and day conditions, anti-glare night driving glasses are not just for night driving.
Do night driving glasses work?
Yellow lenses reduce the amount of light entering the eyes, thereby reducing visibility. At night, this may be harmful, not beneficial.
Night driving glasses are available in a variety of yellow and amber colors. The darkest lens filters out the most glare, but also filters out the most light, making it difficult to see in dim or dark conditions.
Some night-driving glasses wearers report that they can see better when they wear them at night. However, visual tests have shown that night driving glasses do not improve night vision, nor can they help the driver see pedestrians faster than without them.
Proper massage
Proper massage can not only relieve the fatigue of the skin that supports glasses but relax the eyes. Take time each day to gently massage the marked area of the nose pad for ten minutes. Try not to wear glasses all the time. You can switch between contact lenses and glasses. In this way, over time, the nasal plate marks will gradually disappear. Hot towels can be used to warm the skin, which is helpful to blood circulation to the skin and slowly eliminate indentation.
Titanium glasses are very popular.
Nowadays, the relatively popular titanium glasses, taken from titanium metal light, are not easy to break, are elastic, have super corrosion resistance, have a good touch, are non-allergic, and have memory characteristics. They have become a new type of glasses frame material. So that the wearer will no longer wear traditional overweight glasses, with no long-term pressure on the bridge of the nose caused by muscle oppression, and another discomfort. And they do not have to worry about glasses after long-term use of discoloration and lackluster and other problems. The titanium frame is more and more popular and becoming a fashion. Especially the high-end business elites praise pure titanium frame. No matter from the material, lens frame, suitable crowd, they can say to be an especially good choice!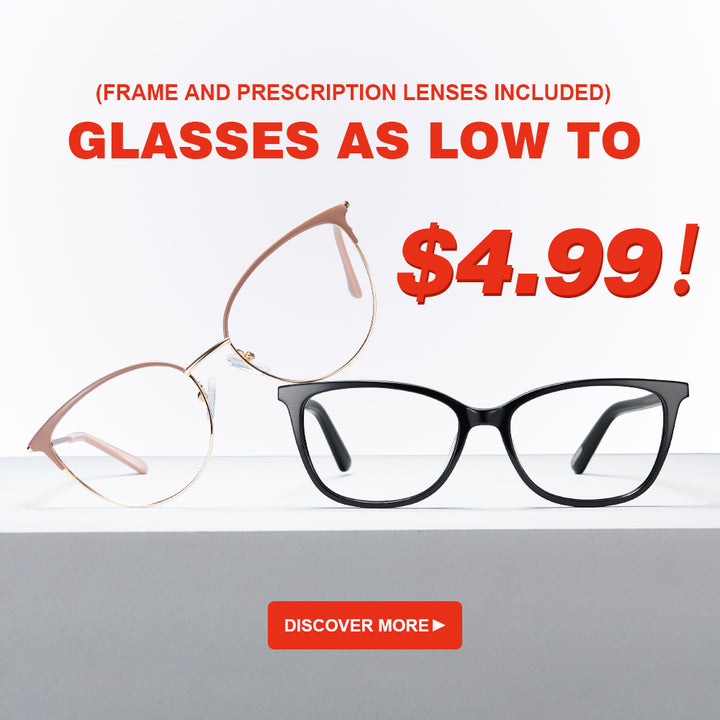 What Are Plano Lenses?
Plano lenses are simply optical lenses which provide no corrective power. That is to say. Plano lenses are eyeglasses lenses that provide no vision correction. They are in widespread use as protective equipment or safety spectacles designed to protect against eye injuries caused by flying dust, metal, wood chips, and other particles.
What Does Plano Mean for Glasses?
If you need a pair of plano glasses, you will see the term plano, PL or 0.00 in the Sphere box on your eye prescription paper. That means that the lens has no corrective power. If only either of your eyes requires correction, you may be given a pair of glasses that as one corrective lens for the affected eye and a plano lens for the unaffected eye.