Where can I buy prescription glasses online?
DIFF Eyewear
DIFF Eyewear is known for its personalized sunglasses, with a large selection of bold and stylish frames. However, you can still find anti-blue light glasses and regular prescription glasses on the site. You're sure to find plenty of fashion-forward options here.
Warby Parker
Warby Parker's mission is to provide designer-style frames at an affordable price. The brand provides a home trial-on service, where you can pick up five pairs of glasses. Warby Parker will give you the freedom to try on before you buy. You can sort through all the frames they've collected, or you can take a short online test that asks you for your preferences like frame materials, shapes, and colors, and then narrow your selection down to only frames that fit those specifications.
KoalaEye Optical
KoalaEye is a new brand of glasses. From concept, design to manufacturing, we control and supervise the entire process. This allows us to save on the cost and give you a favorable price. KoalaEye provides everyone with high-quality glasses at an affordable price.
There are many ways to choose sunglasses, but shouldn't everyone have an affordable pair of glasses to make themselves look good? KoalaEye believes that everyone should have a pair of high-quality glasses, and more importantly, affordable. When sunglasses are an indispensable part of our daily life, the price should not be too high. KoalaEye would like to provide more economical glasses for people all over the world.
Orthokeratology lenses are used for myopia control.
The effect of the orthokeratology lens in controlling the increase of myopia in teenagers has been unanimously affirmed by the ophthalmology industry at home and abroad. In February 2006, an authoritative ophthalmological journal published a review of the retarding effect of rigidity breathable orthokeratology lens on the progression of myopia in children. This paper reviews the literature on orthokeratology and myopia in the past 30 years and points out that rigidity breathable orthokeratology can prevent or alleviate the progress of myopia, the mechanism of which is that rigid breathable contact lens can inhibit the progress of myopia by providing clearer retinal image quality. Medium and high concentration of atropine will affect students' near-use vision, while low concentration of atropine has not been used clinically in China, so orthokeratology lens has become one of the known myopia control methods with the best statistical effect. In three to five-year case studies, orthokeratology lenses alleviate a 40 to 60 percent increase in myopia compared with wearing a frame lens or a soft contact lens. Other studies have found that 65 to 70 percent of orthokeratology lens wearers show little or no axial length increase.
The weight difference between pure titanium frames and titanium frames
Titanium frames are slightly heavier than pure titanium frames, but they are both high-quality materials, so they are more comfortable on the outside. The specific gravity of pure titanium is generally 4.5, while titanium alloy is 8.9, which means the material is equivalent to half of the titanium alloy. So the frames are lighter in your hand.
A saddle bridge is a type of bridge.
The bridge of the nose can make your nose look slimmer. There are two main types. The keyhole distributes the weight of the glasses to one side of the nose rather than the top. It's a good choice for those with a broad nose. The Keyhole Bridge is old-fashioned in the classic style, like a Keyhole. This design creates a small gap in the top part to give the impression of space, thus making your nose look smaller. Saddle bridge is a more modern style and usually goes around your nose with almost no gaps at the top. This close contact will make your nose look tighter.
What is a photochromic lens?
Photochromic lenses are lenses that become dark when exposed to a particular wavelength of light (usually ultraviolet light), but return to their original transmittance and become clear when no longer illuminated by the light source. Photochromic lenses can be made of glass or resin. The discoloration effect is caused by silver chloride or other halides added to the lens, which are transparent to visible light when not irradiated by ultraviolet light. When irradiated by ultraviolet light, chemical reactions will occur, which will absorb part of the visible light and make the lens show dark. The chemical reaction is reversible, so the lens returns to its original transparent state when it is no longer exposed to UV light.
How to handle rusty spectacle frame?
Skin allergies are after the rust of the spectacle frame, so we have to solve the problem of rust of the spectacle frame by physical isolation. Apply a layer of transparent nail polish on the metal surface, or add an anti-allergic sleeve on the temple of the eyeglasses so as to separate the skin from the metal by resin. Both of these methods isolate the skin from the spectacle frame, effectively preventing corrosion of the spectacle frame caused by sweat and grease.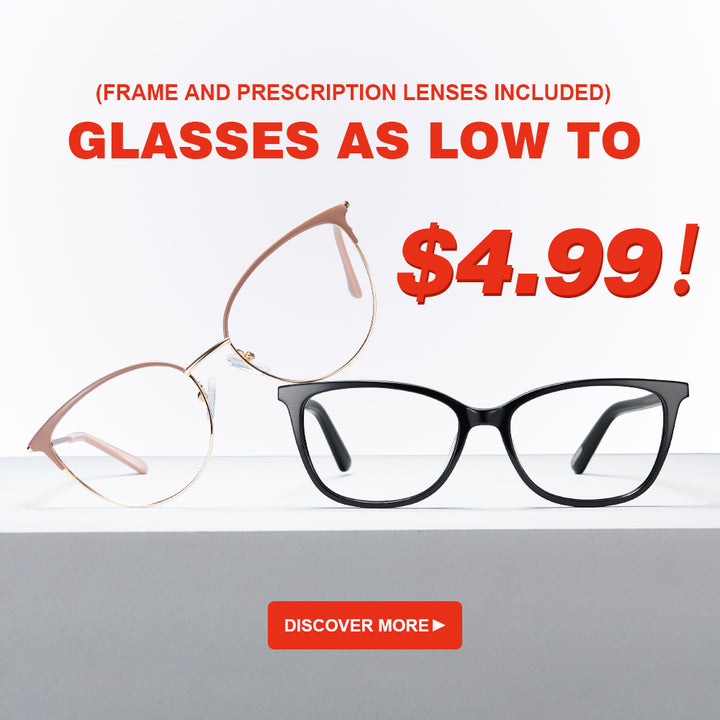 What Should Be Considered When Buying Blue Light Glasses?
Be wary of "eye protection" claims. Some businesses advocate their anti-blue light products how miraculous.
Do not try the lens from the unknown lens manufacturer or lens factory. A professional lens factory needs more than ten years or even decades of accumulation, so do not be blinded by dazzling pictures and brand image.