Why do you need low bridge glasses?
The glasses always slide in front of the nose. No one wants to keep putting their glasses back in place, especially in a conversation. Your glasses will slide down your nose, in other words, they won't sit on the bridge of your nose, and the frames will hit your cheeks, which may give you a cheek rash. The glasses move when you smile or laugh. The lenses rub against your eyes/eyelashes.
How to Find Reading Glasses Strengths?
With the increase of age, your vision may begin to decrease and this is an inevitable change in your life. So, when you are trying to decipher some smaller prints, you may need the reading glasses.
When your vision begins to decrease, do not worry, this is a normal change. You will find that the deterioration insight often occurs around the age of 40. The technical term for this condition is called presbyopia, a natural, age-related change in the lens of the eye which makes it more difficult to focus on smaller print and close-up objects.
The condition may become worse as you are near 60 years of age, depending on the type of near distance tasks you performing. Of course, you also need to consider the actual situations.
How to Choose Glasses for Diamond Face Shape?
After learning the features of diamond face shape, you should know how to choose glasses for diamond face shape. Since there are a lot of pointed features on the face, the best option is to use eyeglasses that have soft rounded curves instead of harshly pointed angles. So, look at the following advice.
Cat eyeglasses: Cat eyeglasses would be a good choice for a diamond face shape. These glasses frames have rounded bottoms so as to hide away the pointed chin and the narrow jawline of the diamond.
Round eyeglasses: Round eyeglasses are also suitable for diamond face shape because the round curve of the glasses hides the sharpness of the pointed chin. Glasses with colored frames are appealing in the case of diamond face shape people.
Use the fishing sunglasses correctly.
Fishing enthusiasts should try to avoid wearing sunglasses that are easy to oxidize and corrode. They should wear sunglasses that are not easy to oxidize and corrode, such as plate frames, aluminum and magnesium alloy, pure titanium, and titanium alloy. Do not put the fishing sunglasses in a high-temperature environment for a long time, and do not immerse the fishing sunglasses in water for a long time. Avoid contact with perfume, insecticide, and other items containing chemical components to avoid chemical corrosion of lenses and frames and better protect your sunglasses. When they are not in use for a long time, please put them in a special bag so that the lenses can be taken good care of.
What is a photochromic lens?
Photochromic lenses are lenses that become dark when exposed to a particular wavelength of light (usually ultraviolet light), but return to their original transmittance and become clear when no longer illuminated by the light source. Photochromic lenses can be made of glass or resin. The discoloration effect is caused by silver chloride or other halides added to the lens, which are transparent to visible light when not irradiated by ultraviolet light. When irradiated by ultraviolet light, chemical reactions will occur, which will absorb part of the visible light and make the lens show dark. The chemical reaction is reversible, so the lens returns to its original transparent state when it is no longer exposed to UV light.
Buy Prescription Glasses Online Step By Step
1. Before you can buy glasses online, you'll need a current glasses prescription.
2. Select an online retailer, comparing online retailers like EyeBuyDirect and KOALAEYE until you find the best fit for your needs.
3. Shop for the perfect frames according to face shape, frame favorites, the budget, etc.
4. Once you've found your perfect frames, you'll enter your eyeglasses prescription and pupillary distance to choose the lenses.
5. Read over the fine print on return/exchange policies and product warranties before you complete your order.
6. Having picked your perfect frames, entered your prescription information, added any lens coatings and upgrades, and checked your online retailer's warranty and return policy, it's time to complete your order.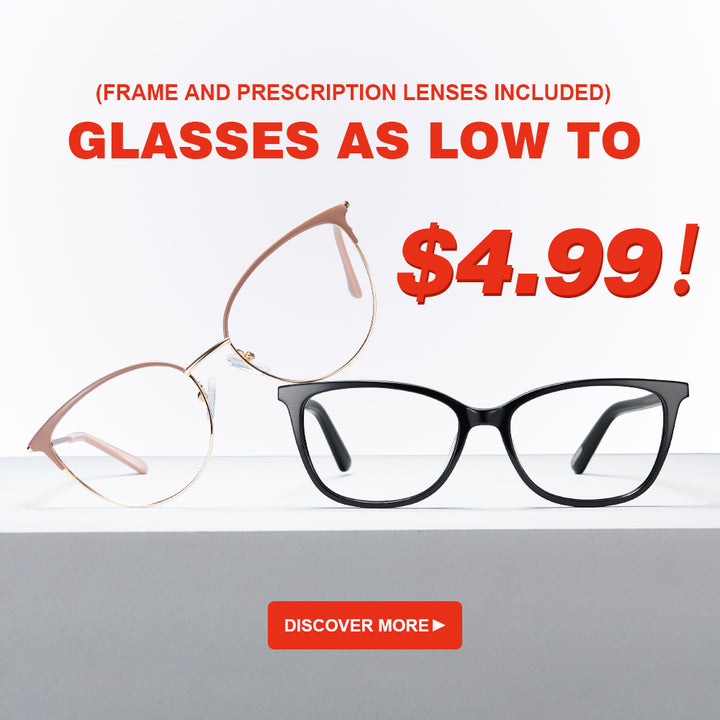 What are the advantages and disadvantages of bifocal reading glasses?
The advantage of bifocal reading glasses is a large field of vision, and they can be used with the same pair of glasses to see far, near. The cost is lower. But different areas have obvious intervals, and the appearance is not beautiful. The middle distance is fuzzy. They need to adapt to the period. Bifocal reading glasses lens is divided into two parts, and the degree of the two parts is not the same. The upper part is the mother of the flat area to see far, and the next part is the child of the reading area to see near. There is an obvious interval. The appearance is not beautiful. There is no transition area between two different areas, so its vision is fuzzy, easy to produce a 'jump image'. Long-term wearing will make people dizzy or fall down when climbing stairs.