Pure Titanium Glasses Frame Brand - MARCWALKS
So far, the industrial structure of the company has been very perfect, and all the single products are very good in the overall quality. Among them, the single product of the pure titanium spectacle frame series has been recognized by the industry and consumers in terms of material and workmanship. The company enjoys a high status among consumers.The variety is complete and the price is reasonable.They ensure product quality. With a variety of operating characteristics and the principle of small profits, they won the trust of most customers.
The advantages are not the same.
The cellulose acetate frame is acetate plastic, belonging to a kind of thermoplastic material, and it is a material for nearly 20 years. It is widely used in the glasses industry material. Now with the progress of processing technology, it can be divided into plate and injection molding. The acrylic frame of the propionic acid fiber belongs to a kind of thermoplastic material. The appearance is transparent. The main feature is that the material density is high. They are hard to burn and are not easy to change color, with Impact resistance. It has softness, dimensional stability, and good processing formability. Many high-grade plate glasses are based on these high-quality plates, so the quality is more reliable. It is designed for a large number of people and the pursuit of quality of life students, especially for women.
What are night driving glasses?
Night driving glasses have non-prescription yellow lenses, and the color ranges from pale yellow to amber. Night driving glasses have been manufactured for decades. These yellow glasses were originally sold to hunters as shooting glasses. They continue to be popular with hunters because they enhance the contrast between the birds and the sky is cloudy or cloudy conditions.
Some night driving glasses also have anti-reflective coatings. Night driving glasses reduce glare by scattering and filtering blue light. Blue light is the shortest wavelength and highest-energy part of the spectrum. Unlike light with longer wavelengths, blue light is more likely to cause glare when it enters the eyes.
Difference between green film and blue film
In addition to the usual hardening, anti-fouling, anti-reflection, anti-radiation, and other functions, the green film has remarkable anti-ultraviolet performance, suitable for people who work outdoors for a long time to use. In addition to the general hardening, anti-fouling, anti-reflection, and anti-ultraviolet functions, blue film's anti-radiation ability is very good, and it is suitable for computer workers and other people affected by radiation greater.
The coated lenses were originally produced in green, mainly to distinguish them from the uncoated lenses. At 515 nm, the reflection increases the reflectivity by about 2%, so there is a contrast, and the green film is seen in the reflection. This film is the most standard anti-reflective film, and it is the best and oldest one available.
Tortoise Glasses
This unique pattern is the perfect choice for those who want to wear tops and jackets of any color. They fit almost any color. Tortoise glasses come in many colors, and this stylish pattern has a wide palette, so there's no need to worry about skin and hair color. If you want to keep up with current eyewear trends, unique-patterned tortoiseshell glasses are your best bet.
Do night driving glasses work?
Yellow lenses reduce the amount of light entering the eyes, thereby reducing visibility. At night, this may be harmful, not beneficial.
Night driving glasses are available in a variety of yellow and amber colors. The darkest lens filters out the most glare, but also filters out the most light, making it difficult to see in dim or dark conditions.
Some night-driving glasses wearers report that they can see better when they wear them at night. However, visual tests have shown that night driving glasses do not improve night vision, nor can they help the driver see pedestrians faster than without them.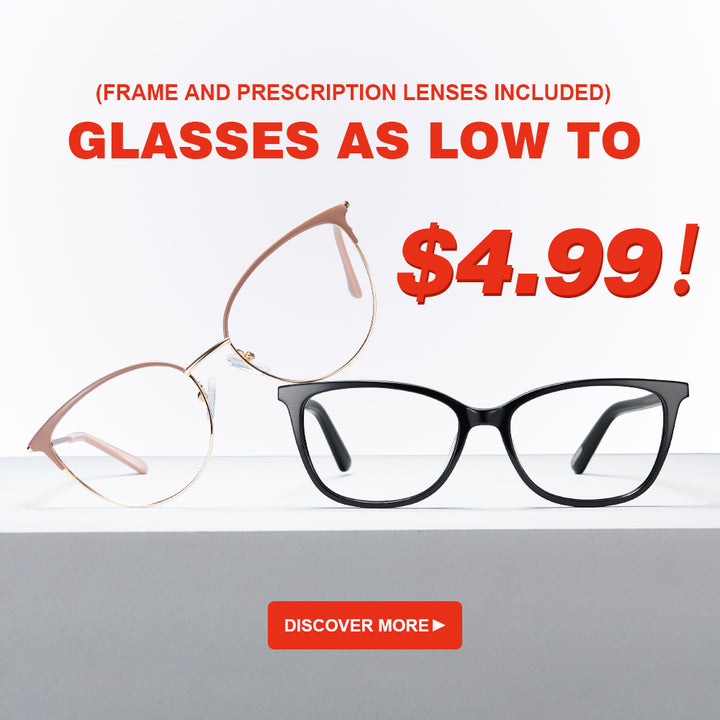 Disadvantages of Progressive Lens
There are deformation areas under the left and right sides of the lens, which make the image blurry and irregular. It takes 1-3 weeks to get used to it. In addition, it has a narrower field of view in the near and middle distances, and long-term concentration on the narrow focal point can easily make the eyes tired. Suitable for people who need to alternate between distant, medium, and near vision.
However, with the development of science and technology, more and more progressive multifocal glasses have emerged that have a wider field of view, more comfortable wearing, and better meet the needs of eyes. Nowadays, the use rate of progressive lenses among middle-aged and elderly people abroad is quite high. Single-lens and double-lens reading glasses are gradually being replaced by progressive multifocal glasses.