What To Do with Old Glasses?
What to do with old glasses? Where can I donate old glasses? You may have the same troubles. So, in this section, we will show you what you should do with your old glasses.
You can choose to donate your old glasses. Around the world, about 13 million children can't finish their education for the sole reason that they can't see well enough to learn. In addition, there are some goodwill organizations that will take your used reading glasses as long as they are in decent shape. So, what to do with old glasses, donate them. Where can I donate old glasses? You can search the old glasses donation organizations online.
If you have a pair of old glasses, you can also choose to sell them online to save some money. You can sell them on some platforms such as eBay or Preloved.
How to Choose Glasses for Long Face?
Thick frame glasses: the third glasses for long faces we want to mention are the thick frame glasses. They can add width to your face for a more balanced look.
Aviator glasses: to balance the feature of long face, aviator glasses are a good choice, which includes a wider top and more narrow bottom, pairs perfectly with a long face.
Long faces have a long list of options when it comes to selecting the perfect pair of frames. Whether you are looking for a more polished, academic look or prefer a more casually cool style, you can find a pair of glasses making your personality pop.
Therefore, if you need a pair of glasses for long faces, you can try Koalaeye glasses. They are stylish and cheap. In addition, you can get a pair of prescription glasses online and the glasses will be mailed to you.
Common Problems with Varifocal Glasses
In this section, we will list some common problems with varifocal glasses. The most common problem with varifocal glasses is people being unable to focus on what they need to. Losing focus often leads to some discomforts such as headaches or dizziness when performing tasks that require quick changes in near and middle-distance focus.
Besides, some people also experience a sort of swimming feeling when they are walking. It may be caused by being very aware of the distortions in your peripheral vision as well as the reading portion at the lower part of the lenses.
So, how to use varifocal glasses? The best way is to keep yourself from looking downward as you walk. You may also experience soft focus at the edges of the lenses and need to move your head more to see near objects better.
How long do plastic frames last?
Plastic frames are made of non-biodegradable materials and are possible to last forever. If the frame is made of acetate, the layers of acetate fibers make the frame vary in degrees of transparency and pattern. The plastic frame manufacturing process makes the plastic frame more brittle than the acetate frame. In this sense, the acetate frame has a longer service life. Then the plastic, which is made of SAP, will never break down. Depending on the circumstances, it could take years. If the lenses are polycarbonate, the material takes hundreds of years to break down naturally. If TR-90 is normally stored, not exposed to the sun, and put in the box with cloth wrapped, and then you can keep 3 years, there is no effect.
Can you wear blue light glasses while driving?
The damage of blue light has a cumulative effect. The longer the exposure time is, the more serious the damage of retinal cells will be, which will eventually lead to irreversible damage of the structure and function of the retina. Once the retina has permanent damage, degeneration will directly affect the metabolism and function of photoreceptor cells, resulting in vision loss. It depends on the glasses you're wearing. The function of anti-blue light glasses depends on the material of the glasses. Some blue light glasses have a special anti-reflective coating, which can reduce glare. These glasses are definitely helpful when driving at night.
How to Get Used to Progressive Lenses?
How to adjust to a pair of new glasses? How long does it take to adjust to a new pair of glasses? In general, there are several ways for adjusting to progressive lenses. In this section, we will show you some of them.
Put on your new progressive glasses in the morning and wear them for at least one hour or two. The next morning, try a few more hours. Develop your tolerance to adjust to them.
When you walk, look straight ahead, not down at your feet. And, point your nose in the direction you want to look, not just looking left or right with your eyes.
Don't switch between your new pair and the old one frequently.
Make sure your progressive glasses fit properly and don't slide down your nose.
When you read, don't move your eyes or head. Move the page or paper instead.
Set your computer screen below eye level. You can achieve that by adjusting your desk or chair.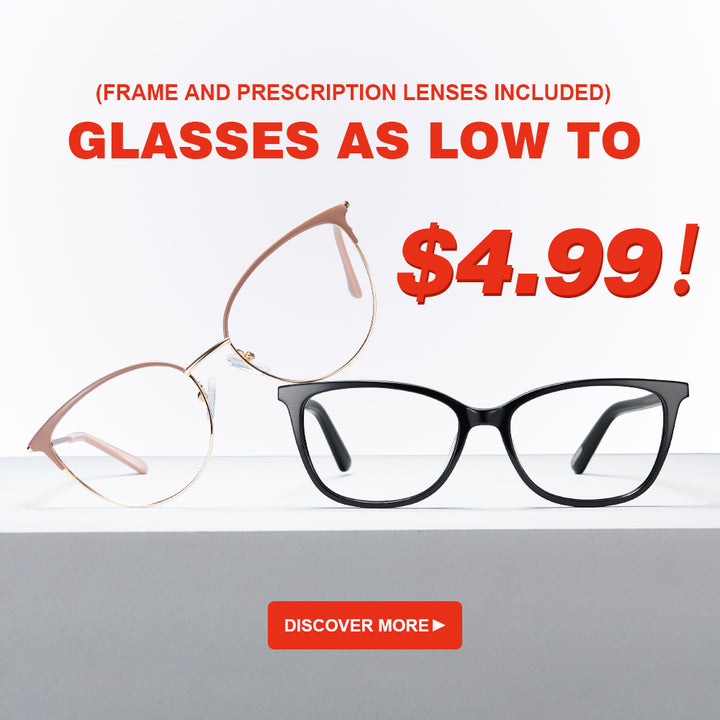 How to protect rimless glasses?
With the continuous improvement of people's living standards, many people begin to pay attention to their quality of life. In the past, many people thought that wearing glasses was for correcting eyesight glasses, but now more and more people use them for decoration, and rimless glasses meet the needs of consumers. Because of its light structure, giving people a sense of fashion, so it is loved by many business people. So how do you protect your rimless glasses?