Colored Clear sunglasses
The glasses style is distinctive, with an exaggerated outer edge and blue clear design. They show youth breath. The small eyebrow on the glasses side that shows faintly lets the whole look more stereoscopic. Relative to other colorless clear sunglasses, color clear glasses convey a strong youth breath. It is all color design that greatly enriched the color part of the overall image.
Can titanium temples be bended?
Using titanium alloy as the main material, the strength of the spectacle frame becomes larger and the density is smaller. Strong for the frame can be a good guarantee of the structure of the frame, and small density can effectively reduce the weight of the frame, so as to reduce the pressure on the ears and nose of the frame. The toughness of titanium alloy is very good, which can effectively avoid the breaking, bending deformation of the spectacle frame because of an accident.
It is recommended not to bend without authorization. There are many special tools for adjusting glasses. Bending by hand is easy to cause fracture because the force is concentrated at one point. You can take your glasses to a nearby optical shop and have them adjust them. Many big optical shops do this for free.
Benefits of glasses
You don't need a special cleaning plan, and they don't require much care. You can choose from a variety of frames to suit your style. If your vision stays the same, you won't need to change your glasses as often. You don't need to touch your eyes to wear them, and in addition, glasses can adjust the amount of light entering your eyes for optimal comfort and vision. Glasses are more powerful modifiers than contact lenses. Glasses are not only used as a tool to correct vision but as accessories. On different occasions, the different dresses should match different frame glasses, reflecting the person's different temperament.
Why should you choose thin lenses?
Regular lenses are great for low-prescription people, but for high-prescription people, high-prescription regular lenses are too thick and heavy, making them unattractive and have a poor wearing experience. For high-prescription people, we recommend that they choose thin lenses with a high refractive index because they are lighter and more attractive to wear. For any astigmatism above +3.00, we recommend 1.67 or 1.74 refractive index lenses because these lenses are aspherical in design, which means they are thinner, flatter, and lighter than standard spherical lenses, which reduces the magnification of your eyes to other people.
The nose pad is very important.
It could be that the nose pad is too hard. You can replace it with a non-marked soft nose pad. It is recommended to choose a thin and long or broad-leaved nose pad, moderate hardness, which can effectively disperse the force of the nose, with stable support, bringing comfortable wearing. It avoids a soft nose pad on the bridge of the nose because of sweating or a long time to wear left indentation. Eyeglass frame nose pads are in direct contact with the bridge of the nose, and too hard nose pads can damage the skin around the bridge of the nose. Therefore, try to choose a silica gel nose pad and other soft materials. The first one is that the silicone has good softness and will not damage the skin. The other is that it can fit perfectly with the bridge of the nose without foreign body feeling.
Thick Geometric Frames
Eyewear fashion has changed and evolved over the years. Big, thick frames that are round, rectangular, or even hexagonal are loved by celebrities and attendants. Depending on your face shape, you can choose one of these bolder combinations to highlight or contrast some of your face's most obvious features. Hollywood has officially adopted chunky glasses as a necessary item.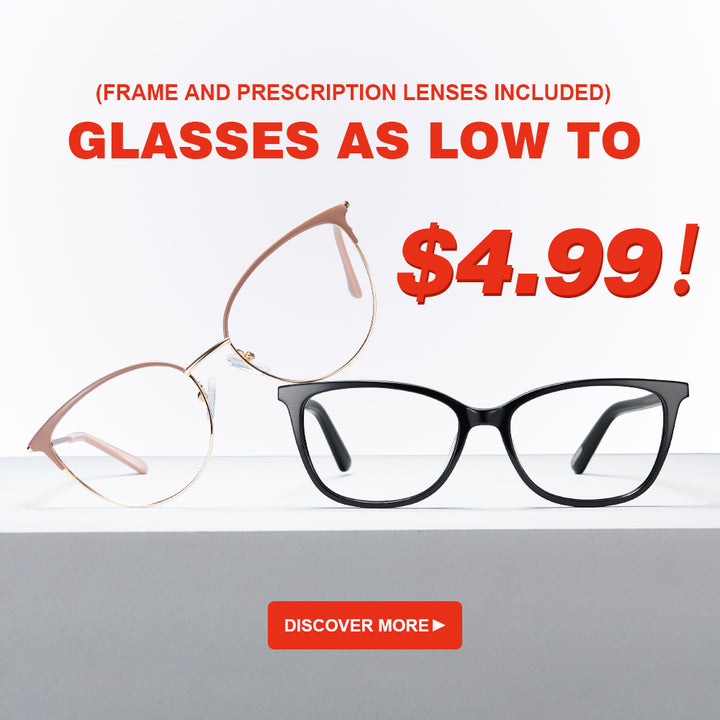 Semi-rimless glasses
With a half-frame design, the retro round glasses can be paired with a very thin metal frame, indicating the literary and elegant temperament. The frame with only the upper part of the lenses circle covering the lens integrates lightness and steadiness, highlighting the sense of fashion, not only shows the wisdom of business elites but the natural and free affinity. They are not heavy and relatively firm. It is suitable for different kinds of occasions. It can be used for business occasions, leisure occasions, and parties. It is stylish and composed, reflecting the quality of life.