Tom Barrett Optical
The progressive eyeglasses meet your fashion desires and your visual needs. They provide unique framing styles and professions to deliver the highest quality eyewear. They understand the needs of customers to bring fashion and functionality to everyone. For more than 35 years, they have provided stylish eyewear with wonderful service and quality. If the concept of eyewear continues to change, the product quality and service will continue to grow and update.
How to Get Used to Progressive Lenses?
How to adjust to a pair of new glasses? How long does it take to adjust to a new pair of glasses? In general, there are several ways for adjusting to progressive lenses. In this section, we will show you some of them.
Put on your new progressive glasses in the morning and wear them for at least one hour or two. The next morning, try a few more hours. Develop your tolerance to adjust to them.
When you walk, look straight ahead, not down at your feet. And, point your nose in the direction you want to look, not just looking left or right with your eyes.
Don't switch between your new pair and the old one frequently.
Make sure your progressive glasses fit properly and don't slide down your nose.
When you read, don't move your eyes or head. Move the page or paper instead.
Set your computer screen below eye level. You can achieve that by adjusting your desk or chair.
The lens material
Lens material affects the effect of protecting our eyes, so we should choose the kind of driving glasses made of polarized lens, which can effectively reduce the dazzling lights, and can filter out the redundant lights. When used at night, the powerful light is softened and the vision is clearer, thus ensuring the safety of drivers and relieving eye fatigue. If you can, let the seller dim the light when you buy, feel the softness and clarity of the light after wearing the product.
Progressive lenses and single vision lenses
Single vision lenses are the most commonly used prescription lenses. This lens type has a single field of view or a prescription ability of the entire lens and can be used to correct myopia (nearsightedness) or hyperopia (supervision).
Progressive multifocal lenses are lenses with different upper and lower powers for the upper part to see far, and the lower part to see near. The distance from the fixed power above the lens to the fixed power below the lens does not change suddenly, but there is a gradual transition between the two through the gradual change in refractive power.
Anti Fog Safety Glasses Safety Goggles Over Glasses
Anti-fogging safety glasses reduce deformation, effectively prevent fogging, and avoid fogging which affects vision in use. The angle of the goggles can be adjusted in accordance with the different foreheads (30 degrees). They can use a variety of large-size myopia goggles, safety glasses. It can effectively protect eyes from saliva, sand, metal fragments, and so on.
What Are High-Index Lenses?
High index lenses are eyeglasses lenses that are designed to be thinner and lighter than regular lenses. High-index lenses have a high refractive index than their conventional counterparts. So, they are generally recommended for people who have significantly high refractive errors and strong prescriptions for nearsightedness, farsightedness or astigmatism.
High-index lenses correct all types of refractive errors. And they are also available as single vision lenses, or a reading prescription that corrects presbyopia, such as in a bifocal or progressive lens.
High-index lens has a higher refractive index and which is ranging from 1.53 to 1.74. A lens with an index of 1.74 could be up to 50 percent thinner than a regular plastic lens with an index of 1.50.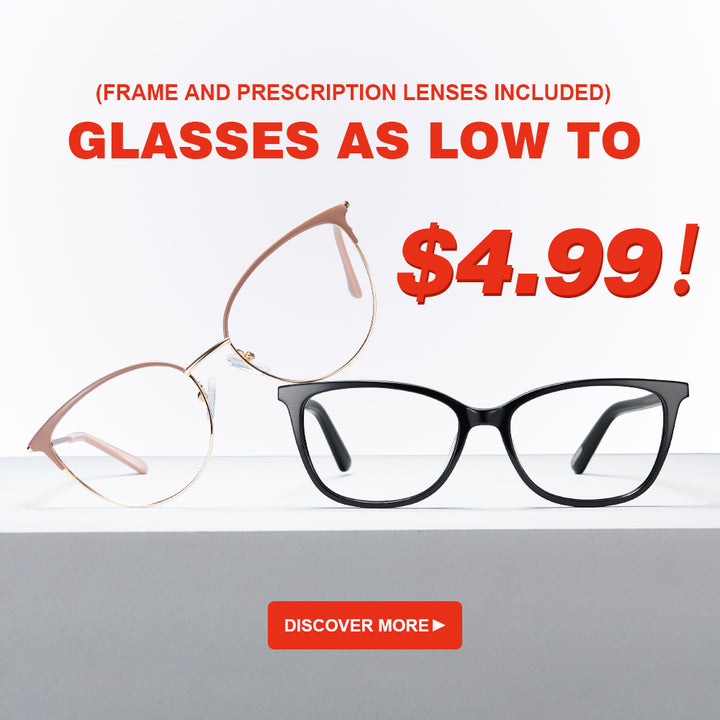 Recognize the identity
First of all, we should identify the logo of the pure titanium glasses frame. Usually, pure titanium glasses frame is on the supporting piece of the frame, and the inside of the temples is pure titanium.When online glasses need glasses retailers provide detailed pictures, to check if there is pure titanium.Usually, pure titanium frames are marked with 100% TITANIUM or PURE TITANIUM on the temples or lens.BetaTitanium stands are labeled BetaTitanium or β Titanium, which varies slightly from manufacturer to manufacturer.