What Are the Advantages of High-Index Lenses?
In this section, we will show you the advantages of high-index lenses.
Thanks to the slim shape and narrow edges, high index lenses offer wearers the flexibility to choose from a wide array of fashion-forward frames. Their size means that they can be easily paired with sleek metal frames or incorporated into rimless eyewear for an attractive barely-there look.
High index lenses are more comfortable for extended use because they are lighter than the traditional counterparts.
High index lenses are available with many of the same options as traditional lenses. For example, they can be either single-vision or progressive.
For users with strong prescriptions, high index lenses mean no bulky, bottle-glasses appearance. This can reduce the unwanted bug-eye look traditionally associated with very thick lenses.
However, there are some negative voices of high index lenses.
What is blue light?
To prevent blue light, we must first understand what blue light is. The visible light with a wavelength range of 400-500 nanometers is called blue light. The light sources used in daily LED lighting and display products, including mobile phones, flat panels, and TVs, are mostly LED light sources excited by blue light. However, not all blue light is harmful to the human body. The human eye has an extremely low tolerance to blue light radiation in the 400-440 nanometer range. When the light intensity enters this threshold, photochemical damage is likely to occur. However, blue light radiation in the range of 459-490 nanometers is essential for regulating the human body's circadian rhythm and can affect the secretion of human melatonin, which in turn has an impact on the body's biological clock, alertness, and mood.
Scientifically effective anti-blue light lenses must not only block harmful blue light but also cannot filter beneficial blue light. Most of the ineffective anti-blue light products on the market currently have two types of problems. One is that there is almost no protective effect on the blue light in the vulnerable zone of the human eye. The other is excessive protection, shielding the blue light spectrum in the beneficial band so that the blue light that is beneficial for physiological adjustment cannot enter the human eye. At the same time, the color of the lens is yellow, which is prone to color shift, aggravating visual fatigue, and even inducing the risk of myopia.
Glasses frame material
Children with glasses can choose a soft silicone material frame. Soft silicone is light to wear and soft at the same time. It is comfortable and does not break easily. The child is young and still in the stage of development, so consider comfort when choosing the frame. A light frame is more comfortable, such as a titanium frame, TR plate, silicone. Or the glasses should be matched according to the child's face shape and pupil distance.
How to Choose Glasses for Long Face?
Thick frame glasses: the third glasses for long faces we want to mention are the thick frame glasses. They can add width to your face for a more balanced look.
Aviator glasses: to balance the feature of long face, aviator glasses are a good choice, which includes a wider top and more narrow bottom, pairs perfectly with a long face.
Long faces have a long list of options when it comes to selecting the perfect pair of frames. Whether you are looking for a more polished, academic look or prefer a more casually cool style, you can find a pair of glasses making your personality pop.
Therefore, if you need a pair of glasses for long faces, you can try Koalaeye glasses. They are stylish and cheap. In addition, you can get a pair of prescription glasses online and the glasses will be mailed to you.
OVERSIZED FRAMES
These mesmerizing oversized glasses provide facial protection for the eyes and are popular. From the fashion of the 70s to the Hollywood glamour of the early 2000s, it makes you feel confident and protected.
Shopping Skills of Blue Light Blocking Glasses
Some shop assistants recommend green-blue light-blocking glasses, explaining that the principle of tinting lenses is different and that you should be careful because green can not really block blue rays. There are blue-light-blocking glasses that are blue. And this belongs to blue light protection with no background color, which can not completely prevent blue light into the eye, usually only 20% to 30%.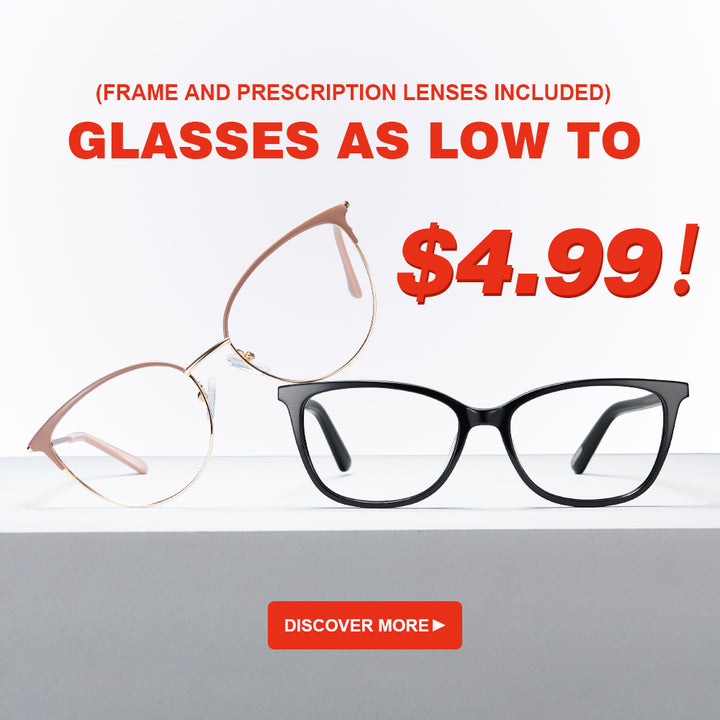 Polarized vs non-polarized sunglasses
Non-polarized sunglasses generally only have the two basic functions of shielding strong light and filtering ultraviolet rays, and their efficiency in filtering ultraviolet rays is low. In our daily life, in addition to strong light and ultraviolet light, when light passes through uneven roads, water surfaces, and other places, irregular diffuse reflection light will be generated, which will cause blurred vision and fatigue in the eyes.

Polarized sunglasses can filter out this kind of light, only absorb the reflected light of the object itself, truly present what you see, make the field of vision clearer, and reduce visual fatigue. In addition, polarized sunglasses have a 99% blocking rate of ultraviolet rays due to their high-efficiency filter layer, which can effectively reduce the damage of ultraviolet rays to the eyes.

When judging whether the sunglasses are polarized lenses, you can rotate the sunglasses up to 45° clockwise. If the color of the lens changes at this time, and the color of the sunglasses returns to normal after turning the sunglasses back to the original position, then it can be judged that the sunglasses are polarized. And if you can't see the change in the color of the sunglasses lens no matter how you turn it, then you can judge that the sunglasses are not polarized.