How do fishing goggles work?
When fishing in calm water, the light is straight to us. Because of the wind and waves on the water, there will be countless reflective surfaces, just like we face countless mirrors, leading to not clear float. For a long time, eyes will be very tired. Fishing sunglasses block the uncomfortably bright light and protect the eyes from UV damage. All of these functions are achieved by metal powder filters that 'select' light as it comes in.
Night Driving Glasses Fit Over Prescription Glasses
They have a plastic frame polarized anti-reflective coating Bridge. The ergonomic design of these Peekaco night vision glasses means you can easily wear them over your prescription lenses. Yellow lenses protect your eyes from glare and improve color clarity and optical clarity. Peekaco night vision glasses can be used in a variety of complex environments. It eliminates the high beams and illuminates the ground. On foggy days, it illuminates and clears the field of view. TR90 is a durable material, very flexible and light. Peekaco wraparound sunglasses are flexible enough to be suitable for each face shape.
What Do Trifocal Lenses Do?
Trifocal glasses can provide correction for some eye conditions including presbyopia and cataracts. Presbyopia often occurs in people who are between the age of 40 and 60. People's eyesight starts to deteriorate and they are unable to focus at near. Wearing trifocal glasses can help correct blurred vision, eye strain, and headaches. The trifocal intraocular lens placed during cataract surgery can also resolve cataracts.
From above, you have learned some information about trifocal lenses. But what are the pros and cons of trifocal lenses? So, in the following section, we will focus on the advantages and disadvantages of trifocal glasses.
BLUPOND CHOPPER Polarized Driving Sunglasses
It has TAC polarization UV400 high definition lenses and the most progressive anti-glare technology. Increasing street vision, the TAC Polarizing lens is a 7-layer composite system that meets the international UV400 standard. By turning the distorted light into parallel lines, your view will be softer and clearer, making for a more interesting ride. Timeless classic Italian design exudes ingenuity and innovation. A durable frame structure with reinforced hinges gives you a sense of strength and durability, made of the strongest polycarbonate material. It's a fashion statement that's both subtle and sharp.
SAFE HANDLER Duarte Premium Over The Glass Safety Glasses
Impact-resistant polycarbonate lenses are used. It fits most head sizes comfortably without slipping while providing comprehensive protection against industrial hazards. These glasses have shatterproof and high-impact lenses. The ultralight design encourages less slippage and reduces harm. Fully covered UV400 scratch-proof and fog-proof coating, providing the best protection. They are suitable for different environments, and weather conditions, including automobiles, construction, painting, laboratory work, etc.
Eachsee glasses
Eachsee glasses is a professional online glasses platform! They focus on providing high-quality online glasses services for urban white-collar workers, fashion, and high-end business people. With the manufacturer's direct supply, they have the whole category of self-management. Glasses matching is strictly implemented in accordance with national standard 2011: multiple quality inspection links.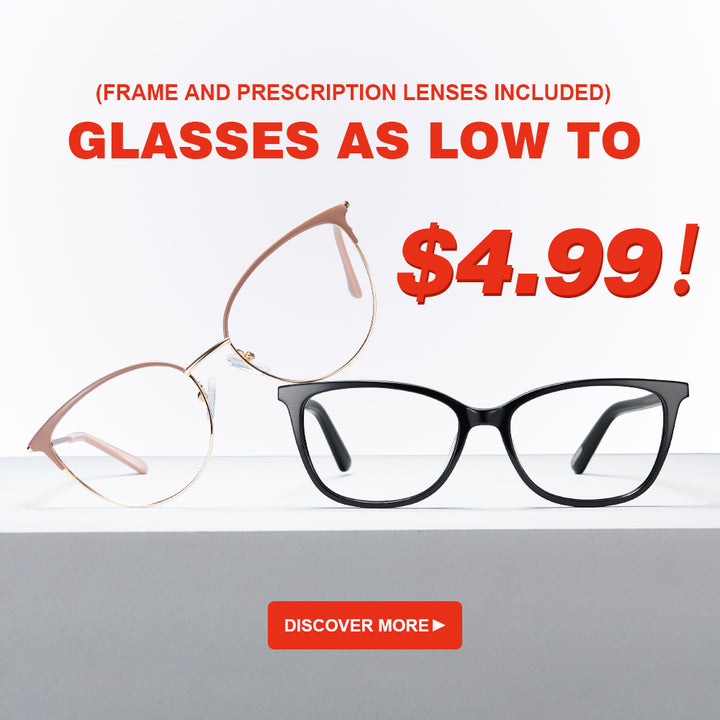 What Are Polycarbonate Glasses?
Polycarbonate was developed in the 1970s for aerospace applications and is currently used for the helmet visors of astronauts and for space shuttle windscreens.
Polycarbonate lenses were introduced in the early 1980s in response to a demand for lightweight, impact-resistance lenses. Since then, polycarbonate glasses have become standard for safety glasses, sports goggles and children's eyewear.
Polycarbonate glasses are thinner and lighter than regular plastic lenses. They also provide 100 percent UV protection and are up to 10 times more impact-resistance than plastic or glasses lenses.
In addition, Polycarbonate lens provides clearer and more comfortable vision if anti-reflective coating is applied to the lenses, which can eliminate distracting lens reflections that interfere with vision, particularly when driving at night or in other low-light conditions when glare sources are present.
After learning some basic information about polycarbonate glasses, we will show you the advantages and disadvantages of polycarbonate lens.