Eyeglasses chain stores have unified standards.
Due to the different management systems, the traditional business mainly relies on differentiated management and it enables member enterprises to have different business scope and modes and form complimentary benefits. Often, member enterprises are not required to implement unified management, with the unclear division of labor and uncertain responsibilities. The main store of a chain store and other stores shall form a clear division of labor in their professional functions, requiring the implementation of a unified management system, unified purchase, unified operation, and unified management. All the stores under the jurisdiction implement the unified management norm form formulated by the headquarters to form a unified norm.
The Pros of Titanium Glasses
First, titanium is used in its pure form and as an alloy to provide a highly flexible eyeglasses frame. In fact, titanium eyeglasses are flexible. So, they are able to bend without breaking and can return to their original shape.
Second, titanium glasses come with good durability. Titanium alloy metals produce the world's most durable eyeglasses frames. Choose a titanium frame and it will be nearly impossible to break.
Third, the titanium glasses are extremely lightweight. They are about 40% lighter than the standard steel glasses frames. In addition, due to the superior strength of the titanium frame, the frames can be made thinner making for even lighter frames.
Fourth, titanium glasses have hypoallergenic properties. It is rare anyone experiences adverse skin reactions to titanium frames. There are many other options on titanium frames such as color, texture, and patterns. What's more, titanium glasses are corrosion-resistant.
So, are titanium glasses worth it? You may have the answers.
What Do Pinhole Glasses Do?
Pinhole glasses are often used by eye doctors who use them as a diagnostic tool to quickly check for vision impairments. Of course, pinhole glasses are sometimes used to treat nearsightedness or astigmatism. Pinhole glasses are also used in conjunction with an occluder, an instrument used to cover one of your eyes while you read an eye chart. The occluder is solid, while the pinhole glasses have a number of tiny pinholes. So, the doctor often uses it to check the potential of your vision.
Pinhole glasses are often used to check corneal distortion and cataracts. A cataract evaluation includes focusing light in the eye to check if vision capability behind the cataract makes it worth performing surgery.
The nose pad is very important.
It could be that the nose pad is too hard. You can replace it with a non-marked soft nose pad. It is recommended to choose a thin and long or broad-leaved nose pad, moderate hardness, which can effectively disperse the force of the nose, with stable support, bringing comfortable wearing. It avoids a soft nose pad on the bridge of the nose because of sweating or a long time to wear left indentation. Eyeglass frame nose pads are in direct contact with the bridge of the nose, and too hard nose pads can damage the skin around the bridge of the nose. Therefore, try to choose a silica gel nose pad and other soft materials. The first one is that the silicone has good softness and will not damage the skin. The other is that it can fit perfectly with the bridge of the nose without foreign body feeling.
Different Types of Eyeglass Frame Materials
Acetate: The most popular frame material is acetate, also called Zyl. Zyl is a very cost-effective and creative option for eyewear and is extremely lightweight. The acetate frame material is also colorful.
Nylon: This frame material is used in some cheap eyeglasses. Nylon is strong, lightweight and flexible, and it can become brittle with age. Nylon is also a premier material for sports and performance frames, and also easily molded into today's popular wraparound style.
TR90 Nylon: TR90 Nylon is durable, flexible, and lightweight. Glasses made with TR90 are extremely comfortable since they have a flexible quality. Besides, the TR90 Nylon frame material can bend under pressure and contour your face comfortably. So, it would be resilient to damage.
Ultem: Ultem resin is a flame-retardant and high performance thermoplastic. It comes with various features, such as high strength-to-weight ratio, heat resistance and high impact strength. This frame material is also durable.
1970 Oversized Square Eyeglasses
Now a lot of designers are giving us cool square lenses because they want to bring back the fashion of the 1970s and 1980s. Each one is timeless and must be tried.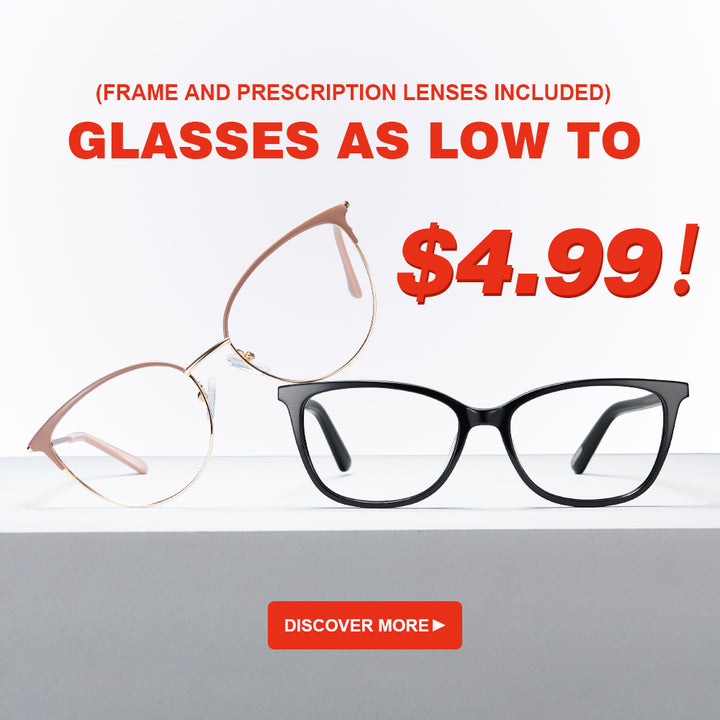 What Should You Do If Your Glasses Are Broken?
Adjust the frame by yourself. If your frame is tilted, place your glasses on a flat surface to determine which arm is higher than the other. If the right arm looks raised, you'll need to use pliers to bend the left arm down at the hinge. Or, if the left arm is raised, bend the right arm at the hinge. You can bend your metal-framed arms inward. You can turn the nose pad inward if the glasses slip under your nose. To make the frames more flexible, you can heat them with a hairdryer. If the metal frame has broken into pieces, you may need to take it to a professional. However, if your metal frames just bend, you may be able to repair them by yourself.