What Are Rimless Glasses?
A right pair of glasses enhance your appearance as well as your vision. If you choose a pair of unsuitable glasses, they can weigh down your face and hide delicate your features. So, more and more would like to choose the right pair of glasses and many people like rimless glasses.
What are rimless glasses? From the name, you can know the meaning. It means that there are no frames on glasses. Rimless glasses can help ease eyewear apprehension by improving your vision without overhauling your look.
In addition, rimless glasses are light weight and comfortable. Because they accent your natural beauty, your features won't get buried under a pair of rimless glasses.
Of course, there are some advantages and disadvantages of frameless glasses. So, in the following section, we will list.
How to know your face shape to choose glasses?
To determine your face shape and spectacle styles that will look best on you, pull your hair away from your face and look directly into a mirror. Look closely at your face and head. You need to measure your forehead width, cheekbone width, jawline width and face length.
After measuring, you need to consider your facial features. There are a few characteristics tied to specific face shapes. For example, a rounder jawline is typically tied to a rounder face shape, a pointed chin is closely related to a heart-shaped face. And you need to take note of the angles and contours of your face to see they are soft or sharp or pronounced or not.
Then you can check whether you have a round shape face, squared face or others.
Round face shape: the forehead round at the hairline; the width of your face is the same as the length; the jawline round with very subtle angles, and the length of your face is the same as the width.
Square face shape: the hairline follows a straight line; there are minimal curves to your cheekbones; you would have a strong and squared jawline.
Diamond face shape: the width of your face is smaller than the width of your cheekbones; the cheekbones significantly wider than your forehead and jawline; you may have a narrow chin area; the length of your face is the same as the width.
There are also other face shapes. You can click here to know more.
Pay attention to the wearing of myopia sunglasses when driving.
Some drivers are slightly myopic, usually driving without wearing a myopic mirror. There is no problem. But once you wear sunglasses, the problem comes: your eyes are more likely to tire and your vision will decline, just as your driving vision will be affected at night. Therefore, for the driver of slight myopia, there is no problem in usually driving, but if you want to wear sunglasses, you must be equipped with the lens of myopia degrees.
What Do Trifocal Lenses Do?
Trifocal glasses can provide correction for some eye conditions including presbyopia and cataracts. Presbyopia often occurs in people who are between the age of 40 and 60. People's eyesight starts to deteriorate and they are unable to focus at near. Wearing trifocal glasses can help correct blurred vision, eye strain, and headaches. The trifocal intraocular lens placed during cataract surgery can also resolve cataracts.
From above, you have learned some information about trifocal lenses. But what are the pros and cons of trifocal lenses? So, in the following section, we will focus on the advantages and disadvantages of trifocal glasses.
Should you choose titanium or pure titanium frames?
In reality, there is no absolute good or bad, if it is comfortable to wear, suitable for personal preference. They are good glasses for a single person, because if someone else wears the right and good-looking glasses, you may not wear the right and good-looking glasses yourself. Therefore, it is still a specific problem, with specific analysis, suitable for their own is good.
How to Choose Glasses for Big Heads?
In this section, we will show you how to choose an eyeglasses frame for large heads. If you do not know how to choose, keep on your reading to find some solutions.
Rectangular frames: Rectangular frames add angle and can slim down the appearance of a larger head. So, if you have a big head, try the rectangular frames glasses.
Oversized frames: if you have a big head, the oversized frames would be a good choice. Oversized glasses will balance out your larger features.
Wayfarer frames: whether your style is retro or geek chic, you will find a perfect fit in trapezoidal wayfarer. The thick angular frames offset rounder cheeks and draw attention down from the forehead. So, if you have a large head, try this style.
When choosing glasses for large heads, you should also find the right shape and color for your signature look and style. While there are a lot of glasses styles for big heads, you should consider glasses with long enough temple length, the length between the hinge of your frames and where they bend around the ear. This measurement is critical for overall comfort, especially on your temples and near your ears.
So, from the above information, you have learned how to choose glasses for big heads.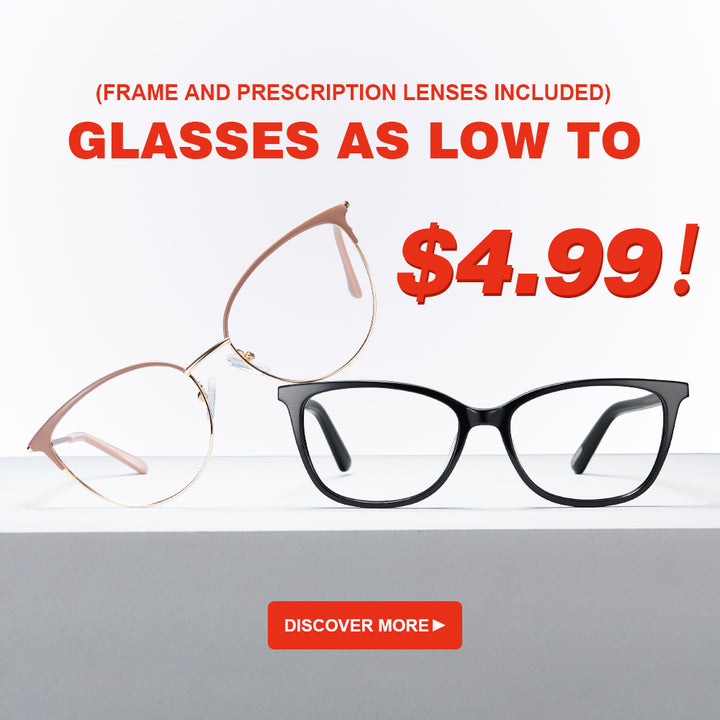 Where to Buy Non-Prescription Glasses?
From the above information, you can know that glasses without prescription are good for your eyes. So, you may ask where to buy non-prescription glasses. In general, you can buy non-prescription glasses from a local optical store or online. And here, we want to recommend the Koalaeye glasses.
Koalaeye Optical is an online optical store that provides all kinds of glasses and sunglasses like blue light blocking glasses, non-prescription reading glasses, and so on. So, from here, you can get satisfied non-prescription glasses. Besides, Koalaeye provides a free shipping service and you can get the package without going out.