Production technology of progressive lenses
In addition to the evolution in design, the production technology of progressive lenses is also constantly improving: the most representative one is the free-form technology. The emergence of free-form surface technology makes the production more flexible and rapid and can realize a more personalized design. For now, progressive lens design is done on the inside surface of the lens by a computer-controlled lathe, as if a master engraver could carve a piece of stone into a work of art.
CustomEyes
CustomEyes Provide a first-class experience, the best-customized eye care, a wide range of frames, contact lenses. The target is to create a high-tech, spa-like, relaxing environment under the care of a professional eye doctor. They provide a large selection of children's glasses. They accept all major insurance, dry eye diagnosis and security, diagnosis and treatment of glaucoma Lasik surgical treatment, cataract surgery in combination with diabetic patients, custom contact lenses, high prescription, bifocal lenses, and so on.
What Is Plastic Lens?
In the above part, we have introduced what polycarbonate lenses are. In this section, we will show you what the plastic lens is.
The plastic lens was first introduced in 1947. Since then, plastic has become a popular and widely used material for making eyeglasses lenses. Since the introduction and use of plastic lenses, it has sealed its mark as the most preferred choice in the optical industry.
Plastic lenses are light. With this feature, plastic lenses are popular because they will not be heavy inside the glasses frame and permit for an easy fit in any type of glasses frame. In addition, plastic glasses are cheap and easy to obtain in desired amounts. So, they are affordable for most people. Plastic lenses are very durable. So, they do not shatter easily on impact which makes it a great choice for individuals who are active or tend to drop their glasses often.
However, compared with other lens materials, plastic lenses are usually thick due to their low index of refraction. The soft feature of plastic glasses makes them susceptible to scratching from a sharp object and why scratch-resistant coating is applied to form an additional protective layer. Plastic lenses do not provide ultraviolet protection.
Disadvantages of Progressive Lens
There are deformation areas under the left and right sides of the lens, which make the image blurry and irregular. It takes 1-3 weeks to get used to it. In addition, it has a narrower field of view in the near and middle distances, and long-term concentration on the narrow focal point can easily make the eyes tired. Suitable for people who need to alternate between distant, medium, and near vision.
However, with the development of science and technology, more and more progressive multifocal glasses have emerged that have a wider field of view, more comfortable wearing, and better meet the needs of eyes. Nowadays, the use rate of progressive lenses among middle-aged and elderly people abroad is quite high. Single-lens and double-lens reading glasses are gradually being replaced by progressive multifocal glasses.
Aluminum Night Driving Glasses
These night vision glasses feature advanced HD technology. The aluminum frame is lightweight, allowing you to comfortably wear your driving glasses and reduce glare for safe driving. Because the lenses are yellow, these glasses act as night vision goggles to reduce glare, reflections, and their negative effects, while improving and brightening the visual area. Polarized lenses have a special anti-reflective coating that eliminates intense reflected light and reduces glare and scattered reflections. They can double as day and night glasses, improving clarity around the clock.
Clear glasses are in fashion.
Unlike those who used to wear plain glasses for the sake of a polite way, it is important for young men and women to wear glasses today to show their individuality, personality, and non-mainstream style. The clear eyeglass frame is classic, as the black frame. But relatively speaking, a clear white eyeglass frame has certain requirements to face shape, skin color, hairstyle. However, if you wear them properly and have enough confidence, those clear frames can be very stylish.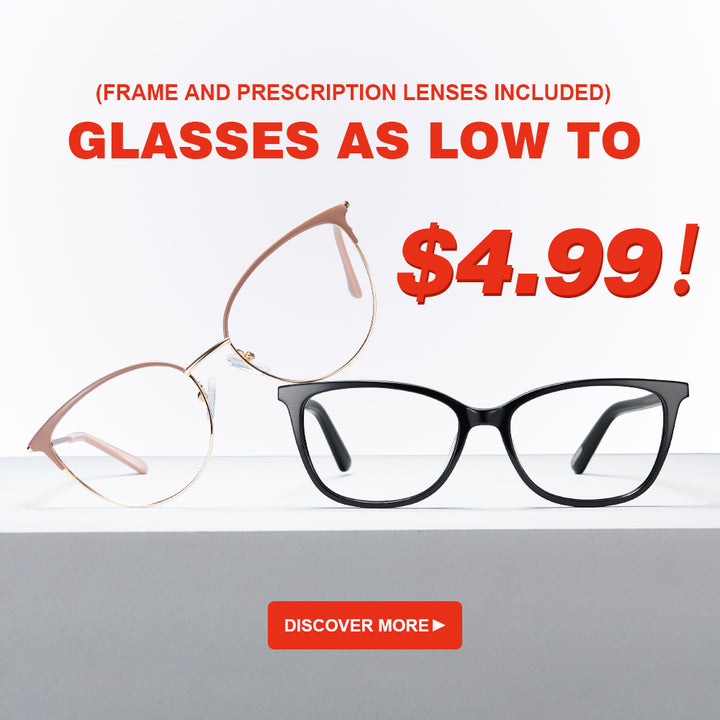 Can blue glasses double up as sunglasses?
The main function of sunglasses is to keep out dazzling strong light, to reduce the eye adjustment that causes fatigue or the harm that strong light stimulation causes. Their light transmittance is very low, only suitable for use when the sun is strong outdoors. If wearing sunglasses indoors, or at dusk, or even in the evening, because the light is reduced, it will not play a role in protecting the eyes or even will increase the burden of the eyes. The Anti-blue lens is yellow-green and needs to meet the transmittance and blue obscurity. If you are walking outdoors for a short time, good blue light glasses can of course completely meet your outdoor eye protection needs, but due to the high light transmittance, it is not suitable for a long time outdoors, as the sunglasses. Because although it can block UV rays, they are not very good at the filtering of strong light. General anti-blue glasses can not be equal to sunglasses, the main function is not the same, and the use of the scene is not the same.