Common sense of glasses maintenance
Do not wear glasses when doing strenuous exercise to avoid deformation caused by knocking. Take off your glasses when sleeping or lying on your desk to avoid distorting your glasses. Use special glasses cloth to wipe glasses, and can use water and dishwashing essence to clean. Avoid using paper towels, handkerchiefs, or clothes. Deformations of memory materials are not often demonstrated to prevent breakage of joints or welds. If it is uncomfortable to see things, or the frame appears obvious uneven, you need to take it to the optical shop to find a professional to adjust.
Eye problems that may occur while driving.
Visual fatigue and xerophthalmia: when driving, the spirit and eyes are in a highly tense state, reducing the blink of an eye, which will easily cause eye fatigue and xerophthalmia. Flash glare -- car headlights and city light pollution -- can cause serious damage to the eyes. UV damage: UV radiation is strong when driving in the daytime, especially in the plateau and snow weather. Nocturnal myopia: nocturnal light is insufficient, so it can make the eye pupil dilate, causing nocturnal vision to drop influence driving safety.
Tungsten Carbon Steel Spectacle Frame
Tungsten-carbon steel is an upgraded version of TR90. Its characteristics are basically lighter, softer, and higher in hardness than the original TR90. It is said to be the material softer than water, lighter than paper, and harder than steel. Tungsten-carbon materials are also called yellow materials in the glasses industry, and the terms of tungsten-carbon plastic are only for consumers because consumers do not know what they mean.
In terms of raw materials, titanium is the most expensive material, and the value of raw materials determines the final retail price of the glasses. The cost of tungsten carbon is slightly higher than the price of TR90 by about 20%, which is about the same as the value of low-end alloy glasses. The cost and value of pure titanium are 3 to 4 times that of TR90 and low-end alloy glasses, so the basic price difference between a pair of brand new pure titanium glasses and TR90 glasses is very large.
Where to Buy Anti Glare Glasses?
From the above part, you have learned the benefits of the anti reflective coating glasses. So, you may wonder where to buy them. To do that, you can buy them from the local optical store and online. If you want to buy anti reflective glasses online, you can try Koalaeye Optical, which provides all kinds of glasses, sunglasses, and frames. In addition, Koalaeye glasses are stylish and come at a cheap price. So, if you need to a pair of anti glare coating glasses, try Koalaeye glasses.
The frame materials
You should choose the driver's glasses with alloy materials. The glasses made of this material are light and strong, so your ears won't be uncomfortable when you wear them for a long time.
Does blue light cause damage to the eyes?
Businesses often associate blue light with mobile phones and computers that everyone frequently touches. There are also many terrible explanations about blue light on the Internet, ranging from causing damage to the eyes to causing cancer. Therefore, in recent years, mass media and academic circles have caused heated discussions about the possible impact of blue light on eye health.
It is believed that the reason why blue light harms the eyes is that blue light is not like ultraviolet light which is absorbed by the cornea and lens so that it cannot reach the retina. Blue light can reach the retina through the refractive medium of the eye, and over time it will cause the aging and functional degradation of the retina. But in fact, the eyes have many protection mechanisms in the process of evolution, such as squinting, pupil contraction, lutein contained in the macula of the retina, the anti-oxidant repair mechanism of the retina, etc., which can protect our eyes from the damage of blue light. Also, after scientific testing, the blue light emitted by electronic products is a few percent of the intensity of blue light in natural light, which means that as long as the electronic products are not used continuously every day (for example, more than 8 hours a day), blue light will not be causes obvious damage to the eyes.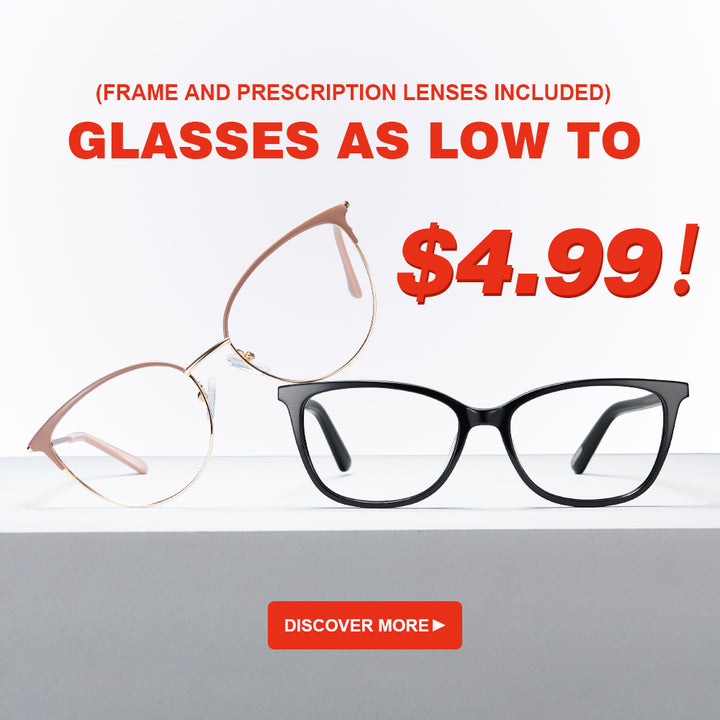 Do blue light glasses actually block blue light?
Anti-blue light glasses are still popular on the market. This kind of glasses is said to be 'anti-radiation and anti-blue light', but this kind of hot-selling anti-blue glasses has many problems. At present, such anti-blue glasses mainly block or absorb blue light through special materials, but there are two misunderstandings in its blue light protection. One is that the protection is not preventable, and the other is that the color cast caused by the wrong protection makes visual fatigue aggravated. Studies have shown that our eyes are the most intolerant of blue light in the 400nm to 440nm band. Therefore, current manufacturers mainly block blue light in this band when producing anti-blue glasses. But the electronic products that we often come into contact with nowadays produce blue light between 450 nanometers and 490 nanometers, and anti-blue glasses have almost no protection in this wavelength. Generally speaking, the blocking rate of anti-blue glasses is 20% to 30%, but now the blocking rate of anti-blue glasses on the market basically reaches 80% to 90%. This high blocking rate can also easily cause a color shift. , It is easier to make the eyes tired.