Are carbon fiber glasses good?
Carbon fiber glasses are continuously changed to meet consumer demand. Adhering to the use of carbon fiber, they are more in line with the requirements of environmental protection and health. In the design of the new carbon fiber products, the weight of the bridge of the nose is further reduced when wearing, making it more fit and comfortable. Should you choose carbon fiber glasses or titanium glasses? It depends on your preference, ?like style, color, material, price, and so on. Because they are very not heavy, carbon fiber glasses are the most comfortable option for everyday wearers who are looking for the latest technology and the highest quality.
Tortoiseshell frame
Tortoiseshell frame glasses can be said to break connotation completely, and this is a very stylish and slightly exaggerated style. It is recommended that fair-skinned, trendy hairstyle and stylish clothes should be worn by boys. After all, if you want to wear stylish tortoiseshell frame glasses, you need clothes and hairstyles to complement them. And if only wear the tortoiseshell frame glasses may not look good.
How to adapt to progressive lenses?
People who are prone to motion sickness or have inner ear diseases may suffer dizziness, nausea, vomiting, and other symptoms due to their inability to tolerate the slight deformation of the visual objects, so they need to pay more attention when wearing them. For people who have not worn reading glasses before, it is not recommended to wear graded multi-focus glasses directly because their eyes will not be able to adapt quickly.
What difference do mono-focal glasses and multi-focal glasses have?
A mono-focal lens is a lens with one focal point. Usually, the myopic far-sighted presbyopia that we see belongs to mono-focal glasses. There is only one diopter on one lens, and this is the single focal point. Multi-focal glasses are lenses that have multiple focal points, that is, multiple diopters. Both mono-focal glasses and multi-focal glasses are visual correction tools, but mono-focal glasses can meet basic vision needs, like fatigue relief, control of depth of diopters, and focus on different distances such as the need to see far and near.But because there are many different diopters on a multi-focal glasses lens, so the elderly can not only see far after wearing. When they see close distance, they do not need to take off glasses or wear reading glasses. Wearing multi-focal glasses is not easy to fatigue.
How long do plastic frames last?
Plastic frames are made of non-biodegradable materials and are possible to last forever. If the frame is made of acetate, the layers of acetate fibers make the frame vary in degrees of transparency and pattern. The plastic frame manufacturing process makes the plastic frame more brittle than the acetate frame. In this sense, the acetate frame has a longer service life. Then the plastic, which is made of SAP, will never break down. Depending on the circumstances, it could take years. If the lenses are polycarbonate, the material takes hundreds of years to break down naturally. If TR-90 is normally stored, not exposed to the sun, and put in the box with cloth wrapped, and then you can keep 3 years, there is no effect.
What symptoms does myopia have?
Myopia is a problem related to the eye's ability to focus on distant objects. The manifestation of myopia is that blurred vision at a long distance. But near-distance vision is good. Early myopia often has long-distance vision fluctuation and squinting when looking at distant objects. Because looking close need not or less use an adjustment, and set function is weakened correspondingly. Those with high myopic have poor far vision, often accompanied by poor night vision, floaters, and other symptoms. Changes in the fundus of the eye can occur to varying degrees. It can form irregular shape white atrophy spots and so on.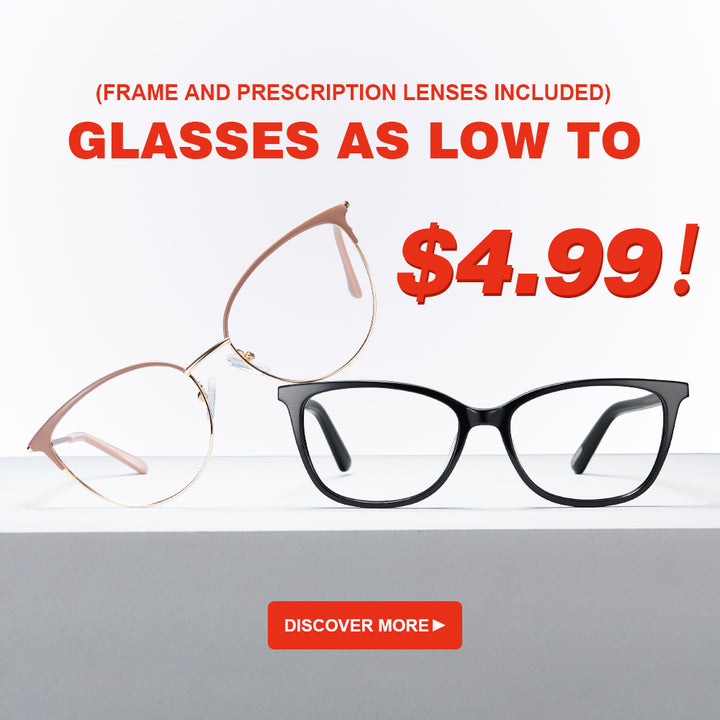 Different Types of Progressive Lenses
The first progressive lenses we want to introduce are computer progressive lenses, which are designed for clear vision in office settings. These lenses are ideal when using a computer for over 4 hours a day and help to reduce eye strain.
Computer progressive lenses are intended for indoor use and should not be worn over your regular glasses. The drawback to this is it requires you to have two separate pairs of eyeglasses.