Driving Glasses - KoalaEye
The koala eye driving glasses are stylish, and the material is flexible and elastic. The lens arc fits the face line, which has a very good sense of comfort and balance. Imaging sense is very good, and the color is real and clear. It can effectively relieve eyeglasses eyestrain. Also in the market with excellent quality and simple fashion design, it is loved by the public.
Best Ray-ban Wayfarer Alternatives - Vans Spicoli
As for the Ray-ban Wayfarer alternative, the Vans Spicoli would be recommended. If you are looking for a brand to rival Ray-ban for rock and roll col, you do not need to look much further than Vans. While better known for skate apparel, the brand also sells shades including the Spicoli frame that has a lot in common with Wayfarer. In addition, these Wayfarer glasses come at a cheap price and they are under $15.
Of course, besides these Wayfarer glasses alternatives, there are also some other choices available. You can search for them online.
Can you wear blue light glasses while driving?
The damage of blue light has a cumulative effect. The longer the exposure time is, the more serious the damage of retinal cells will be, which will eventually lead to irreversible damage of the structure and function of the retina. Once the retina has permanent damage, degeneration will directly affect the metabolism and function of photoreceptor cells, resulting in vision loss. It depends on the glasses you're wearing. The function of anti-blue light glasses depends on the material of the glasses. Some blue light glasses have a special anti-reflective coating, which can reduce glare. These glasses are definitely helpful when driving at night.
What is the best lens material?
The world's first resin lens was made of CR-39 material, and CR-39 is still the main optical lens material in Europe and the United States. After the end of World War II, people found that compared with glass, the main lens material at that time, the light transmittance of CR-39 is high, and it can block ultraviolet light. In addition, CR-39 can be dyed, not easy to fog, and has small dispersion (CR-39's Abbe number is 58) and other benefits.
Advantages of aspheric lenses
In reality, aspheric lenses were originally born to improve the marginalized optical properties of spherical lenses. The aspheric lens with special coating treatment has perfect visual performance, with a clearer, more comfortable visual effect. You can hardly feel the presence of aspheric lenses when you put them on. So you can enjoy the ease brought by aspheric lenses. They are more natural and more realistic, having less visual distortion. The aspheric lens can be designed with a flatter base arc, which not only makes the appearance beautiful but reduces the peripheral magnification so that when others look at the eyes of the people who wear glasses, the size will not change much.
Cellulose Acetate
Acetate is a kind of thermoplastic resin obtained by esterifying acetic acid to acetic anhydride under the action of a catalyst. Acetate is resistant to water, gasoline, mineral oil, and lipids, weak alkaline solutions, and acids, excellent weather resistance, not resistant to ethanol, strong acids, and strong alkaline solutions. During thermoforming, it is very necessary to dry the material before forming. Acetate was born in the early 20th century, and was successfully trial-produced and industrialized by the UK in the early 1920s. At present, it is the second-largest variety in cellulose fiber after viscose fiber. Acetate can be used to make textiles, cigarette filters, film bases, and plastic products.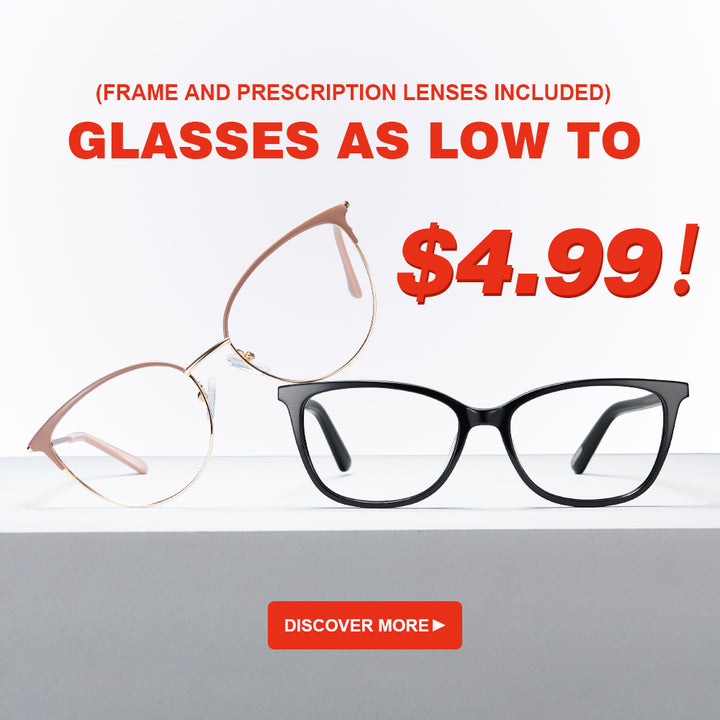 Round face with square glasses
A round face is a relatively round type. This type of face looks very round but lacks a little beauty. The biggest feature of a round face is that it is softer, and the contours and features of the face will look gentle. However, it lacks a little tough line, so it is most suitable to choose square glasses for a round face. It can add a little small line to your round face and it will look more beautiful.