Silhouette Rimless 5515 (7799) TMA The Must Collection
These highly stylish lightweight rimless glasses provide a sense of freedom and independence with a clean and professional look. With rimless technology, it's so clear you barely notice you're wearing it. The unhinged ends are easy to adjust and the sturdy frame has corrosion-resistant titanium durability. It provides a lightweight and professional look outline. But the intricate temple details, lively color choices, and thoughtful decor add refinement to your glasses.
The lenses of prescription glasses
Common materials for lenses include glass, resin, and PC. The glass is fragile and heavy, and few people wear it anymore. PC film is tough and not fragile, but it is not resistant to high temperature and the surface is easily scratched. The most common type of lens on the market today is the resin lens, which is light in weight, hard to break, and reasonable in price. At present, it is generally recommended that you choose resin sheets, and it is recommended that people with ultra-high myopia choose glass sheets.
Generally, lenses can be divided into spherical and aspherical surfaces according to different curvature designs. When choosing, refer to the degree of the eye. For people with lower degrees, There are fewer differences between the two shapes. For people with moderate to high myopia, aspherical lenses will have better imaging effects and clearer vision.
When choosing a lens, a parameter that is often mentioned is the refractive index. Common refractive indexes are 1.56, 1.60, 1.67, and 1.74. With the same degree, the higher the refractive index, the thinner the lens.
What Are Non-Prescription Glasses?
Nowadays, many people wear glasses for a variety of reasons and not just for vision problems. In fact, many people wear non-prescription glasses as a fashion statement. This trendy accessory can make you more fashionable.
What are non-prescription glasses? It is important to note that the non-prescription glasses have no corrective power, while non-prescription reading glasses offer some level of magnification, enlarging what you see up-close.
If you don't have a vision problem, wearing Plano glasses shouldn't be a problem since they will neither damage your eyes nor cause structural issues. Some non-prescription specs, such as the type that blocks damaging blue light, can actually be beneficial to your eye health.
What Are the Benefits of Non-Prescription Glasses?
In this part, we will show you the benefits of non-prescription glasses and show you what you need to know before buying the non-prescription glasses.
Protection: the non-prescription glasses would provide protection for your eyes from dust, direct sunlight, and computer radiation. In addition, these glasses would have to be enhanced with special coatings.
Fashion: Wearing non-prescription glasses enables you to look more fashionable. The best part is that you can select a pair of non-prescription glasses that have the features you prefer. Besides, many frames are made from high-quality materials that make them durable. They are comfortable and lightweight, which everyone can appreciate. Non-prescription glasses are also available in a variety of sizes, shapes, colors and styles so there will always be something that matches your needs and even your personality.
Virtual try-on service
Previously, the only way to buy glasses online was by looking at pictures or reviews. But no matter how real the picture is and how good the buyer's feedback is, more than 80% of them will feel inappropriate once they try it on their face. Either the glasses don't match the shape of the face, or the color doesn't match the skin tone, etc.AR glasses virtual try-on can realize glasses online try-on. Using the phone's camera, users can look at the glasses and try them on their faces. They can turn their head in real-time to see how the glasses look at different angles. Online shopping should be tried on before purchase.
Superlite titanium rimless collection
The SuperLite Titanium rimless series is provided by super strong titanium, stainless steel, and TR90 acetate plastic, combining all the best glasses in the world. Titanium is stronger and lighter than regular metal, making your rimless glasses more durable and comfortable to wear. Rimless glasses, no matter their shape or color, give people an elegant, mature feeling, and you are sure to find your perfect style here. The SuperLite Rimless Series have a very flexible system for rimless glasses from strength to strength with the new model.
Drivers can wear night-vision goggles
Night-vision goggles can prevent headlights from blinding, add color saturation, and make the field of vision clearer. The normal night vision glasses are golden yellow in color and have a metal coating on the surface. This is the use of diamond high perspective reflection film technology, in the lens to add color and film layer, in order to maximize the brightness of the object being seen. It is to compensate for the light for driving, which makes light pass through your eye. It can increase the three-dimensional sense of objects, making the line of sight more clear, to avoid confusion caused by blinding headlights.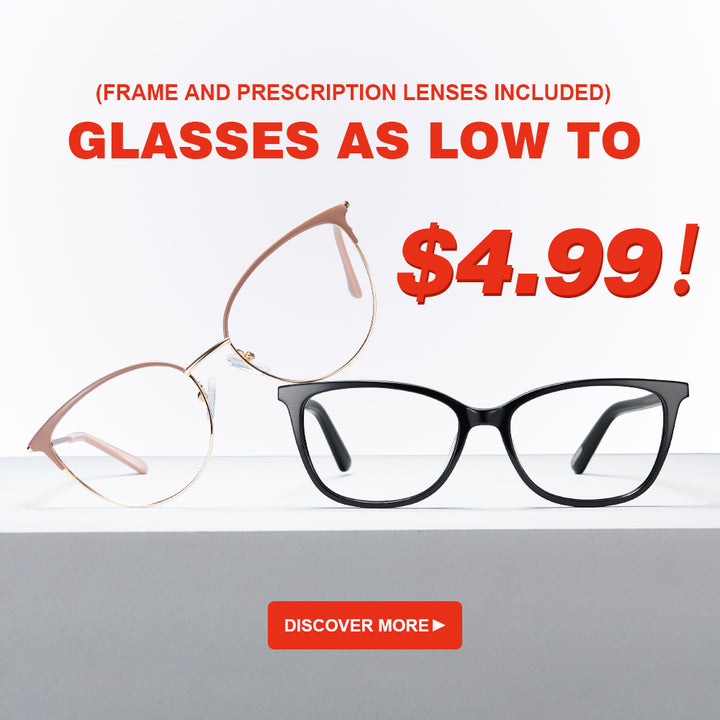 Do night driving glasses really work?
Yellow lenses reduce the amount of light entering your eye, reducing visibility. These darker colors block more blue light than yellow lenses. But they block more light from entering the eye, reducing visibility even more in low-light conditions. In fact, even yellow lenses reduce overall visible light to some extent because they block some blue light. This can be a good thing during the day, but not at night, when maximum visibility is key. Night driving glasses come in a variety of yellow and amber colors. The darkest lenses filter out the harshest light, but they filter out the largest amount of light, making it difficult to see in dim or dark conditions. Some people who wear night driving glasses say they can see better with them on. However, vision tests have shown that night driving glasses do not improve night vision, nor do they help drivers see pedestrians any faster than they would without glasses.