Safety effects of non-prescription glasses
Safety glasses are available in a variety of styles for different users. There were glasses to protect his eyes from shocks or damage, like those used by people who lost an eye in the past. Many of them often wear protective goggles to protect their eyes from injury and to maintain a degree of vision. Safety goggles made of shatter-proof materials have become a staple in many industrial places, from factories to construction sites. Because in such an environment, the likelihood of being hit by debris or mud is very high.
Tortoiseshell frame
Tortoiseshell frame glasses can be said to break connotation completely, and this is a very stylish and slightly exaggerated style. It is recommended that fair-skinned, trendy hairstyle and stylish clothes should be worn by boys. After all, if you want to wear stylish tortoiseshell frame glasses, you need clothes and hairstyles to complement them. And if only wear the tortoiseshell frame glasses may not look good.
Oval face with glasses of various shapes
The oval face is the most perfect face shape. Whether it is size, shape, or contour, it is a more perfect face shape There are many types to choose from, and there are basically no minefields. But be sure to pay attention to the size of the glasses. Sometimes the size of the glasses is also very important. if you are not careful, it will highlight the incompatibility of your facial features. So make sure your glasses are not too big or too small. You should judge the size according to their face shape.
The Disadvantages of Trifocal Glasses
Here, we will show you the disadvantages of trifocal glasses. If you wear the trifocal glasses for the first time, you may spend some time getting used to them. Adjusting to wearing trifocal glasses can take some time. The different fields of vision can make them disorienting at first, but over time you will get used to wearing them and your eyes will naturally move to the prescription they need for the task at hand. You may be interested in this post: How Long Does It Take to Get Used to New Glasses?
What Are Varifocal Glasses?
Varifocal glasses, also known as varifocals, varifocal lens, PLA, or progressive lenses, have a gradual change in strength from the top of the lens to the bottom with multiple focal points in between. Unlike bifocals, varifocal glasses have no specific area of lens strength, but progressive lens zones.
The way to look through varifocal glasses depends on what you want to look at. If you are looking at the distance, you look through the top of the lens. If you want to look at the close objects, you may need to move your eyes lower to keep the objects in focus. For the best close-up focus, you need to look through the bottom of the lens.
The benefits of varifocal glasses are that they do not need to buy or prepare 2 separate pairs of glasses or need to switch between frames for different vision needs.
However, if you wear the varifocal glasses for the first time, you may come across some problems.
What Glasses Lens Thickness Should I Choose?
In this section, we will show you how to choose glasses lens thickness. Lens thickness will depend on the strength of your prescription, your pupillary distance, the size of the frame and the lens material. Usually, high prescription glasses are thick.
If you have moderate nearsightedness, you should choose thinner lenses at the edge thickness of your lenses will be more visible. If your sphere prescription is between -2.50 and -4.00, the lenses with a refractive index of 1.6 would be an ideal choice. A lens with a refractive index of 1.67 is suitable for sphere prescription between -4.00 and -6.00, and any prescription over that a lens with a refractive index of 1.74 will be more suitable.
So, when you purchase prescription glasses, consider the glasses' lens thickness also. If you want to get a pair of prescription glasses online, Koalaeye Optical is recommended. It is an online optical store and provides all kinds of eyeglasses, sunglasses and frames. Besides, these glasses are stylish and cheap. If you purchased, the glasses will be mailed to you with great convenience.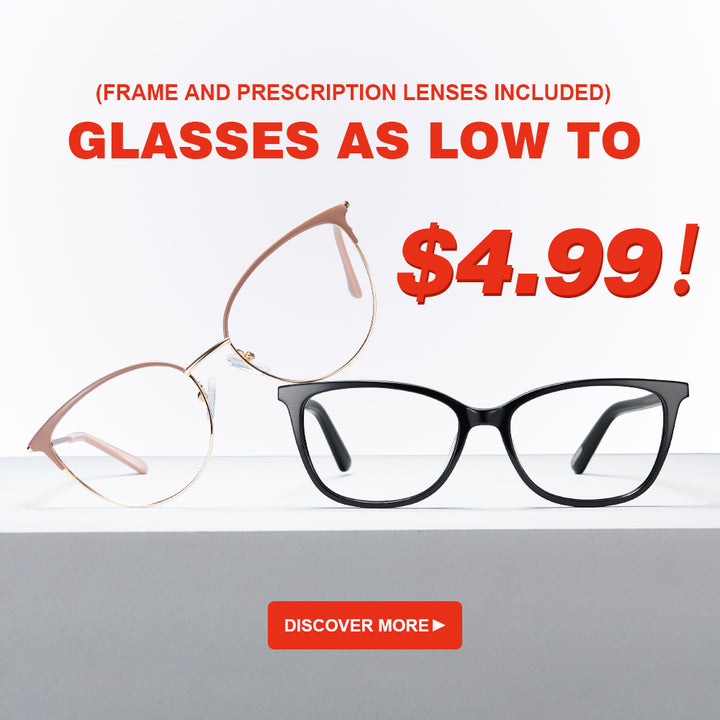 Eachsee glasses
Eachsee glasses is a professional online glasses platform! They focus on providing high-quality online glasses services for urban white-collar workers, fashion, and high-end business people. With the manufacturer's direct supply, they have the whole category of self-management. Glasses matching is strictly implemented in accordance with national standard 2011: multiple quality inspection links.